Decarbonisation of iron and steel sectors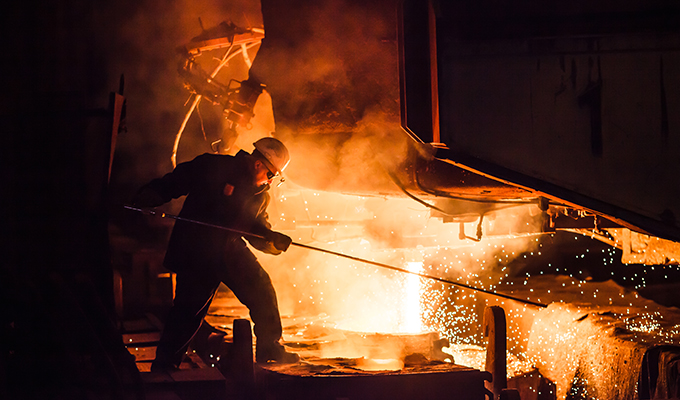 TERI, under this project aims to develop a knowledge base on emerging mitigation options while also creating a deeper understanding amongst key stakeholders on long-term decarbonisation approach in the iron and steel sector.
Indian industry represents a significant portion of India's greenhouse gas (GHG) emissions, although little has been done to assess the potential pathways for emissions reduction to date. If India is to develop into a low carbon economy, sectoral analyses will be required to understand the role of different policies and technologies in reducing emissions. This includes an analysis of individual sectors such as iron and steel.
This project aims to further the work in the aforementioned sectors of iron and steel to create a shared understanding among stakeholders in the Indian and international community around actionable steps to reduce emissions.
---
Roadmap To A Net Zero Steel Sector In India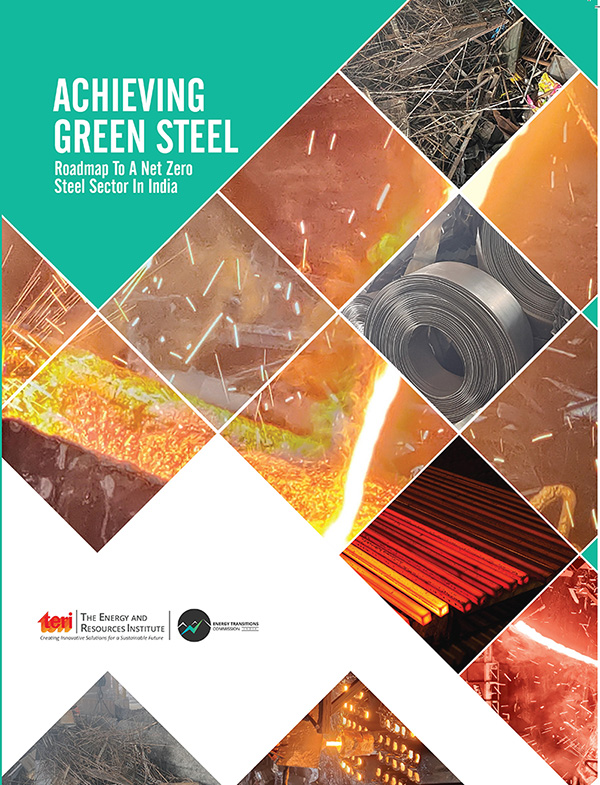 The Indian steel sector is currently at a crossroad. To remain globally competitive, increase exports to a range of markets, champion domestic technology development, and drastically cut emissions, the sector will need to accelerate the deployment of low emission technologies. In this context, The Energy and Resources Institute (TERI) has published the "Achieving Green Steel: Roadmap to a Net Zero Steel Sector in India" Roadmap. It quantifies the scale of this challenge, and provides details on short-term (2020-2030), and long-term (2030 onwards) actions required to achieve net-zero emissions for the sector by 2070.
Short-term actions suggested include maximising energy efficiency, increasing scrap-utilisation, developing green product standards, setting public procurement targets and building commercial-scale plants. In the long-term, the Roadmap highlights the need for a comprehensive policy framework to assist the transition towards production and use of green steel, phase out of older polluting facilities and support for the development and deployment of new near-zero emissions plants. These steps will help ensure that the Indian Steel industry remains competitive, whilst transitioning to low emissions production.
This Roadmap is a follow-up to the Consultation Document published by TERI in 2020, "Towards a Low carbon Steel sector - Overview of the Changing Market, Technology, and Policy Context for Indian Steel". It builds on this preceding work and incorporates detailed comments and feedback from discussions with international experts, steel sector representatives, and government officials.
---
Energy-Efficient Technology Options for Direct Reduction of Iron Process (Sponge Iron Plants)
Authors: Ananda Mohan Ghosh, N Vasudevan and Sachin Kumar
The technological compendium suggests the need to shift from traditional carbon intensive technologies for iron and steel production to low-carbon environment friendly technologies.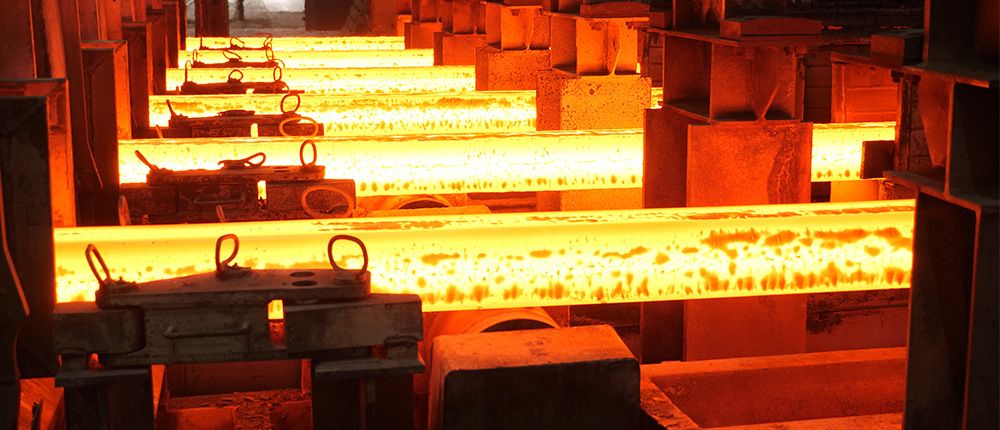 The technological compendium jointly prepared by The Energy and Resources Institute (TERI) and Sponge Iron Manufacturers Association (SIMA) was released on August 16, 2021. The compendium provides techno-economic details for a range of energy-efficient technologies for rotary kiln-based DRI industries. It suggests that while energy-efficiency measures are vital in the near-term to help reduce the costs and environmental impact of the sector, over the medium to long term, the DRI sector will need to adopt new low-carbon technologies.
This will require a shift from using solid coal in rotary kilns, which is dominant today, to gas-based technologies. In the near term, based on economic considerations, this could include using syngas, produced via coal gasification, or natural gas. The use of both these gases in steel manufacturing is well established in domestic and international markets.
The compendium will enable DRI industries to select and implement the technologies based on their prioritisation. The compendium also discusses the potential of futuristic technologies such as coal gasification and hydrogen-based processes, which are either already commercialised or under development to enable their adoption in the future.
---
Towards a Low Carbon Steel Sector - Overview of the Changing Market, Technology, and Policy Context for Indian Steel
Authors: Will Hall, Thomas Spencer, Sachin Kumar
TERI suggests that it is possible to put the steel sector on a pathway to reduce emissions to near zero levels soon after 2050, making India the first country to industrialise while decarbonising its steel production.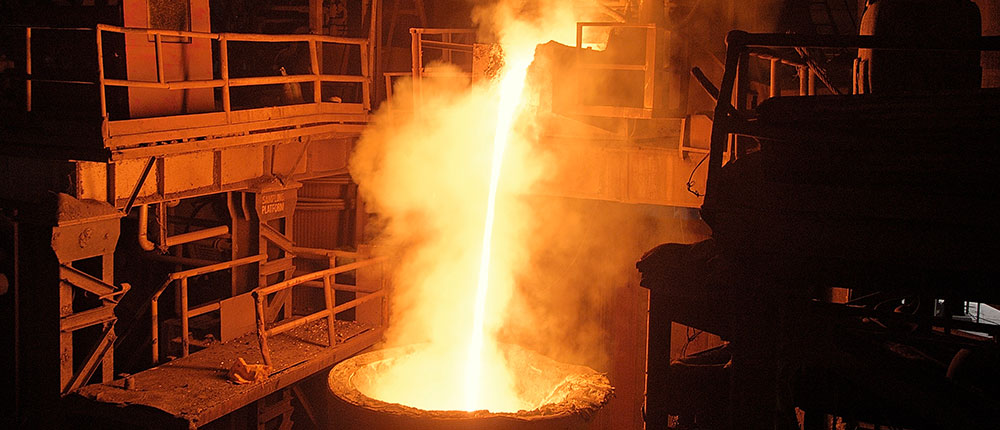 The report 'Towards a Low Carbon Steel Sector: Overview of the Changing Market, Technology, and Policy Context for Indian Steel', was launched by Shri Dharmendra Pradhan, Hon'ble Union Minister of Steel, Petroleum and Natural Gas, on Day 2 of the World Sustainable Development Summit 2020, TERI's flagship event. According to the report, carbon dioxide emissions from India's steel sector could increase up to 837 million tonnes (Mt) by 2050 if steel demand continues to grow, having serious implications for the environment through its contribution to climate change.
The report has been prepared by the Energy Transitions Commission (ETC) India, which is a research platform based in TERI in New Delhi. ETC India is the Indian chapter of the global Energy Transitions Commission, which is co-chaired by Lord Adair Turner and Dr Ajay Mathur, Director General, TERI. Shifting heavy industry sectors away from fossil fuels and towards cleaner sources forms an important part of ETC's work.
The report suggests a comprehensive package of measures that would keep the sector competitive while reducing its environmental impacts. It recommends maximising the use of domestic scrap and deploying energy efficiency measures, as well as facilitating greater resource efficiency throughout the economy. Other than that, it suggests establishing pilot and demonstration plants to test emerging low-carbon technologies. Measures such as these could put the sector on a pathway to reduce emissions to near zero levels soon after 2050, making India the first country to industrialise while decarbonising its steel production.