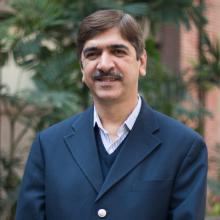 Mr Girish Sethi
Senior Director, Energy
Mr Girish Sethi leads and manages the programme on promoting efficiency in the industrial sector, encompassing both large industries and Small and Medium Enterprises (SMEs).
He has more than 23 years of experience in the field of energy conservation and environment improvement in the industrial sector and has been with TERI for the past 15 years.
Apart from providing strategic direction and coordinating the activities related to industrial energy efficiency, he has led multidisciplinary research teams in action research projects involving development/adaptation of energy efficient and environmentally benign technologies. Mr Sethi is presently managing a large program funded by a bilateral organization that focuses on holistic development of some energy intensive small-scale industry sectors in India. He is also involved in matters related to inventorisation of corporate level GHG emissions and aspects related to transfer and promotion of low-carbon energy technologies in the context of climate change.
Mr Sethi is a Chemical Engineer with Masters in Energy Studies from IIT, New Delhi. He has also completed a multi-disciplinary Masters course on Technology in the Tropics from University of Applied Sciences, Cologne, Germany.