Tender Notice - WASH infrastructure and Rejuvenation of ponds in Sonipat
The Energy and Resources Institute (TERI), New Delhi invites quotes for Setting of drinking water infrastructure in schools and Strengthening of existing village pond at Sonipat, Haryana
The detailed document can be viewed and downloaded as below:
Interested suppliers shall submit their bids manually on or before 26th August, 2022, addressed to:
Manager - Materials
The Energy and Resources Institute
6C, Darbari Seth Block
IHC Complex, Lodhi Road
New Delhi - 110003
India
Samanvaya: Make Every day Earth Plastic Free Day
3 July 2022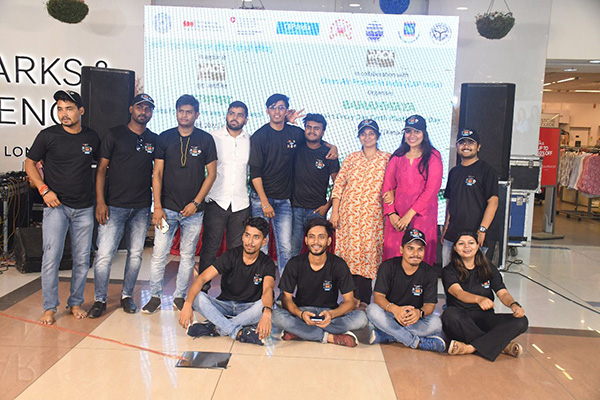 The Energy and Resources Institute, along with IIT Kanpur organized an awareness event, 'Samanvaya: Make Every day Earth Plastic-Free day', on July 3, 2022, as a part of the Clean Air Project in India (CAP India), supported by the Swiss Agency for Development and Cooperation (SDC).
Organized at Z-square Mall in Kanpur, the event aimed to sensitize the city's residents on the sources, impacts, and mitigation measures of plastic pollution, climate change, and air pollution. The one-day event promoted public awareness and facilitated a dialogue on pressing environmental issues like plastic pollution, climate change and air pollution through engaging activities like street play and quiz competitions based on subject matter relevant to environmental wellbeing. Additionally, a signature pledge was set up on the theme of 'Make Earth Plastic Free' which received overwhelming participation from the public. The event successfully reached out to more than 5000 people.
Samanvaya was organized as a run-up to the Government of Uttar Pradesh's popular campaign RACE, a five-day-long event launched in collaboration with Kanpur Municipal corporation as an initiative to make Uttar Pradesh Single-use Plastic-free. RACE stands for – reduction in plastic usage, awareness among masses, circular solution to disposal and engagement of one and all.
Tender Notice - for implementation (Weavers identification, co-funding mobilization, supply, installation, and maintenance for five years) of approximately 73 numbers of Hybrid Solar Charging Unit for Power Loom in the rural areas of Uttar Pradesh (Varanasi, Chandauli, Azamgarh district) & Madhya Pradesh (Jabalpur, Khajuraho, Indore)
The Energy and Resources Institute (TERI), New Delhi invites Bids for the Hybrid Solar Charging Unit for Power Loom in the rural areas of UP & MP
The detailed document can be viewed and downloaded as below:
Interested suppliers shall submit their bids manually on or before 22nd July, 2022, addressed to:
Manager - Materials
The Energy and Resources Institute
6C, Darbari Seth Block
IHC Complex, Lodhi Road
New Delhi - 110003
India
TERI organizes Samanvay in Lucknow
3-4 June 2022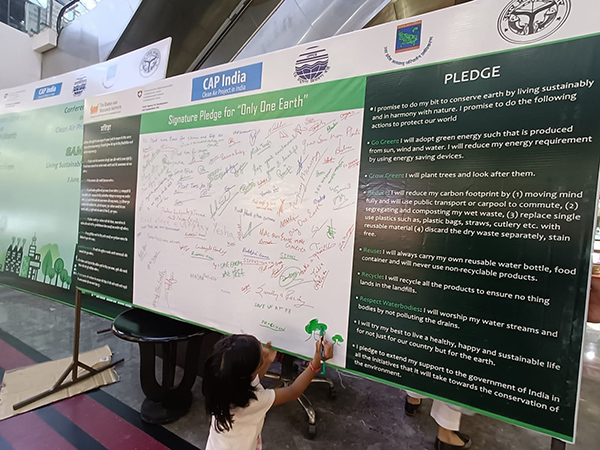 The Government of Uttar Pradesh organized the Conference of Panchayat, 2022 on June 5, 2022, with an objective to create awareness and ensure the implementation of an action plan related to climate change mitigation and adaptation at the level of Gram Panchayats. The event also recognized the effort of 27 climate change sensitive districts.
As a run-up to the event, TERI with support from the Swiss Agency for Development and Cooperation SDC under CAP India Project organized Samanvay on June 3–4, 2022 on the theme of 'Only One Earth, Living Sustainably in Harmony with Nature'. The objective of the event was to create awareness among residents of Lucknow on climate change, including, air pollution, its impacts, and measures to mitigate the same. The event was conducted at Wave and Cinepolis Malls in Lucknow on June 3, 2022, and at Janeshwar Mishra Park and Lohia Park on June 4, 2022.
TERI signs MoU with Italy-based EURAC Research
Italy-based EURAC Research and The Energy and Resources Institute (TERI) on Tuesday signed a Memorandum of Understanding to collaborate in the fields of innovative agriculture, sustainable regional development, renewable energy, energy efficiency, social development and climate change action.
The EURAC-TERI partnership will focus on-
Sustainable regional development, in particular with regards to agriculture and horticulture and within the context of disaster risk management
Increasing energy efficiency on the supply and demand side and in buildings;
Development and implementation of Renewable energies for productive uses and income generation at industrial level and in households
Implementing sustainable energy policies and regional partnerships
Capacity building in the field of agriculture, horticulture, renewable energy, energy efficiency and climate change risk assessment and climate change adaptation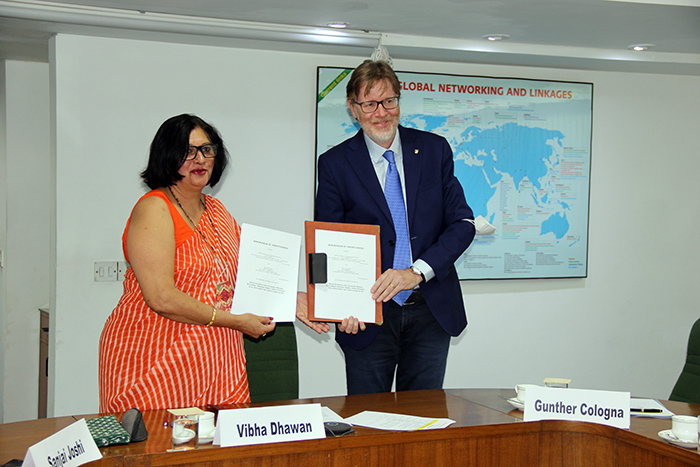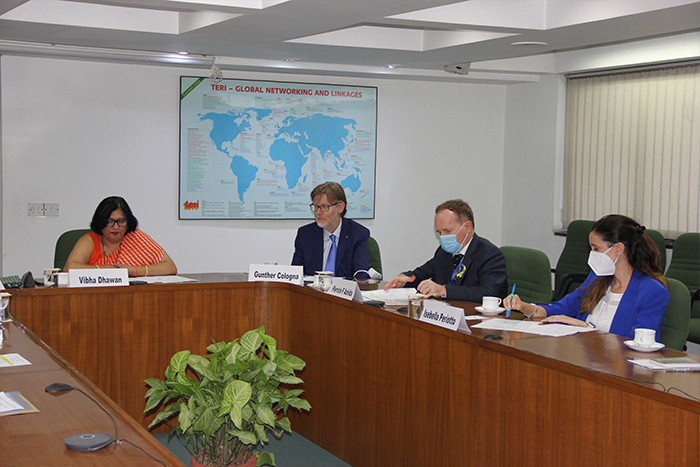 In her address, Dr Vibha Dhawan, Director General, TERI, said, "The UN Sustainable Development Goals (SDGs) adopted by all United Nations Member States in 2015 provides a shared blueprint for peace and prosperity, for people and the people, now and into the future. These goals are a call for urgent action by all countries in a global partnership, and this partnership includes not just governments, but also civil society, scientific community, academics and business houses."
Dr Gunther Cologna, Director Eurac Research, signed the MoU for EURAC Research, while Dr Roland Psenner, President, Eurac Research, took part in the ceremony virtually.
A delegation of the European Union in India and Embassy of Italy were present during the MoU signing.
Mr Pierrick Fillon-Ashida, First Councellor, Delegation of the European Union in India, highlighted the importance of working together and the synergies in the areas of climate change, agriculture, research and student exchange programs, social development and environment. Dr Vivek Dham, Policy Officer from EU, highlighted how TERI has played a key role at national and global platforms.
Ms Isabella Periotto, Counsellor, Embassy of Italy, highlighted the work that her country has been doing in the sectors of environment, knowledge exchange, climate change, education and environment.
The World Economic Forum has chosen TERI as one of the thirteen innovative organisations working to conserve and restore India's forest landscapes.
TERI has been recognised for its patented and innovative mycorrhizal technology. It acts as a biofertilizer, as well as aids the restoration of abandoned fly ash ponds, chlor-alkali ash dumps and land loaded with distillery effluents.
The technology enables better water and nutrient uptake from the soil to the plants and assists roots in soil aggregation. It is particularly useful in the reclamation of barren land and improving productivity.
It has been used to reclaim barren land and improve productivity in Delhi, Chhattisgarh, Andhra Pradesh, Gujrat, UAE, and Qatar.
To know more about the top innovators who are conserving and restoring India's forest landscapes, go to
UNEP and TERI join forces to advance sustainable development
The United Nations Environment Programme (UNEP) and the Energy and Resources Institute (TERI) have signed a Memorandum of Understanding (MoU) aligned with the UN 2030 Agenda for Sustainable Development to promote green technologies, advance cutting-edge policies and build capacity to meet humankind's environmental challenges.
UNEP's collaboration with TERI aims to foster the common objective of science-based solutions to environmental challenges and will undertake the following initiatives under the MOU to meet this vision.
Scan for and provide the latest and most up-to-date and relevant findings and research related to environmental innovation.
Support frontier assessments of innovations, including cutting-edge technologies and nature-based solutions.
Develop data infrastructure and standards for management, collection, dissemination, and analytics of environmental information to provide insights into decision-making processes.
Conduct joint assessments, undertake scanning processes for the most suitable and environmentally friendly technologies and determine the necessary enabling conditions (including governance) for scalability at the local, national, and global levels.
TERI is a policy research institute that aims to create innovative solutions in energy, the environment and sustainable development. UNEP has a mandate to provide timely, scientifically credible and policy-relevant environmental assessments for decision-making to advance the 2030 Agenda.
TERI wins the Pathfinder Award for innovation in nature conservation
15 November 2021
TERI's conservation efforts in Nagaland have been recognised with the prestigious Pathfinder Award for innovation in nature conservation. The awards, organised by the International Union for Conservation of Nature (IUCN) and United Nations Development Programme (UNDP), is a recognition of TERI's efforts at community conservation conducted along with partners in the Northeastern state. The institute's work on 'Strengthening Community Conservation in a Biodiversity Hotspot' explores solutions involving village communities as well as rejuvenating traditional conservation practices.
TERI's work was chosen from over 400 nominations across four categories and the award ceremony was held online on November 15.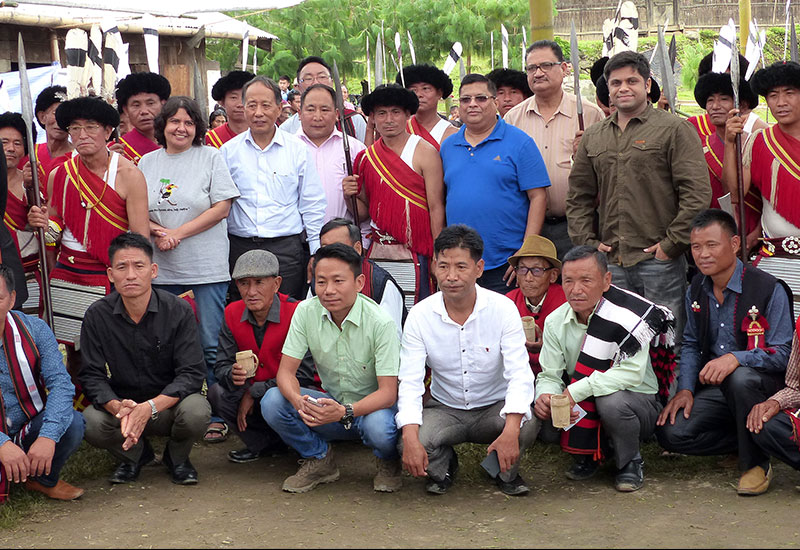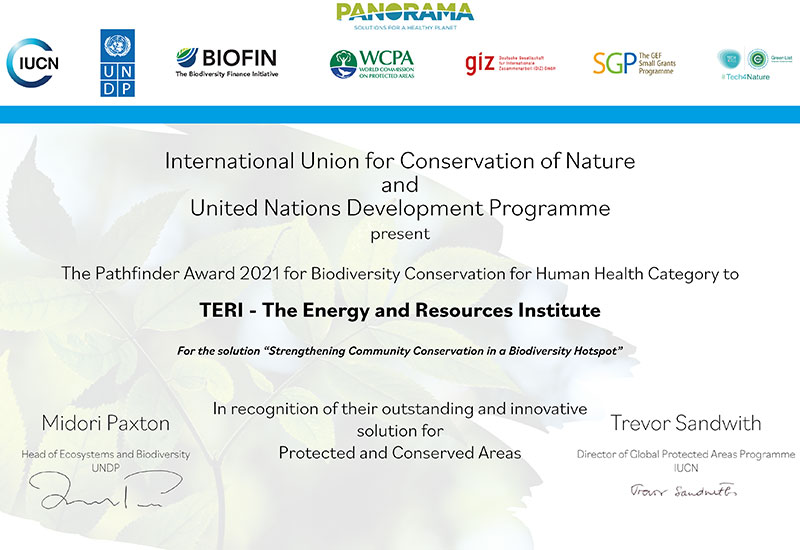 TERI's Centre for Biodiversity and Ecosystem Services has been working extensively in Nagaland since 2014. It had carried out a milestone survey which revealed that 407 out of 1428 villages had Community Conservation Areas (CCAs), a practice by which inviolate areas are declared as sanctuaries by the communities in response to forest degradation and loss of wildlife.
The team also implemented a pilot project along with the village communities of Sukhai, Kivikhu and Ghukuiye of Zunheboto district, in which CCAs were rejuvenated through traditional conservation practices. The project played a key role in enhancing sustainable use of biological resources, as well as effective conservation. Around 222 species of birds, and 200 species of butterflies were documented and protected as 939 hectares were declared CCAs, thereby becoming areas where hunting and destructive fishing are banned. The traditional knowledge of communities, mostly oral in nature, has been documented in a People's Biodiversity Register as part of the project.
Dr Vibha Dhawan takes charge as Director General, TERI
5 March 2021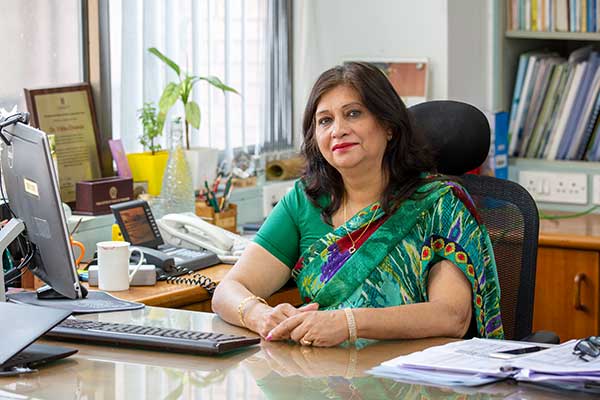 Dr Vibha Dhawan, Senior Programme Director, TERI has taken charge as the Director General of TERI from March 1, 2021. She takes over from Dr Ajay Mathur, consequent to his election as the Director General of the International Solar Alliance.
Dr Vibha Dhawan is associated with The Energy and Resources Institute since 1985. She also served as the Vice-Chancellor of TERI School of Advanced Studies from 2005-2007. She is a Fellow of the National Academy of Sciences, India.
"I am honoured to lead TERI. We stand on the strong foundation of four decades of knowledge and innovation in the field of sustainable development. Together with our invaluable human resource and strong support of partners, I am confident of the pivotal role that TERI will play in accelerating India's transition to a cleaner and sustainable future", said Dr Dhawan.
Dr Dhawan is actively involved in research as well as policy development, both at the national and international level. She is a task force member of a number of committees of the Department of Biotechnology (DBT), the Biotechnology Industry Research Assistance Council (BIRAC), the Biotech Consortium India Limited (BCIL) etc.
She is currently serving as Adjunct Professor, Consul General South Asia Partnership, Michigan State University. She has successfully completed a number of international assignment such as co-ordinator for the Asia Pacific Consortium on Agriculture Biotechnology (APCoAB); Advisor to Director General, The International Maize and Wheat Improvement Centre (CIMMYT); and Deputy Director, Research Partnerships & Co-ordination with the Borlaug Institute for South Asia. She has served on the boards of prestigious organizations in India and overseas including Jawahar Lal Nehru University, Ambedkar University, Ayurvet Foundation and Centre for Agriculture and Bioscience International (CABI).
Dr Dhawan as a researcher was instrumental in the establishment of the highly successful Micropropagation Technology Park at TERI. Her recent research interests are in the area of biofuels. She is currently the coordinator of the DBT-TERI Centre on Integrated Production of Advanced Biofuels and Biocommodities.
She has authored 6 books and over 50 publications.