Invitation of Expression of Interest under National Mission on Himalayan Studies
28 June 2021
Invitation of Expression of Interest (EoI) to undertake Geological Investigations, Plantations and Civil Construction Works of a springshed in a consortia initiative funded by NMHS, GB Pant National Institute of Himalayan Environment and Sustainable Development, Kosi Katarmal, Almora, MoEFCC, New Delhi, led by DAV (PG) college, Dehradun in collaboration with TERI-SAS, New Delhi, TERI, New Delhi and Uttarakhand Jal Sansthan (UJS), Dehradun.
Scope of work:
Preparation of structure geology (dip/strike, dip amount and rock type with geological sequence) on 1:1000 Scale, study of set of joints and fractures on 250 m interval. In case of absence of exposed rocks, provide the thickness of soils (provide track of GPS enable line traverse mapping in shape file format);
Resistivity survey on 500m interval with interpretation report and all profiles of two conjugative observations;
Isotopes survey and analysis report at three or four locations;
Plantation work with 1000 plants per hectare (New plantation should be achieved 3% of total geographical area) and
Construction of Structures for soils moisture conservation and ground water recharge – Contour trenching, Inwardly sloping terraces, Circular ponds, Semi-circular bunds, Soils and Stone bunds Gabion Structures with use of local stone, sand, and soil, bunds, gulley plugs with use of stone (Note: all structures will preferably use local earthen material and avoid the use of cement and concrete structures.)
Location/ Sites: Near Selupani, Tehri, Uttarakhand
The company/firm/ bidder should fulfil the following:
It should have working experience of Himalayan region or Uttarakhand.
It should have at least 3 years IT returns and max. Rs. 25 lakhs annual turnover.
It must have completed at least ten groundwater related projects/ works, out of which atleast one must be in spring or river rejuvenation.
It must have hydro-geologist and other team members having relevant qualifications in groundwater investigations with at least 5 years' experience.
Selection will be on "Technical Capacity and Financial Cost basis" for which last date of submitting quote is 10.7.2021.
Details available at: http://davpgcollege.in/news/RG7MnUrm.pdf
Dr Vibha Dhawan takes charge as Director General, TERI
5 March 2021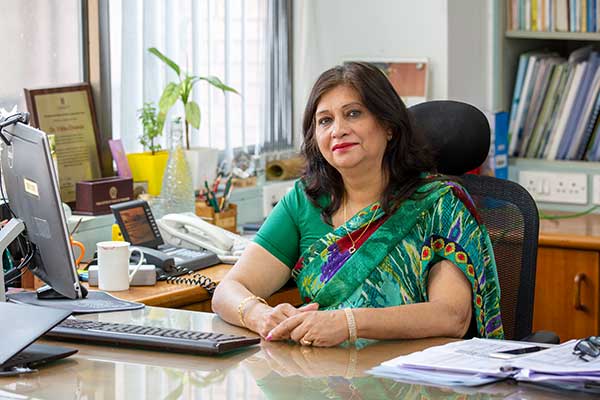 Dr Vibha Dhawan, Senior Programme Director, TERI has taken charge as the Director General of TERI from March 1, 2021. She takes over from Dr Ajay Mathur, consequent to his election as the Director General of the International Solar Alliance.
Dr Vibha Dhawan is associated with The Energy and Resources Institute since 1985. She also served as the Vice-Chancellor of TERI School of Advanced Studies from 2005-2007. She is a Fellow of the National Academy of Sciences, India.
"I am honoured to lead TERI. We stand on the strong foundation of four decades of knowledge and innovation in the field of sustainable development. Together with our invaluable human resource and strong support of partners, I am confident of the pivotal role that TERI will play in accelerating India's transition to a cleaner and sustainable future", said Dr Dhawan.
Dr Dhawan is actively involved in research as well as policy development, both at the national and international level. She is a task force member of a number of committees of the Department of Biotechnology (DBT), the Biotechnology Industry Research Assistance Council (BIRAC), the Biotech Consortium India Limited (BCIL) etc.
She is currently serving as Adjunct Professor, Consul General South Asia Partnership, Michigan State University. She has successfully completed a number of international assignment such as co-ordinator for the Asia Pacific Consortium on Agriculture Biotechnology (APCoAB); Advisor to Director General, The International Maize and Wheat Improvement Centre (CIMMYT); and Deputy Director, Research Partnerships & Co-ordination with the Borlaug Institute for South Asia. She has served on the boards of prestigious organizations in India and overseas including Jawahar Lal Nehru University, Ambedkar University, Ayurvet Foundation and Centre for Agriculture and Bioscience International (CABI).
Dr Dhawan as a researcher was instrumental in the establishment of the highly successful Micropropagation Technology Park at TERI. Her recent research interests are in the area of biofuels. She is currently the coordinator of the DBT-TERI Centre on Integrated Production of Advanced Biofuels and Biocommodities.
She has authored 6 books and over 50 publications.
TERI statement on Dr Ajay Mathur's election as Director General, ISA
15 February 2021
We are delighted to announce that Dr Ajay Mathur, Director General, TERI, has been elected as the Director General of the International Solar Alliance (ISA). Dr. Mathur's name was approved and announced today at a special virtual assembly of the ISA. As Government of India's nominee for the position, Dr. Mathur was elected unopposed by the 89-country assembly of the ISA.
The Governing Council of TERI has put a transition plan into place, which includes initiating a search process to identify a new Director General to lead TERI. Also, in order to ensure a seamless transition, Dr. Vibha Dhawan, the senior-most Programme Director in TERI has been identified to take on the responsibility of TERI's leadership as the Interim Director General.
TERI shall miss the leadership and guidance of Dr Mathur and strive to carry forward the energy and climate agenda that he steered to a new level of ambition, both for the institute and the country. "Dr. Mathur's election as Director General, ISA, is a matter of great pride for TERI. We congratulate Dr. Mathur for this recognition and wish him tremendous success in his new role", said Nitin Desai, Chairman, TERI.