Webinars Series on Mainstreaming Urban Climate Action
TERI, in collaboration with the European Union International Urban Cooperation programme, are delivering a capacity building programme on 'Mainstreaming Urban Climate Action'. The programme includes four webinars with resource modules focusing on building the capacity and knowledge of practitioners in urban local bodies (ULBs), policy experts, researchers, scholars, and university students.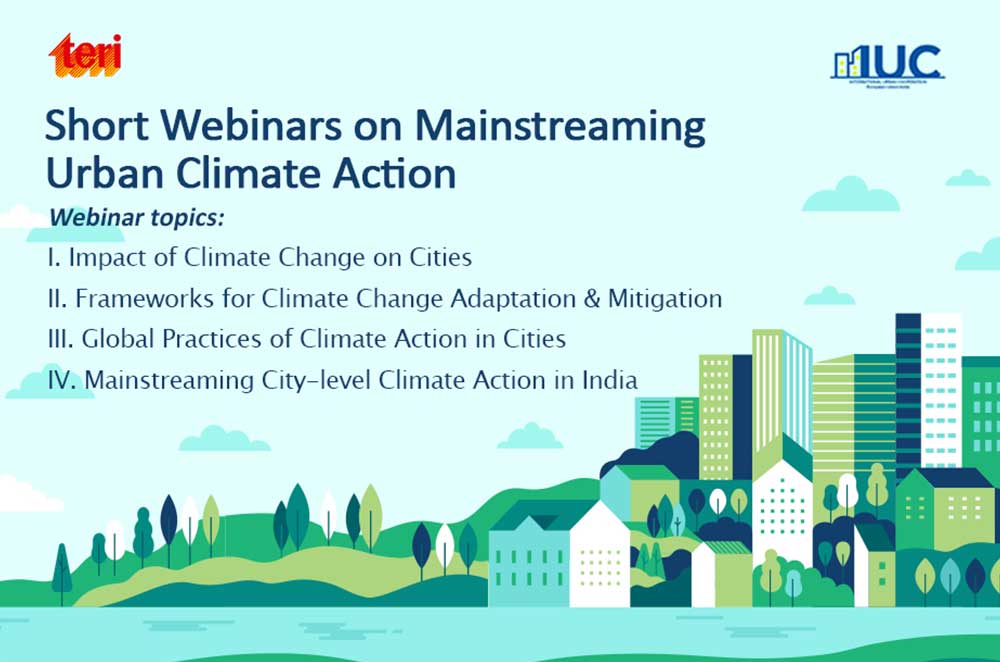 Accounting for emissions of cities along with mitigation and adaptation strategies are now extremely relevant. There is a need for scaling up efforts for awareness generation and capacity building to incorporate city-level climate action in the academic curricula as well as professional skills training. To this end, the webinars consist of topics that address climate change impacts in cities, as well as focus on understanding the importance of context-specific adaptation and mitigation interventions towards informed decision-making and climate-smart governance.
Webinar topics:
---
---
Key objectives of the webinar series:
Empower stakeholders to address challenges in the city, and gain an understanding of the application of climate change knowledge in policy, decision-making and governance.
Sensitize and build awareness on climate change, issues and impacts, and the importance of adaptation and mitigation interventions.
Inform about the existing assessment frameworks for climate change adaptation and mitigation.
Provide an interactive platform for dialogue on mainstreaming climate action at the city level.
Contact Us
Ms Adishree Panda
Research Associate
Centre for Urban Planning and Governance
Transport & Urban Governance
Email: adishree.panda@teri.res.in
Mr Janmejay Sahoo
Research Associate
Centre for Urban Planning and Governance
Transport & Urban Governance
Email: janmejay.sahoo@teri.res.in
Dr Panagiotis Karamanos
Team Leader
International Urban Cooperation (IUC) India
Email: karamanosp1@gmail.com