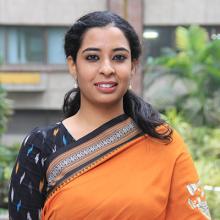 Ms Adishree Panda
Area Convener, Centre for Urban Planning and Governance
Adishree is an urban development practitioner working on planning and governance issues through a focus on policy research and capacity-building activities related to sustainable and smart urban development, mainstreaming resilience strategies, and inclusive climate action.
She is a graduate from the Development Planning Unit of University College London (UCL), United Kingdom, and from the School of Human Ecology of Ambedkar University, Delhi. Her research interests include delving into multi-tiered governance of contemporary urban development issues, and converging perspectives of different stakeholders for informed decision-making.
She loves travelling to different destinations around the world and trying new cuisines, and is currently attempting to learn Spanish.