Webinar Module III on Global and Indian Best Practices of Climate Action in Cities
Ms Adishree Panda, Mr Janmejay Sahoo
Online
TERI and the European Union International Urban Cooperation programme are delivering a capacity building programme on 'Mainstreaming Urban Climate Action' . The programme includes four short webinar modules focusing on building the capacity and knowledge of practitioners in urban local bodies (ULBs), state representatives, policy experts, researchers, scholars, and university students.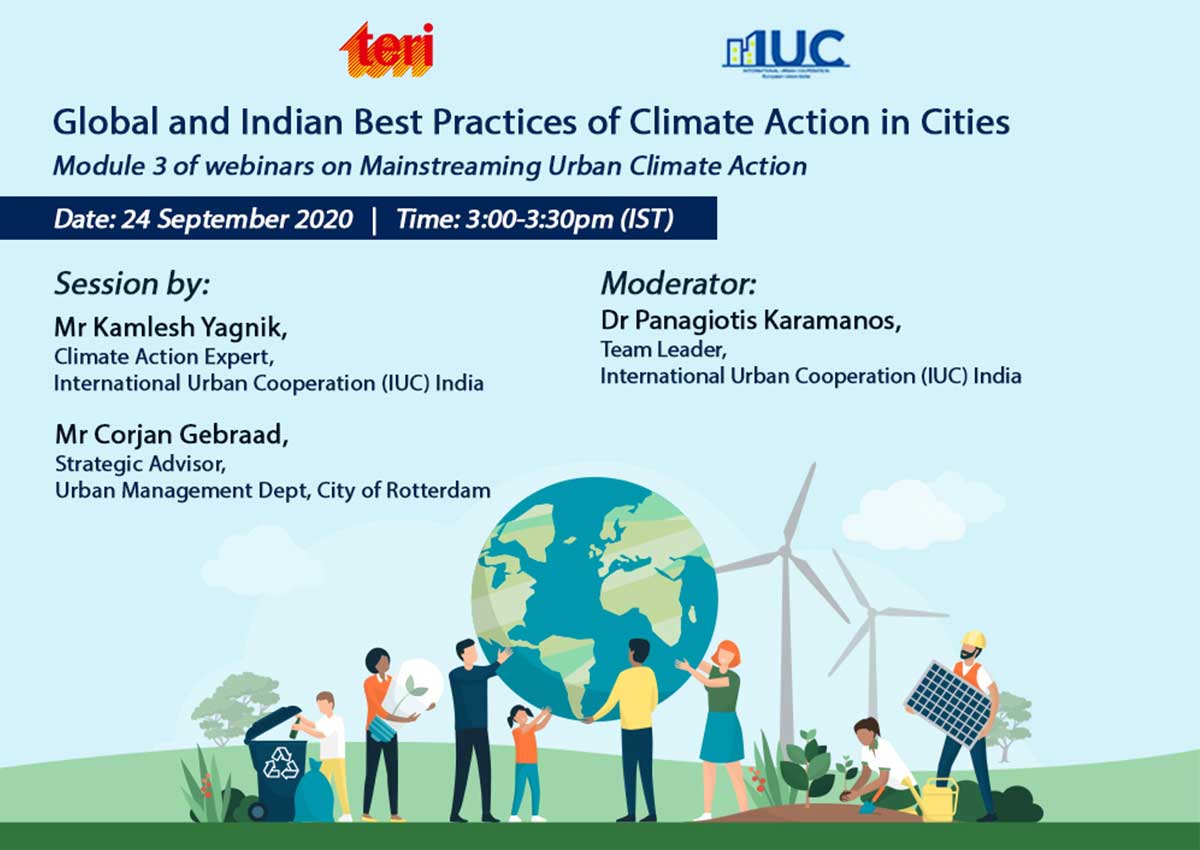 This Webinar Module III on 'Global and Indian Best Practices of Climate Action in Cities' is the third of the series and illustrates examples of global and Indian best practices of climate action in cities, with respect to both mitigation and adaptation strategies. It is an extension of Module II that provides an overview of the existing frameworks and strategies for mitigation and adaptation which can help cities address and deal with the impacts of climate change. The Webinar is accompanied by a resource module and an informative video which will be available to the participants.
---
---
On 24th September 2020, 03:00 PM - 03:30 PM IST
Key objectives of Webinar Module III:
Inform the target audience on the existing assessment frameworks for climate change adaptation and mitigation.
Provide an understanding of how global practices of climate action are similar and/or different from each other depending on the local context.
Delve into the methodologies, implementation processes, and stakeholders involved in various adaptation and mitigation interventions.
The benefits of Webinar Module III are:
Providing an interactive and collaborative platform for participants/viewers to identify and discuss global practices of climate change adaptation and mitigation.
Offering directions to participants/viewers for implementing and adopting effective climate change adaptation and mitigation strategies in the future.
Generating awareness and sensitization amongst urban practitioners and providing participants/viewers with an opportunity to hone decision-making skills for preparation of city-level climate action plans.