Staying Ahead of the Curve: Advancing S&T Innovation and Collaboration to accelerate Blue Economy in India
Ms Swati Ganeshan
Online
---
The Energy and Resources Institute (TERI) would be organising a diginar on the theme of, "Staying Ahead of the Curve: Advancing S &T Innovation and Collaboration to accelerate Blue Economy in India". This virtual workshop is a part of the Quadrilateral Dialogue series being jointly organised by KAS (India Office)-TERI-NMF-FICCI on, "Blue Economy-India's Pathway to a Sustainable, Secure and Resilient Economy" from 2020-2021.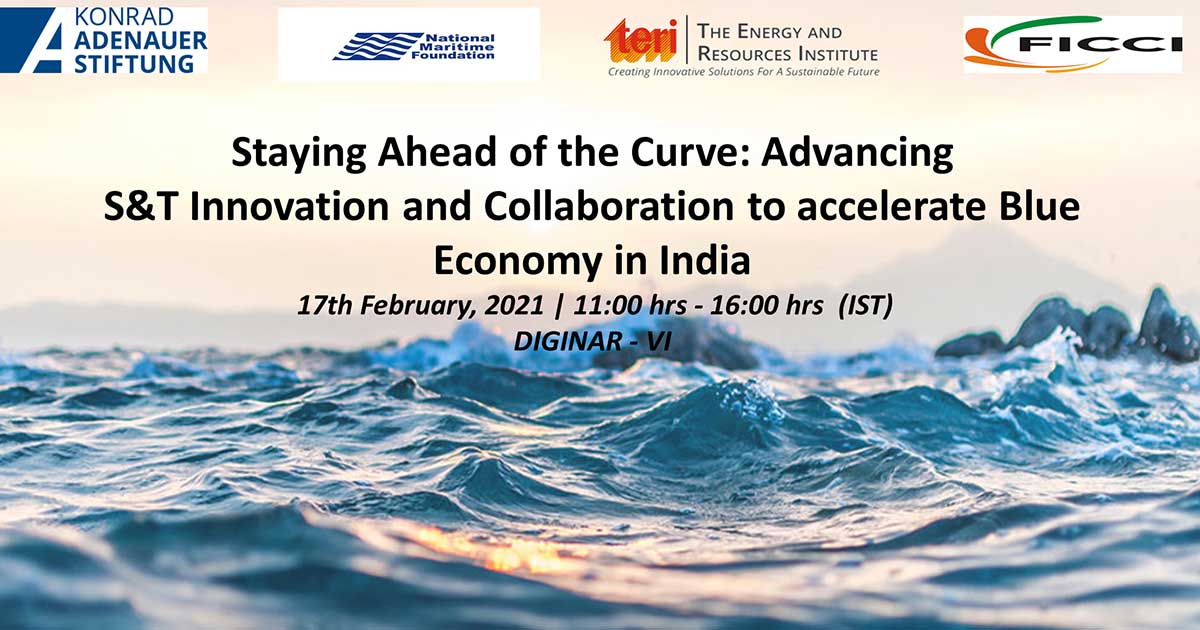 On 17th February 2021, 11:00 AM - 04:00 PM IST
The current and future use of technology, the role of science to enhance knowledge about ocean systems, conservation science and identifying capacity building needs are essential to harness the true potential of ocean and its resources for implementing SDGs. Technological advancements that enable sustainability would be key to India's success in the ocean's domain. There are two levels of research and innovation in ocean economy- first level of research would aid in understanding oceans systems and to preserve its ecology. The second level is the adoption and implementation of technologies to support blue economy sectors like shipping, tourism, fishing etc. Both these types of research and innovation is necessary to implement SDG 14 goals. In addition, there two more major areas that need particular focus to strengthen India's Blue economy agenda and take it forward. The first necessity is to expand training, capacity building programmes and R&D in ocean related sectors. A strong skill development foundation will be able to contribute effectively to India's future blue economy needs. The second major aspect that needs considerable efforts and initiatives is the establishing linkages for information and data collection and dissemination.
The diginar would focus on these issues that have critical relevance for India's envisioned blue economy framework and for sustainable oceans at large.
Kindly Register here.