Blue economy for India means a number of economic opportunities related to ocean and marine ecosystems, playing an important role in generating and sustaining livelihoods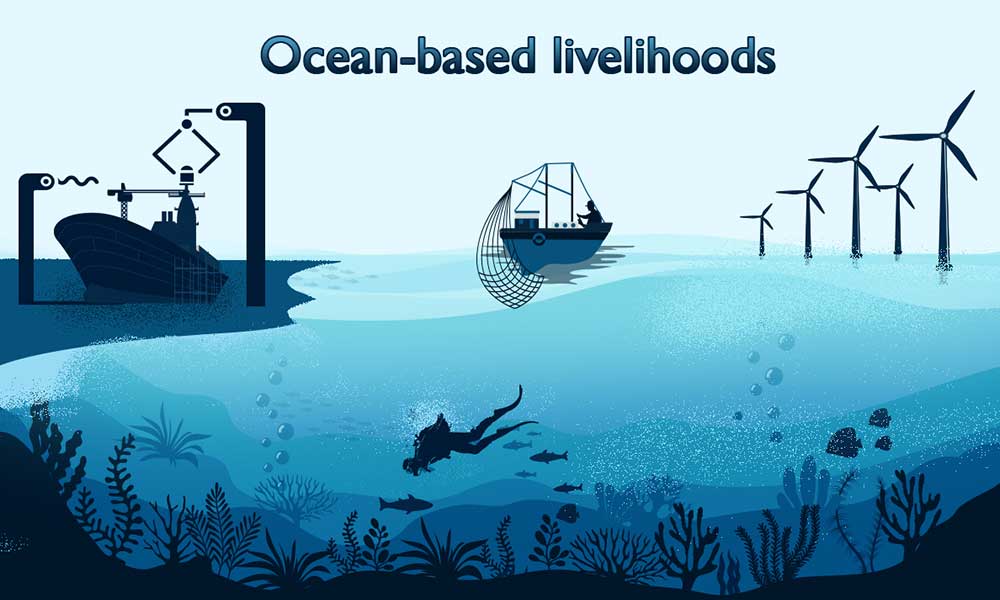 One of the major fallouts of the Covid 19 pandemic has been the loss of livelihoods and depleting job opportunities. Home to the world's second largest workforce (World Bank 2020)1, India now faces the challenge of ensuring adequate livelihoods and jobs. Some of the major sectors that provide millions of jobs and hold prospects for more are ocean-based sectors including fisheries, shipping, tourism, deep sea mining, offshore energy resources, marine research, ocean conservation, and ocean sciences. Additionally, India's blue economy framework also provides the right agenda for all stakeholders to explore opportunities and invest in these sectors for long-term gains.
Blue economy for India means a vast ocean of economic opportunities playing an equally important role in generating and sustaining livelihoods. With an over 7,500-km-long coastline spread across nine coastal states, four union territories (UTs) - including two island UTs, 12 major, and 200 minor ports, India's blue economy supports 95% of the country's business through transportation2 and contributes an estimated 4% to its Gross Domestic Product (GDP). India is also the third largest fish producing and second largest aquaculture fish producing country in the world (NFDB 2020a)3. Therefore, all the sectors across blue economy have the potential to engage a large workforce and have been doing so from the past many decades at least in sectors such as fishing, aquaculture, fish processing, marine tourism, shipping and port activities. Now, engagement in new sectors such as offshore wind, marine biology, biotechnology, and other activities like ship building and ship breaking is also rising extensively.
Among these, the fisheries sector alone provides livelihood to about 16 million fisherfolk and fish farmers at the primary level and almost twice that number along the value chain. The government envisions this sector to have immense potential to more than double the fisherfolk and fish farmers' incomes. The shipping sector is also one of the key livelihood providers in the blue economy as India has one of the largest merchant shipping fleets among the developing countries and ranks 17th in the world. The number of Indian seafarers who are employed on Indian and foreign flag vessels crossed over two lakh in 2018, showing an unprecedented increase of 35% over the previous year.
---
Table 1: Population dependent on fisheries for livelihood among coastal states in India (according to Blue Economy Working Group Report, Economic Advisory Council to the Prime Minister 2020)
| | | | |
| --- | --- | --- | --- |
| State | Fishing Villages | Fishing Families | Fisherfolk Population |
| Andhra Pradesh | 555 (16.2) | 163,427 (18.7) | 605,428 (14.9) |
| Gujarat | 247 (7.2) | 62,231 (7.1) | 336,181 (8.3) |
| Tamil Nadu | 573 (16.7) | 192,697 (22.0) | 802,912 (19.8) |
| Odisha | 813 (23.7) | 114,238 (13.1) | 605,514 (14.9) |
| Karnataka | 144 (4.2) | 30,713 (3.5) | 167,429 (4.1) |
| Kerala | 222 (6.5) | 118,937 (13.6) | 610,165 (15.0) |
| Goa | 39 (1.1) | 2,189 (0.3) | 10,545 (0.3) |
| Maharashtra | 456 (13.3) | 81,492 (9.3) | 386,259 (9.5) |
| West Bengal | 188 (5.5) | 76,981 (8.8) | 380,138 (9.4) |
Note: Figures in bracket show the shares in percentage
---
Sea ports are also a large source of employment. Unlike India's major ports, jobs in smaller ports have increased over the years from 1,933 in 2003 to 19,102 in 2017 (Blue Economy Working Group Report 4). In the past five years, smaller ports have edged out the major ports in growth of cargo volumes as well. This is because they tend to be at more strategic locations, with modernised infrastructure and more efficient operations.
---
Table 2: Employment in non-major ports of India
| | | | | |
| --- | --- | --- | --- | --- |
| State/UTs | 2003 | 2008 | 2014 | 2019 |
| Andhra Pradesh | 109 | 69 | 1195 | 2278 |
| Tamil Nadu | 110 | 62 | 35 | 35 |
| Pondicherry | 79 | 33 | 485 | 245 |
| Karnataka | 99 | 55 | 124 | 53 |
| Kerala | 316 | 191 | 683 | 262 |
| Maharashtra | 173 | 153 | 117 | 53 |
| Gujarat | 2662 | 1718 | 1723 | 1056 |
| Goa | 166 | 146 | 144 | 136 |
| A&N Islands | 477 | 452 | 641 | 623 |
| Lakshadweep | 217 | - | 111 | - |
| Daman & Diu | 22 | 22 | 10 | 6 |
| Odisha | - | 118 | 759 | 361 |
| Total | 4430 | 3019 | 5097 | 5108 |
Source: Ministry of Shipping, Road Transport and Highways
---
Marine tourism is also a sector that has been one of the fastest growing globally and in India. Particularly in coastal states like Kerala, Karnataka, and Tamil Nadu, coastal tourism has contributed largely to both the state economies and livelihood creation. In Kerala, the total number of jobs created directly and indirectly by the sector between 2009 and 2012 turned out to be around 23% of the total employment. In 2016, the total share of tourism in Tamil Nadu's employment was more than 22% and 23% in Karnataka's. This sector has been among the worst hit because of the Covid 19 fallout, but now coastal states are re-strategizing to attract local and domestic tourists with focus on single or small groups interested in adventure and eco-tourism. In an example of appealing to newer interests, a campaign named 'Keralam Kanaam' was launched by the Tourism Department of Kerala that aimed to offer luxury staycations at affordable rates to people from the state itself. Similar initiatives are being taken up in other coastal states to increase tourism.
Changing employment needs of traditional sectors
Since the existing blue economy structure consists of employment opportunities mainly in the traditional sectors like fishing, marine tourism, shipping and off-shore exploration, most of these sectors, especially fishing and marine tourism, depend on pre-existing skill sets. However, these skillsets would not be able to meet the growing demand for fish due to various climatic and environmental changes in the marine ecosystem. Also, gradually, fishing as a sector is now moving from subsistence farming to commercial through farming practices such as aquaculture and this requires technical skills at every level of the value chain. The Agriculture Skill Council of India (ASCI), in consultation with industry and institutions, has identified the various job roles in the aquaculture industry but developing skilling programmes in line with these roles is still a work in process.4
Similarly, shipping and ports require skilled manpower, but to meet the growing and changing demands in this sector would require re-skilling and upskilling in the future. Recently, the Ministry of Shipping entered into a pact with the Ministry of Skill Development and Entrepreneurship (MSDE) in order to both reap the benefit of vast employment opportunities in maritime sector and also to certify the sector's skill sets.5
The ship building industry also has a huge potential in India and it employs people with various kinds of skills with a potential for more in the future provided there is further skill development. Sectors such as these are also moving towards sustainability by using recyclable or biodegradable materials for ship building, ensuring energy efficiency, and even resource efficiency. Initiatives like 'Green Initiatives Programme' and 'Green Ports Project' are aimed at achieving sustainability and have a huge potential for employment generation along the value chain. Further, the promotion of indigenisation and self-reliance in the industry could create more employment opportunities in the sector.
Seeing a growth trajectory in the Indian logistics sector, which has been buoyed by industrial demand, it can be said that ports will play an even bigger role in the future. Currently, the sector comprises of semi-skilled or minimally educated workers but as the business environment changes so and matures, special managerial skills and strong interpersonal and analytical strengths will be required.
Supporting the increasing demand for renewable energy, offshore regions have tremendous potential in the form of offshore wind, waves, ocean currents including tidal currents, and thermal energy. However, the development of offshore wind energy is at a nascent stage in India primarily due to technological constraints and shortage of skilled manpower. Both, the deployment and manpower skilled for operations and maintenance can be achieved through regional-level skill development programmes.
Employment opportunities in the new and emerging sectors
Blue economy is now expanding as it has never been before with new and emerging sectors that include various types of energy generation, ocean thermal energy conservation (OTEC), marine biology and biotechnology. Out of all the different renewable energy generated from oceans, offshore wind energy industry is the most developed. Among the rest, the lack of skills and training, technological support, and investment is a major factor that has led to their slow growth. To aid their growth in India, the Union Minister of State for Power and New & Renewable Energy (IC) and Skill Development & Entrepreneurship approved and declared ocean energy as Renewable Energy in 20196. However, the sector still requires more push to fully reach its potential in terms of both output and generating employment.
With the increasing instances of climate change impacts on marine ecosystems, the role of marine biologists is also becoming important to help address many of these issues. Their work ranges from working for offshore oil and gas companies to reduce the negative impact of their operations on marine life, to developing designated marine reserves and creating artificial reefs/wrecks in order to encourage marine wildlife into an area.
Marine biotechnology is another emerging field focused on investigating and developing technological applications of living marine organisms, their derivatives, and their bioprocesses. The Marine Biotechnology programme was initiated during 1988-89 to support R&D and demonstration nature projects towards development of useful products and processes from marine resources. However, only 180 people have been trained till date through the programme7. At the national level, the Department of Biotechnology (DBT) also established a Task Force on Aquaculture and Marine Biotechnology in 1998 which has been overseeing individual research projects and network projects with national and international partners since then. At the state level, states like Gujarat have identified a marine biotechnology plan. This sector is, hence, undergoing the process of development and like many other new and emerging sectors, this too requires both financial and technological push, followed by skill development to meet future demands.
In conclusion
The number and type of educational programmes on both the traditional and emerging sectors of blue economy should be offered at universities and engineering/technical institutes for sustained supply of trainer personnel.
The number of vocational training sectors and on-the-job training should be regularly conducted both in universities and Industrial Training Institutes (ITIs) to help disseminate knowledge at the local level
The level of awareness on the number of employment opportunities in blue economy and the future prospects needs to be increased both at the central and state level. This can be done by conducting frequent sessions with the target audience at both the school and university levels.
The government should support in providing the required infrastructure for skill development in the blue economy sectors. This can be done by financially supporting the initiatives and programmes that focus on expanding human resource for the sectors of blue economy.
The world is looking towards oceans for a number of new emerging sectors and opportunities, but the success of these new sectors, in addition to traditional marine employment, would solely depend on oceans' health and long-term sustainability of their fragile ecosystems for which it is important to boost blue economy and deduce the right plan of action to create the right balance between economy and environment.
Footnotes:
[1] https://data.worldbank.org/indicator/SL.TLF.TOTL.IN?most_recent_value_desc=true
[2] Pink RM (2016) Water rights in South East Asia and India. Springer, Berlin, Germany
[3] NFDB (National Fisheries Development Board) (2020a), Introduction to Fish and Fisheries, NFDB: National Fisheries Development Board http://nfdb.gov.in/Fish-and-Fisheries-of-India
[4] Dubey, Madhuri (2018), Skill development in the fisheries sector – a catalyst for blue revolution in India, National Skills Network. https://www.nationalskillsnetwork.in/fisheries-sector-blue-revolution/
[5] PTI (2020), Shipping, skill development ministries ink pact for skilling manpower in port, maritime sectors, Outlook India. https://www.outlookindia.com/newsscroll/shipping-skill-development-ministries-ink-pact-for-skilling-manpower-in-port-maritime-sectors/1919649
[6] PIB Delhi (2019), Power Minister Shri RK Singh approves proposal to declare ocean energy as Renewable Energy, Press Information Bureau. https://pib.gov.in/PressReleseDetailm.aspx?PRID=1582638
[7] http://dbtindia.gov.in/schemes-programmes/research-development/agriculture-animal-allied-sciences/aquaculture-marine