A look at the natural remedies that can be used to increase immunity in times of the Coronavirus pandemic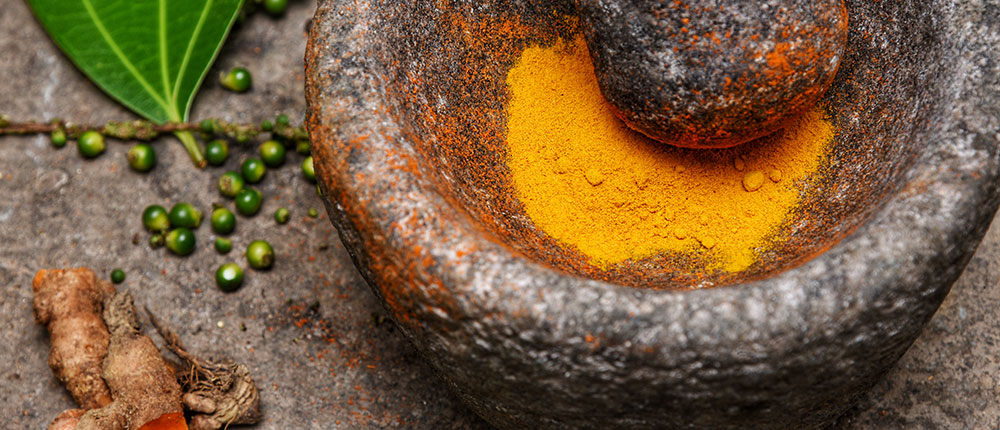 The Ministry of AYUSH (Ayurveda, Yoga & Naturopathy, Unani, Siddha and Homoeopathy), Government of India, recently issued an advisory to states suggesting "add-on traditional medicine interventions to conventional care", in India's fight against the coronavirus pandemic. It has also listed 40 national and international research papers that highlight the importance of traditional medicines1. The traditional Indian medicine system - Ayurveda - was developed around 2000 years ago and relies heavily on herbal medicinal products (HMPs)2.
While antiviral drugs and vaccines are still being developed, the traditional systems focus more on developing the body's immunity and providing a holistic solution for the wellbeing of an individual as a coordinated strategy3.
In addition to its other directives, the Ministry of AYUSH has also issued the following list of immunity boosting self-care measures.
Self-care immunity boosting measures for COVID-19 by Ministry of AYUSH
Drink warm water throughout the day
Once a day inhale steam infused with Mint leaves or Caraway seeds (Ajwain)
Practice Yoga, Pranayama and meditation
Include spices like Turmeric, Coriander, Cumin and Garlic in daily diet
Once or twice a day drink herbal tea/Kadha made using Basil (Tulsi), Cinnamon (Dalchini), Black pepper, Dry Ginger, Munakka (Raisin), and jaggery, or lemon juice
Drink milk with turmeric powder (half teaspoon in 150 ml hot milk) once or twice a day
Take one table spoon of sesame seed or coconut oil and swish in the mouth for two to three minutes, spit it out and rinse the mouth with warm water
Approximately 80% of India's population uses Ayurveda in some form or another through more than half a million Ayurvedic practitioners working in 860 Ayurvedic hospitals and 22,100 clinics4 in the country.
Ayurveda also focuses on lifestyle practices and immunity for cure and prevention of diseases. For instance, consuming tea fortified with five herbs - Ocimum sanctum (Tulsi), Glycyrrhzia glabra (Liquorice), Withania somnifera (Ashwagandha), Zingiber officinale (Ginger) and Elettaria cardamomum (Cardamom) is found to enhance body's innate immunity5. Similarly, herbs like Ocimum basilicum (Tulsi), Zingiber officinale, Allium sativum (Garlic), Embelica officinalis (Indian Gooseberry), Aloe vera and Camphor and Eucalyptus oil have shown success in building immunity against the H1N1 virus and relieving swine flu symptoms6,7,8.
Broad spectrum antiviral properties have also been reported from plants such as Taraxacum officinale (Common Dandelion), Allium fistulosum (Welsh Onion), Ocimum basilicum, Embelica officinalis7 (Amla/ Indian gooseberry).
It may be argued that these systems take longer to cure as compared to modern medicines, but they also usually have the advantage of lesser side effects and being cost effective. Along with modern medicine, these systems could also be explored as potential treatment/prevention for COVID 19.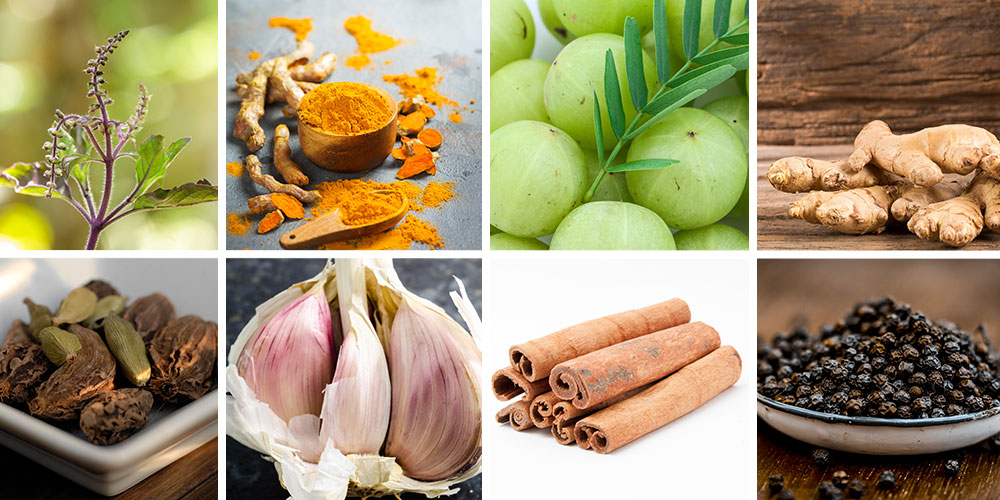 Herbal extracts effective against viral diseases
Reference (Year)
Plant extract/ herb studied
Key findings
Saxena et al. (2016)
Tinospora cordifolia (Giloy)
- Effective against dengue fever, swine influenza and intestinal and urinary tract infections

- Proposed as a potential treatment for Zika Virus
Lin et al (2014)
Lycoris radiate (Red spider Lily) Saikosaponins and its active component. Artemisia annua (Davana, Indian wormwood), Pyrrosia lingua Lindera aggregate (root Tuber)
- Against Coronavirus, HCoV22E9 and against SARSCoV.
Jadhav et al (2012)
Punica granatum (pomegranate), Ocimum sanctum (Tulasi) and Azadirachta indica (Neem)
- Effective against Herpes Simplex Virus 1 and 2

- Primary screening of 24 extracts of seven plants was done by cytopathic effect inhibition (CPE) assay followed by dose response, antiviral, and cytotoxicity assay conducted at eight concentrations.
Kumar et al. (2012)
Emblica officinalis (Indian Gooseberry/ Amla)
- Can be administered alone or in combination with other herbs to treat influenza, cold, bronchitis, asthma, tuberculosis, warts, skin afflictions, diabetes, cholesterol and anaemia.

- Can be used as whole fruit, powder and even juice.
Tambekar and Dahikar (2011)
Triphala, Hareetaki, Dashmula
- Ethanol extracts of the herbs showed potent antibacterial activity against Staphylococcus epidermidis, Proteus vulgaris, Staphylococcus aureus, Escherichia coli, Pseudomonas aeruginosa and Salmonella typhi.

- In addition to their use as dietary supplements, these herbal preparations can be used as means to prevent enteric bacterial infections
Thyagarajan et al. (2002)
Phyllanthus amarus (Bhui avla)
- Has shown effective antiviral activity against hepatitis B and C viruses, and hepatoprotective as well as anti-inflammatory properties

- Patented chemo-biological fingerprinting methodology for standardisation of the P. amarus preparation
Kusumoto, et. al. (1995)
Bark extracts of Eugenia jambolana (Java Plum/ Jamoon), and Saraca indica (Ashoka), stem extracts of Terminalia arjuna (Arjun) and seed extracts of Areca catechu (Areca Palm);
- These plant-based extracts have inhibitory action on the HIV‐1 protease activity by more than 70% at a concentration of 0.2 mg/ml.
The review of literature suggests that the traditional medicine system has the potential to cure and prevent infectious diseases. However, there is a need to strengthen and standardise the treatments. Further, the use of these traditional medicines not only helps cure symptoms but also helps improve immunity and reduce the risk of infections to a great extent. The potential of these plant-based remedies in curing and preventing the COVID-19 infection must be extensively explored to develop globally acceptable therapeutic remedies along with the modern medicines and vaccines.
Footnotes
1. https://economictimes.indiatimes.com/news/politics-and-nation/ayush-pushes-traditional-cure-med-council-backs-modern-drugs/articleshow/74680699.cms?from=mdr
2. http://www.ijp-online.com/article.asp?issn=0253-7613;year=2011;volume=43;issue=3;spage=246;epage=253;aulast=Singh;type=3
3. Singh and Verma (2012). The concept of Vyadhikshamatva (Immunity) in Ayurveda
4. https://www.ncbi.nlm.nih.gov/pubmed/12408732?dopt=Abstract
5. Bhat et. al., 2010. In vivo enhancement of natural killer cell activity through tea fortified with Ayurvedic herbs
6. Parmar et. al., 2011. A review on swine flu.
7. Sharma (2010) Swine Flu: A fight against pandemic
8. Anuradha et. al. (2010) Potentials of Herbs on the Rescue of Influenza Prevention and Control