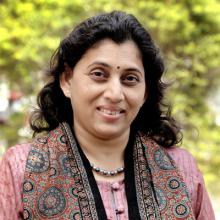 Dr Anjali Parasnis
Associate Director, Nutritional Security
Working with TERI for the past eight years, Anjali is currently heading TERI's Western Regional Center at Mumbai. She has conceptualized and successfully implemented several ambitious projects related to resource management, regional environmental/ biodiversity status reports, climatic impact assessment on water, agriculture and livelihood as well as addressing issues of regional importance like malnourishment, wetland conservation in coastal areas and so on.
She has successfully organized several events and outreach programs and has also presented her work in many national and international conferences and symposia.
She had been awarded a scholarship to attend a two year (summer) training program entitled CAS- IWRM, 2009- 2011 (Integrated Water Resource Management) at Bern University, Switzerland. She has been on a committee of technical experts on various advisory boards of Government of Maharashtra. Anjali had been a visiting faculty at UICT (University's Institute of Chemical Technology, Mumbai), and D.Y. Patil College of Management, Mumbai to conduct courses related to her areas of expertise.
She has more than 14 years of post-doctoral work experience in highly reputed institutions like NCL (National Chemical Laboratory), BARC (Bhabha Atomic Research Centre), Nagarjuna Fertilizers Corporation Ltd, apart from TERI (The Energy and Resources Institute). She has expertise in diverse areas including molecular diagnostics, engineering of algal cells for production of hydrogen, ethanol and methane gas using biomass, applications of renewable energy technologies as well as resource management aspects and administrative skills.
She has her doctorate in Molecular Marker Technology (Biochemistry) from NCL, Pune, a CSIR (Council of Scientific and Industrial Research) Laboratory. She has 2 US patents to her credit for developing diagnostic assays using molecular markers and several publications in peer reviewed national and international journals.
In addition to establishing strong network of key stakeholders, promotion and implementation of TERI's technologies in Western Region of the country, she is keenly interested in pursuing special projects which would lead to long term regional sustainability.