There needs to be greater awareness around the fact that sustainable is affordable because only consumers can drive the demand for green buildings.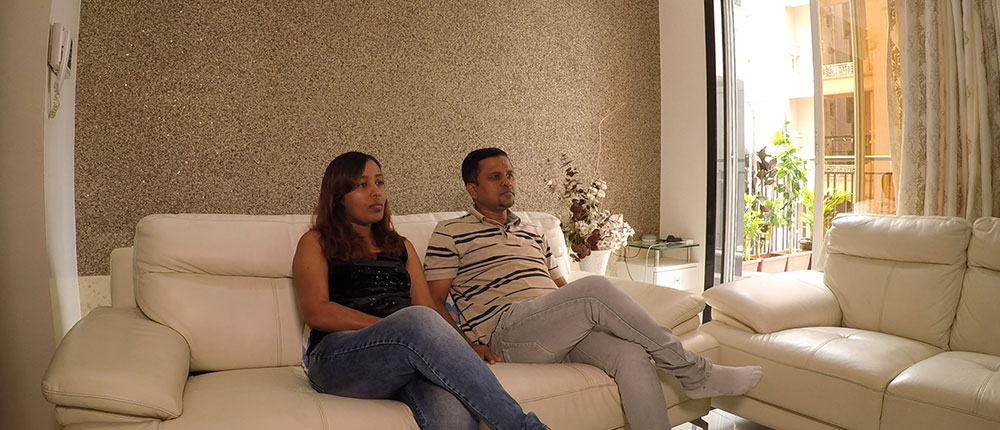 It is a given that climate change is drastically impacting our lives, and pushing the life-giving planet towards the edge of extinction. It is high time each of us takes appropriate action to preserve the planet for our children. Believe it or not, the real fight against climate change starts from one's home.
And that's what prompted Chhajeds to buy a home in the Royal Orange County in Pimpri-Chinchwad Municipal Corporation (PCMC) in Pune. The apartment was built using sustainable materials, generated 120-kilowatt peak of solar power, had a low-maintenance natural sewage treatment plant to treat 250 kilolitres of sewage, and also a rainwater harvesting capacity of 12 lakh litres. Ecstatic about living in one of the first residential projects in India targeting a 5-star GRIHA rating, Nilesh and Madhuri say in a unanimous voice, "Thanks to solar energy, our monthly electricity bills are as little as Rs 150-200. There are ample benefits that make this investment worthwhile. And these green buildings also contribute to beating the impact of climate change. So buying this house remains one of the best decisions that we took." For the uninitiated, GRIHA (Green Rating for Integrated Habitat Assessment) is India's National Rating System for green buildings. It measures the environmental performance of a building based on a set of criteria. Based on their score, buildings are awarded between 1 to 5 stars. This rating system works on the underlying principle of "what gets measured, gets managed". The GRIHA rating seeks to minimise resource consumption, waste generation and overall ecological/environmental impact of buildings and habitat.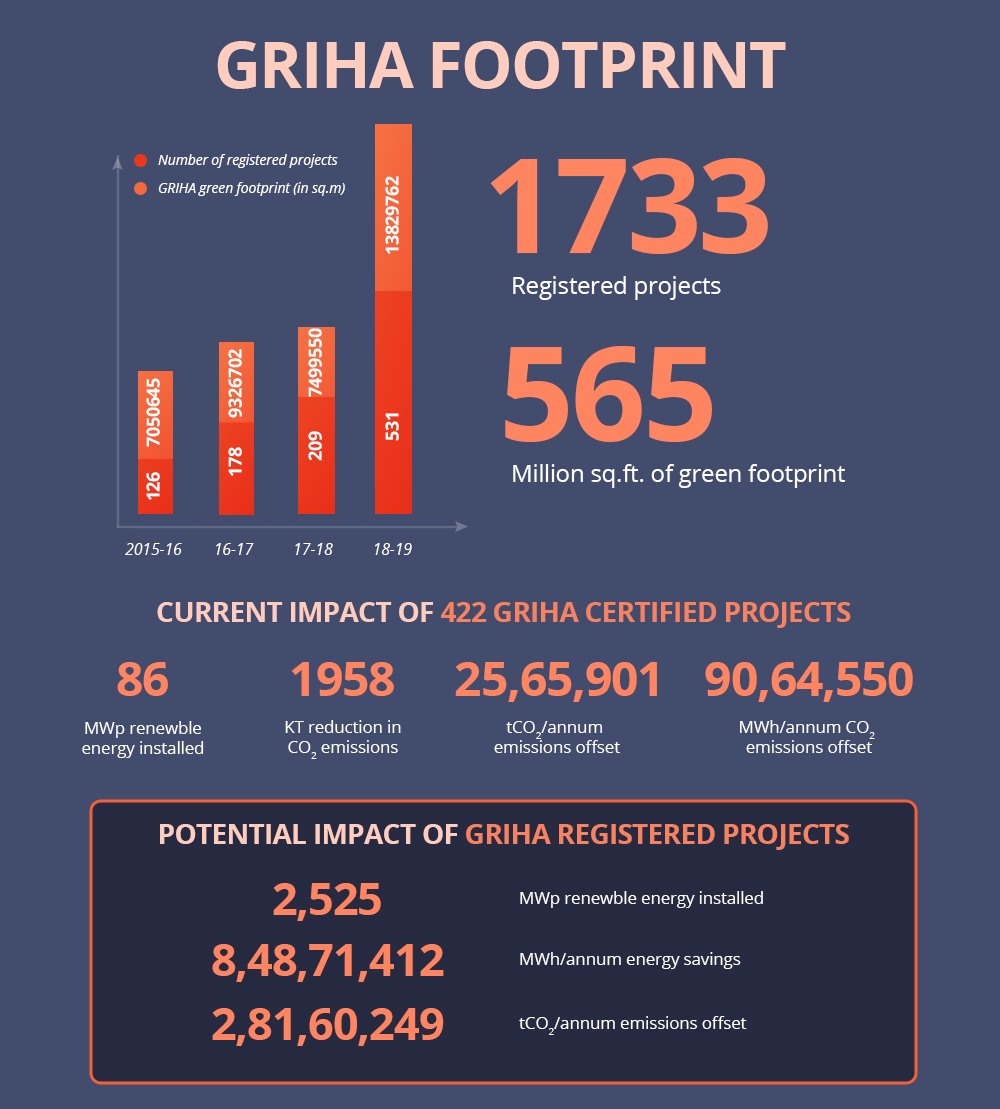 This year, GRIHA Council is co-hosting the 11th edition of GRIHA Summit with The UNSW, Sydney, Australia, from December 17th-18th, 2019, at the India Habitat Centre in New Delhi. The theme for this year's Summit is "Approach to Integrated Sustainability", which states that in order to attain sustainability in a holistic manner, it is imperative to strike a balance between social development, economic growth, sustainable management of natural resources and cultural variations.
Explaining the concept of a green building, Sanjay Seth, CEO, GRIHA Council, says, "Green building involves the practice of using environment-friendly and energy-efficient processes and technologies throughout the building's lifecycle from siting to design, construction, operation, maintenance and renovation. GRIHA evaluates the environmental performance of a building holistically over its entire life cycle, based on quantitative and qualitative criteria, thereby providing a definitive standard for green buildings and sustainable habitats." These measures seek to minimise resource consumption, waste generation and overall ecological or environmental impact of buildings and habitat.
GRIHA rates buildings across all segments and typologies. "Apart from rating large developments, we also rate small buildings—which are the small houses that people build —which we call Small Versatile Affordable GRIHA system (SVAGRIHA)," he adds.
Not just commoners but even celebrities are taking a lead in getting a green rating for their homes. Like former beauty queen and actor Gul Panag whose home at Mulshi near Pune is registered under SVAGRIHA. Panag's newly-built home has a rainwater harvesting system and solar panels to meet the daily water and power needs, and double glazed window that eliminate the need for air-conditioning inside the home.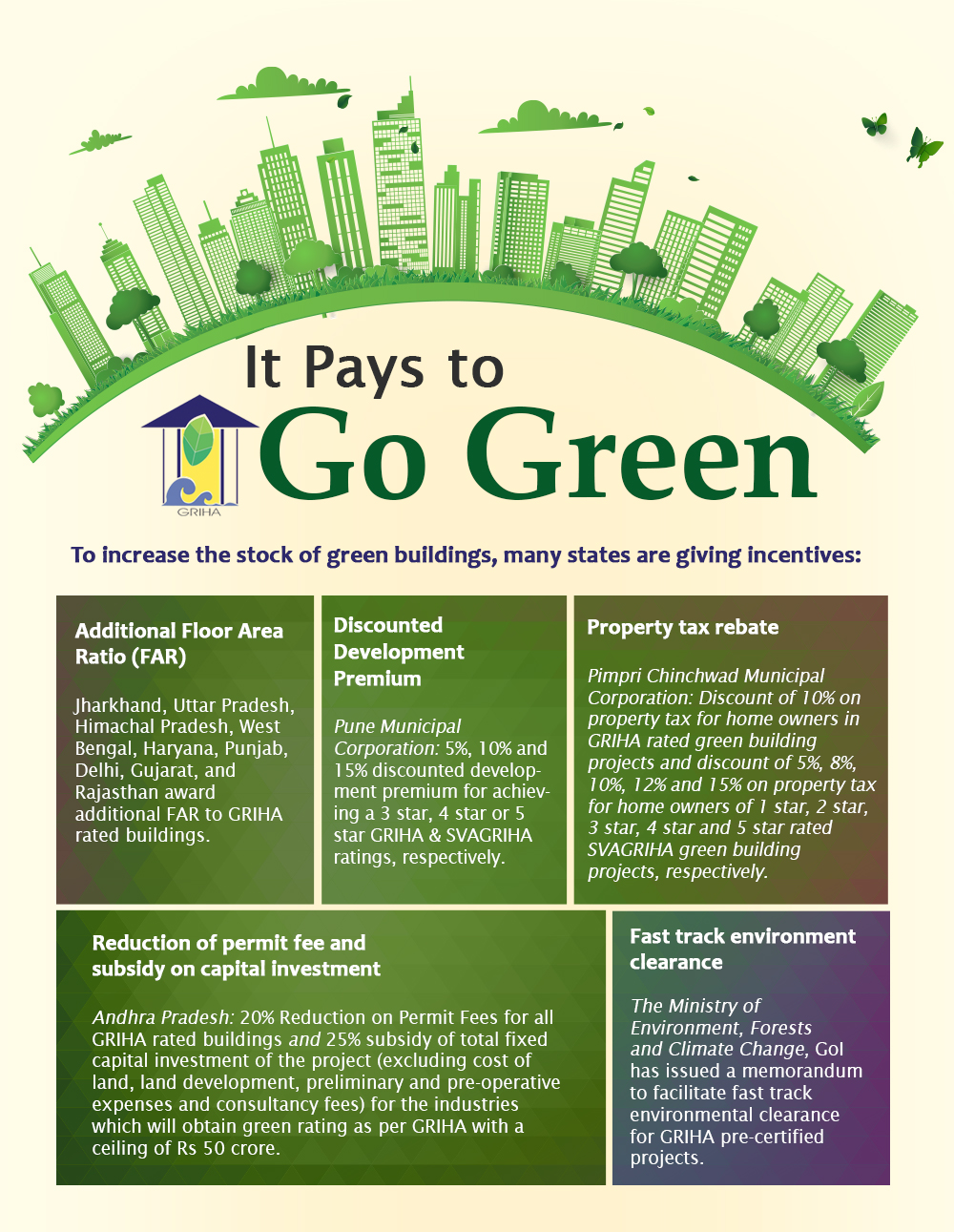 Highlighting the importance of a green building, Seth says, "It is resource efficient, low on operating expenses and gives improved thermal and visual comfort, making it healthier for the occupants." And unlike the popular perception, a green building doesn't costs more. "Sustainable is affordable and if all these features are introduced at the design stage of a building, it will help you to manage the expenses later. Even if the cost of the house increases a little bit due to these modifications, one will get to enjoy the benefits such as reduced electricity bills, better comfort, and better health year on year," he explains.
Sandeep Sonigra, founder member of the Orange County Group in Pune, couldn't agree more. Sonigra was always environmentally conscious in his work, but his ideas found a clear direction when he first came to know about GRIHA, and he decided to follow the GRIHA rating system in the construction of Royal Orange County. "Urbanization is the norm of the day. We cannot reverse it. So going green is the only option. As developers, it is our duty to the next generation," says Sonigra.
Those who are about to construct their own house or are going to buy house, Seth suggests some measures to ensure that the house is more resource efficient. "If you are planning to construct a house, you should give more time and thoughts to designing the building. The three components of a green building are reduce, reuse and recycle. One should use things that will reduce the energy consumptions, or products which can be reused or recycled. Other simple concepts that can be used include ensuring cross-ventilation and avoiding direct sun rays into the house. It is needless to say that there can be limitations but even then there are ample measures in place to make a building more efficient and one should explore them," adds Seth.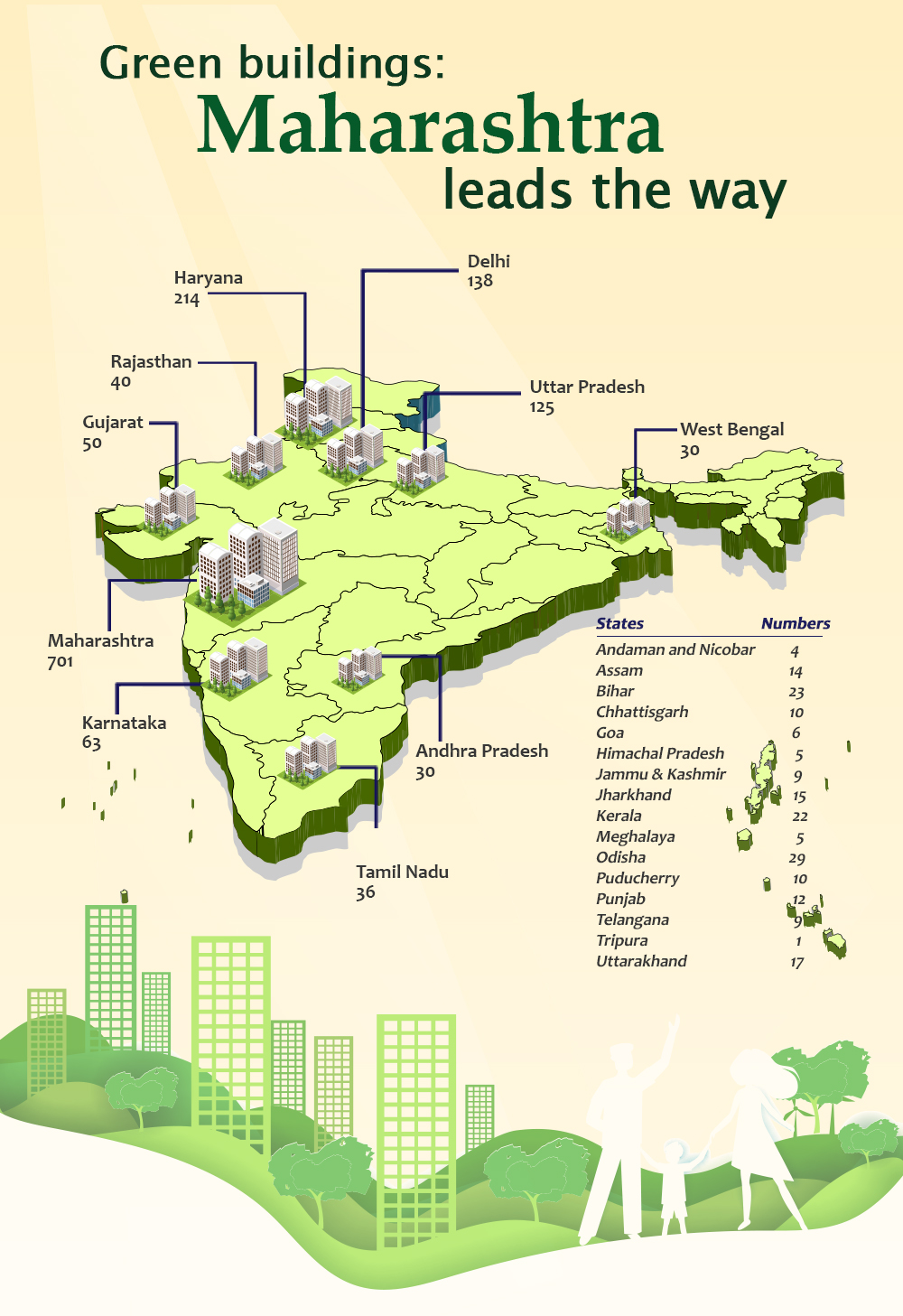 Among the states, Maharashtra takes a lead in green building measures, becoming the first state to lead the initiative of transforming its existing and to-be-built infrastructure at a large scale by committing upcoming structures to the green rating system, training its officials to evaluate building performance and offering incentives to builders for adopting green practices. "GRIHA Council has recently signed an MoU with the State government, Regional Chief Engineers and Public Works Department (PWD). The first phase had covered 300 existing government buildings on the parameters of GRIHA for Existing Building rating system across the state, along with training and capacity building of PWD officials," says Seth. GRIHA Council also has a cell in the PWD of the state to help build the capacity of officials as green building implementers, thus accelerating the process of greening urban spaces. Last year, the PWD in Maharashtra had mandated all upcoming government buildings and retrofitting of existing buildings to comply with green building concepts and to be rated by the GRIHA Council. "This small initiative in its first phase led to an annual reduction of nearly 2721 tonnes of carbon emissions which is equivalent to eliminating 600 vehicles from the roads," added Seth.
The step will go a long way in the construction of green buildings on a large scale. Likewise, the municipal corporation of Pimpri-Chinchwad, a newly developing city, on the outskirts of Pune is among the first civic bodies in India to adopt GRIHA. It provides a range of incentives to both developers and residents to promote the adoption of green buildings.
Speaking about PCMC's adoption of GRIHA, Commissioner, PCMC, says, "GRIHA is one of the best tools. It is simple and easy to implement. If we have to move towards sustainability, greener material, greener design technologies will have to be used for newer construction. The indigenous rating system helps us to make city much more carbon neutral and hence as city corporations, we have decided to give some of the incentives through property tax rebate or through reduction in development charges for the developers who are coming for certification for green buildings." Other significant GRIHA rated buildings in Pune and its suburbs include the Palladio Apartment Complex, the Pimpri-Chinchwad New Town Development Authority building and the VVIP Circuit House of Pune.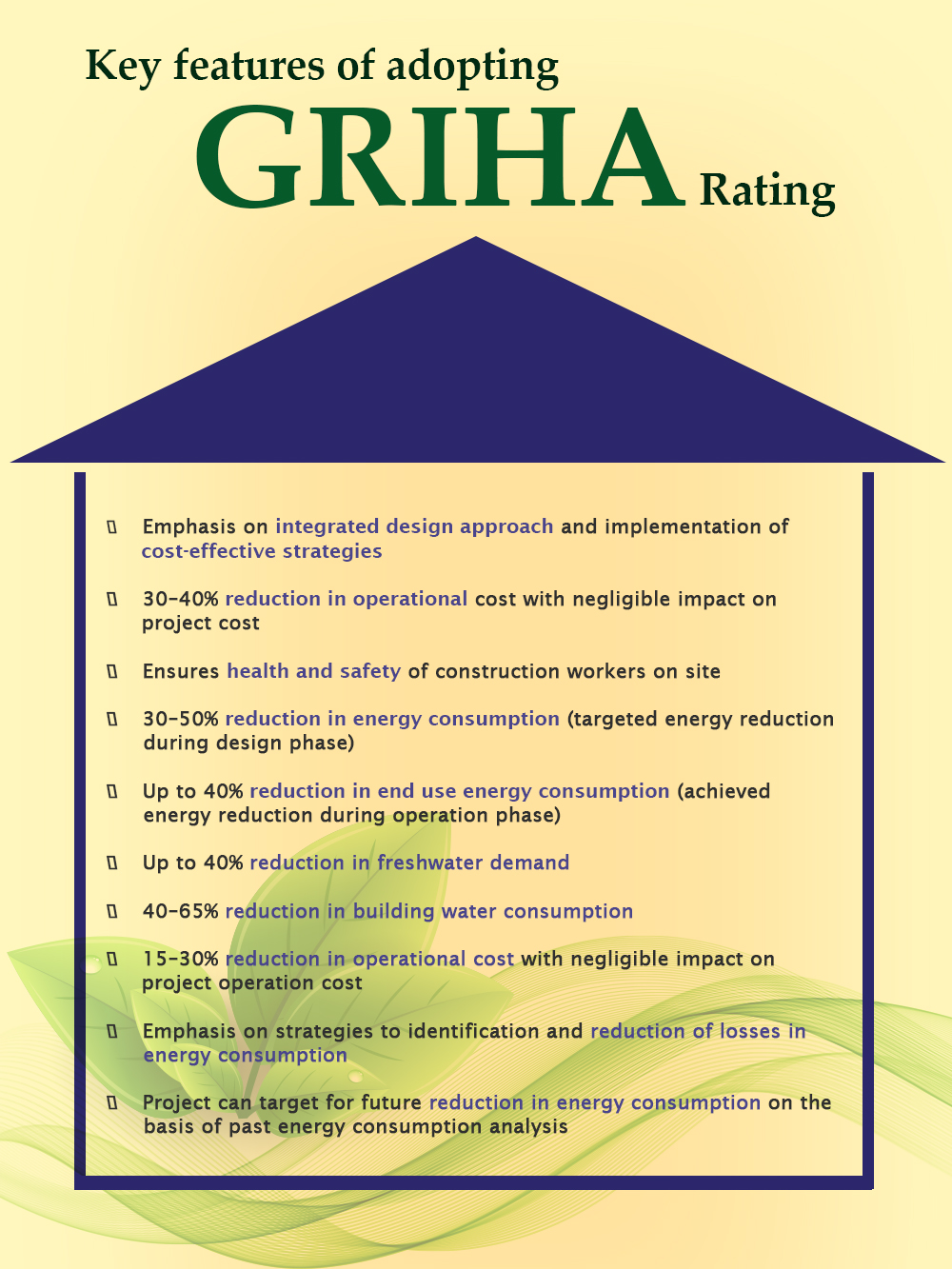 However, such houses are far and few between. And even though a green home doesn't cost more, people still don't go for it. "It is because people think that the materials to be used for green buildings are not available in the market or such houses are difficult to construct. But it is not like that. The material is freely available in abundance in the market and at a reasonable cost. Constructing a green house is only a question of engaging and understanding all of these things in a better way," says Seth. He suggests people to opt for a green building, or resource-efficient building, to enjoy reduced operating costs in the long run. According to Seth, the problem is two-fold, and the solution lies with consumers who can drive the demand. "First, homebuyers don't demand green buildings from developers. And then developers think that people need houses and whatever they will build will sell. So, unless there is a demand for green buildings, there will be no supply from the developers. A little late, but the government has realized the importance of green buildings and in consonance with this plan, many state governments are doling out incentives to developers. For instance, there are many state governments that allow increased floor space index (FSI) in case of green buildings based on certification by rating agencies such as GRIHA Council."
However, unlike other internationally devised rating systems that have been tailored to suit the building industry of the country where they were developed, GRIHA has been developed to rate commercial, institutional and residential buildings in India emphasizing national environmental concerns, regional climatic conditions, and indigenous solutions. "The rating system, based on accepted energy and environmental principles, seeks to strike a balance between the established practices and emerging concepts, both national and international. GRIHA integrates all relevant Indian codes and standards for buildings and acts as a tool to facilitate implementation of the same," explains Seth.
Across India, GRIHA buildings are now spread over 565 million sqft. India Energy Outlook: World Energy Outlook Special Report 2015 estimates that three-quarters of the anticipated 2040 building stock in India is yet to be constructed. That puts the onus on one and all to do their bit to make green buildings a part and parcel of our lives. So there's an urgent need to popularise the idea of green buildings because it can contribute a lot in making the planet clean and green.