India prepares to host UN conference to curb land degradation
---
Around 147 million hectares in India is undergoing some form of degradation. India needs sustainable management of land, forest, and water.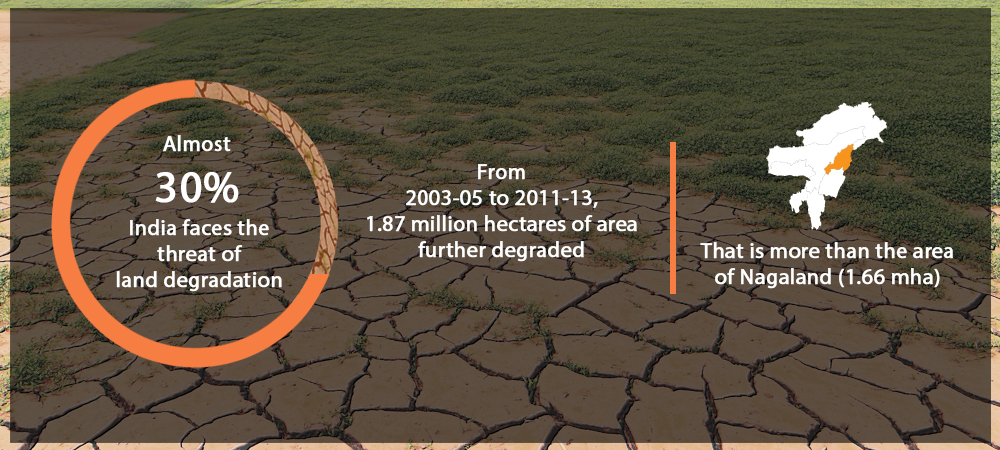 Desertification does not imply the natural expansion of existing deserted land; it means the degradation of productive land in arid or semi-arid areas. Desertification is a gradual decay of soil productivity and biodiversity—which makes cropping and cultivation of land unfeasible. Land degradation, at a steady rate, in dry-lands creates desert-like conditions.
United Nations Convention to Combat Desertification (UNCCD) was formed initially in 1996 to combat desertification in African countries. It is the only United Nations body to explicitly address the global challenges of Desertification, Land Degradation, and Drought (DLDD). In the 25th year of the UNCCD, India will host the Conference of Parties (COP14) from 2 to 13 September 2019. It will be organised at India Expo Mart Limited in Greater Noida and more than 5,000 representatives from about 197 countries are participating in the global conference.
A study by TERI in 2018 showed an economic loss of 2.5% of GDP in 2014-15 due to land degradation in India. As a run-up to the Convention, TERI and UNCCD organised a special media training workshop on 'Achieving Land Degradation Neutrality by 2030' on August 1-2, 2019 in New Delhi. The workshop equipped young journalists with the intricately connected dynamics of land, water, climate change, and biodiversity.
Global Assessment of Land Degradation
The world is losing nearly 13 million hectares of forest every year, while the persistent degradation of drylands has led to the desertification of over 3.6 billion hectares. Achieving Land Degradation Neutrality (LDN), in line with the 2030 Agenda for Sustainable Development Goals (SDGs), is crucial for restoring the productivity of degraded land, improving the livelihoods of over 1.3 billion people, and mitigating the effects of drought.
---
---
India at UNCCD COP14
Land Degradation Atlas by ISRO
The analysis of remotely sensed data by ISRO shows a cumulative increase of 1.87 million hectares of area is undergoing process of desertification or land degradation in India between 2003-05 and 2011-13. The most significant cause of land degradation in India is water erosion (10.98% in 2011-13), followed by vegetation degradation and wind erosion. The maps and salient findings are compiled in the form of Atlas by ISRO.
Sustainable management of soil, water and biodiversity are required for protecting India's land from further degradation. More details about COP14 are available at the official website: https://unccdcop14india.gov.in/
The 14th session of the global conference will evaluate the progress made by member countries to combat desertification, land degradation, and drought since the last COP held in China.
---
Highlights of Media Training by TERI and UNCCD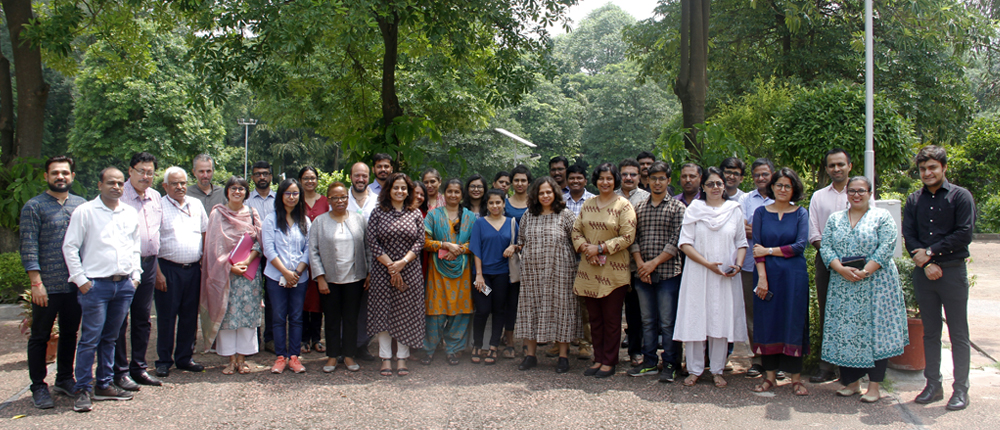 TERI's 2018 Study on Economic Cost of Land Degradation in India highlighted that land degradation cost 2.5% of India's GDP in 2014-15. The study was carried out in six different states of India with varied topographical conditions: Gujarat, Uttarakhand, Madhya Pradesh, Andhra Pradesh, Uttar Pradesh, and Rajasthan.
Read complete report volumes of the study:
---
---
Watch out for this space! More updates to come.
---
Read full proceedings from media training here:
Relevant Media Coverages