India soon to set voluntary targets to combat land degradation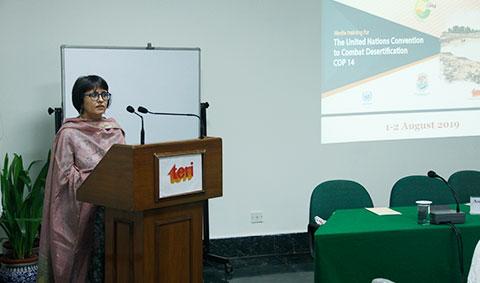 The country gears up to host 14th COP of United Nations Convention to Combat Desertification
New Delhi, August 05, 2019: The analysis of remotely sensed data by ISRO reveals that 96.40 million hectares or 29.32% of the Total Geographic Area (TGA) of the country faces the threat of land degradation during 2011-13. It shows a cumulative increase of 1.87 million hectares of area is undergoing process of desertification or land degradation in India between 2003-05 and 2011-13.
The important issues of Desertification, Land Degradation and Drought (DLDD) will be widely discussed in the coming months as India prepares to host the 14th session of the Conference of the Parties of the United Nations Convention to Combat Desertification (UNCCD) from September 2 - September 13 2019. COP 14 is being led by the Ministry of Environment, Forests and Climate Change. In the run-up to the conference, TERI and UNCCD co-hosted a special training to equip young journalists with essential background and knowledge about Land Degradation Neutrality (LDN).
Speaking about the Indian Government's commitment to reverse land degradation, Anuradha Singh, Director, Desertification Cell, Ministry of Forests, Environment and Climate Change said that, "Nearly 30% of India's land is degraded and we're committed to addressing this challenge. Budgets available for all land and water related schemes in Centre and States are enough to solve the problem, but we need to bring convergence to utilise these resources better." She added that the process of voluntary target setting for Land Degradation Neutrality under the UNCCD is underway and should conclude over the next few months.
Briefing the journalists, Mr Umakant, Joint Secretary, Department of Land Resources, Ministry of Rural Development explained, "The most effective principle of rainfed and degraded area development is conservation and efficient use of natural resources. It can best be achieved through watershed development adopting the ridge-to-valley approach. We have today come to 20.45 million hectares of area which has been treated and brought under the category of protective variation. As of now, we are planning to go for another 62-63 million hectares of land that needs to be treated."
Dr Ashok Kumar Jain, Adviser, Niti Aayog pointed out "Various measures have been taken to tackle land degradation and water use efficiency in agriculture under Accelerated Irrigation Benefit Programme (AIBP), Integrated Watershed Management Programme (IWMP), More Crop per Drop, and Har Khet ko Pani schemes."
Talking about the fundamental issue of securing groundwater access to large rainfed areas, A Ravindra, Director, WASSAN, highlighted the perspective of civil society organisations, "There is a high correlation between rainfed areas, poverty & tribal areas in India. About 61% of India's farmers rely on rainfed agriculture, yet public investment is skewed in favour of irrigated farming."
Highlighting positive initiatives at the state level, Manas Satpathy, Executive Director, PRADAN, said, "The state governments of West Bengal and Chhattisgarh have initiated large-scale programmes, involving rural women's institutions and civil society organisations (CSOs) to develop land and water resources and rejuvenate rivers under MGNREGA. This model should spread to other states affected severely by land degradation."
It is estimated that by 2030, 40.7% of the world's population will be living in the areas of water stress condition. Out of 328-million-hectare land of India, around 147 million hectares is undergoing some form of degradation. Hence, management of land, forest and water are very important to ensure that there is at least the required availability of water for each and every part of the country.
An analysis by TERI suggests an economic loss of 2.5% of GDP due to land degradation in India. Pia Sethi, Senior Fellow, Forestry and Biodiversity Division, TERI emphasized that it will cost India far less to reclaim land than the costs it is incurring on account of land degradation.
COP14 which will be held at India Expo Mart Ltd., Greater Noida will have participation from over 196 countries drawn from national and regional governments, science and research communities, the private sector, international and non-governmental organizations. The Parties to the Convention will agree on the actions each will take over the next two years and beyond to transition to a sustainable development path. As of now, 122 countries in the world have committed to setting land degradation neutrality (LDN) goals. While two-thirds of the parties have already announced their goals, others are in the process of doing so.
About TERI
The Energy and Resources Institute (TERI) is an independent, multi-dimensional organisation, with capabilities in research, policy, consultancy and implementation. It has pioneered conversations and action in the energy, environment, climate change, and sustainability space for over four decades.
The institute's research and research-based solutions have had a transformative impact on industry and communities. Headquartered in New Delhi, it has regional centres and campuses in Gurugram, Bengaluru, Guwahati, Mumbai, Panaji, and Nainital, supported by a multidisciplinary team of scientists, sociologists, economists and engineers, and state-of-the-art infrastructure.
About UNCCD
Established in 1994, the United Nations Convention to Combat Desertification (UNCCD) is the sole legally binding international agreement linking environment and development to sustainable land management. The Convention addresses specifically the arid, semi-arid and dry sub-humid areas, known as the drylands, where some of the most vulnerable ecosystems and peoples can be found.
For further information, contact:
TERI – Dhawal Trivedi: dhawal.trivedi@teri.res.in
Edelman – Rakhi Aurora: rakhi.aurora@edelman.com