Webinar on Estimation of the current emissions and sequestration potential of different land-use sectors to achieve Land Degradation Neutrality in India
Ms Priya Sharma
Online
India aims to restore an additional five million hectares of degraded land by 2030, raising the total land to be restored in India to 26 million hectares.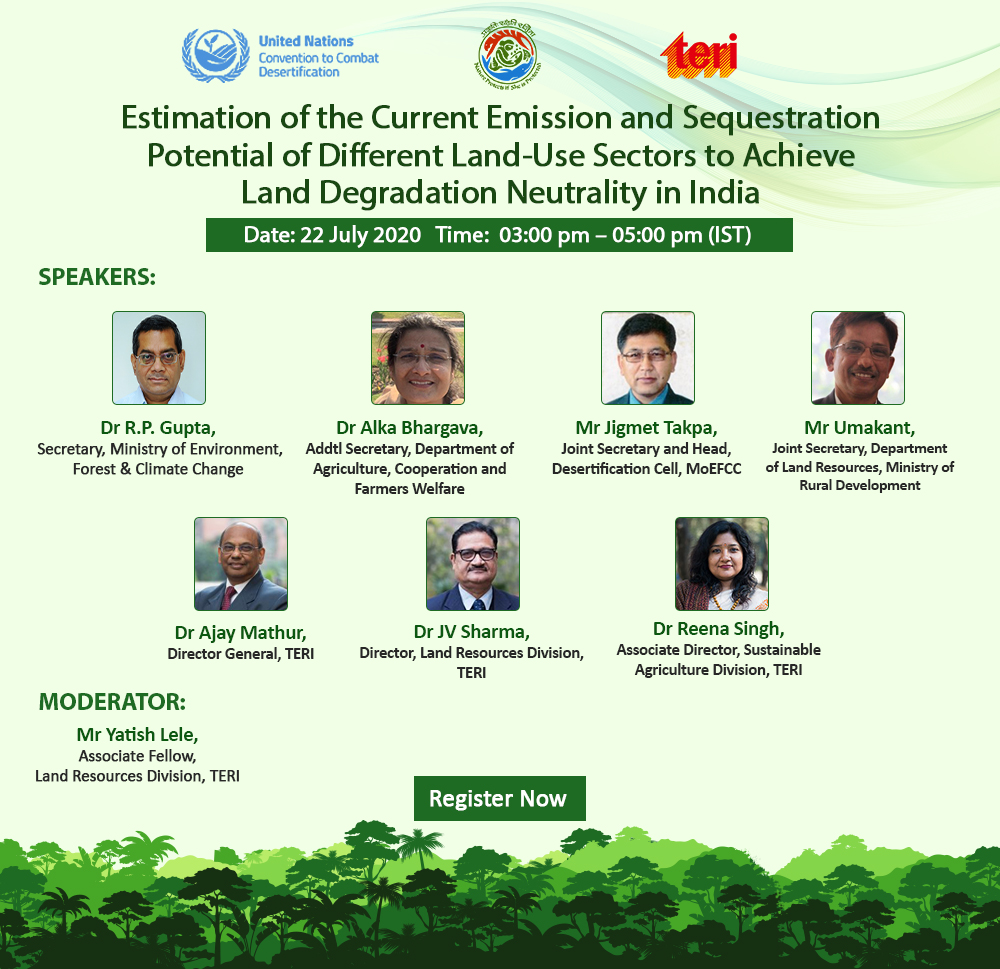 Land is a vital resource for food production, preserving forests and biodiversity, facilitating the natural management of water systems and acting as a carbon store. Appropriate land management can protect and maximize these services for society. India is a signatory to the United Nations Convention to Combat Desertification (UNCCD), the Ministry of Environment, Forest and Climate Change (MoEFCC) is the nodal Ministry of Government of India (GoI) that oversees the implementation of the Convention in the country. Stressing on the importance of the convention, the Prime Minister of India has called on the international community to set up a global water action agenda as the central theme to achieve Land Degradation Neutrality (LDN).
The commitment is backed with the fact that the emission intensity of India's Gross Domestic Product (GDP) has reduced by 21% over the period of 2005-2014. As per the Biennial Update Report-II of India, submitted to UNFCCC, emission from India stood at 2607.49 million tonnes CO2 equivalent in 2014. Out of the total emissions, the energy sector accounted for 73%, Industrial Processes and Product Use (IPPU) was 8%, agriculture was16% and waste sector was 3% whereas the Land Use, Land Use Change and Forestry sector was able to offset about 12% of India's total emissions.
A study has been conducted by TERI where five land-use sectors have been identified for the study viz. forestry (Forests and Tree cover), animal husbandry, wetlands, mining and agriculture. The major objectives of the study were estimation of the emission, status of sequestration/emission offset), and estimation of the future potential of sequestration/ emission reduction to achieve land degradation neutrality of different land use sectors in India.
On 22nd July 2020, 03:00 PM - 05:00 PM IST
---
---
Speakers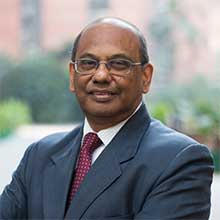 Dr Ajay Mathur Director General, TERI
Ajay Mathur is Director General of TERI – The Energy & Resources Institute, and a member of the Prime Minister's Council on Climate Change.
He was Director General of the Bureau of Energy Efficiency in the Government of India from 2006 till February, 2016, and responsible for bringing energy efficiency into our homes, offices, and factories, through initiatives such as the star labelling programme for appliances, the Energy Conservation Building Code, and the Perform, Achieve and Trade programme for energy-intensive industries.
Dr Mathur was earlier with TERI from 1986 to 2000, and then headed the Climate Change Team of World Bank in Washington DC. He was President of Suzlon Energy Limited, also headed the interim Secretariat of the Green Climate Fund.
He has been a key Indian climate-change negotiator, and was also the Indian spokesperson at the 2015 climate negotiations at Paris. He is a global leader on technological approaches to address climate change; and is co-chair of the Energy Transitions Commission, a global group of industrial, financial and think-tank leaders focusing on strategies for companies and countries to move towards climate-friendly energy futures.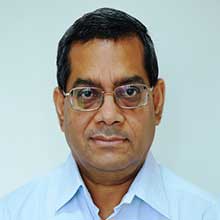 Dr R P Gupta Secretary, Ministry of Environment, Forest & Climate Change
Shri R P Gupta is an IAS Officer of 1987 Batch of Gujarat cadre. He did B. Tech. from IIT, Kanpur in Aeronautical Engineering. He has taken over charge as Secretary, Ministry of Environment, Forest and Climate Change on 1st June 2020. Prior to this, he was in NITI Aayog as Special Secretary and Additional Secretary,dealing with the subjects of Energy, Transport, Health, Education and Rural & Urban Development, from 2017 onwards till May 2020. Earlier, he had worked as Joint Secretary in Ministry of Coal from 2015 to 2017. His main emphasis remains on streamlining the system and introduction of modern technology to make the system more people friendly and responsive to their needs.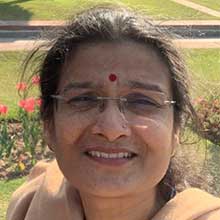 Dr Alka Bhargava Additional Secretary, Department of Agriculture, Cooperation and Farmers Welfare
Dr Alka Bhargava is Additional Secretary in the Department of Agricultural Cooperation and Farmers Welfare. She belongs to 1987 batch of Indian Forest Service from Assam-Meghalaya cadre. Her earlier assignments in Assam and with GOI have given her a wide perspective of community development through the tools of engagement in forest management, vocational education and skill development and now sustainable agriculture. Her cross sectoral experience is coming in handy in contributing to the mandate of the DACFW - sustainable agriculture for improved livelihoods of farmers, and ensuring food and nutrition security for the country with sustainable use of natural resources - one of the corner stones for an Atma Nirbhar Bharat.
She was a Hubert Humphrey (Fulbright) Fellow at Michigan State University in 2013-14. Her pioneering works in skill development and livelihoods for the forest communities of Assam are transforming lives of these disadvantaged indigenous people. She strongly believes that sustainable agriculture and conservation are the two sides of the same coin with a strong ripple effect on the lives of the people residing therein.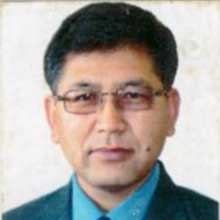 Mr Jigmet Takpa Joint Secretary and head, Desertification Cell, Ministry of Environment, Forest & Climate Change
Shri Jigmet Takpa, an officer of the Indian Forest Service (IFS) from Jammu & Kashmir Cadre and presently serving as Joint Secretary and heading the Desertification Cell, Control of Pollution in the Ministry of Environment, Forest and Climate Change, Government of India.
Shri Jigmet Takpa is also National Focal Point (India) for the United Nations Convention to Combat Desertification (UNCCD) which is the sole legally binding international agreement linking environment and development to sustainable land management. He also holds the unique distinction of heading the inter-ministerial Indian delegation to the Thirteenth Conference of Parties (COP-13) to the UNCCD held in Ordos, China in September 2017, where he played a pivotal role in not only safeguarding the country's interest, but also successfully bolstering India's leadership role at the global platform. Shri Takpa had also held many challenging assignments in the State of Jammu and Kashmir in the field of biodiversity conservation, rural development, and renewable energy and established a benchmark in the Himalayas with respect to the State's administrative efficiencies.
A voracious reader with keen interest in academics, Shri Takpa has been conferred various prestigious awards – the Environmental Hero Award, the J&K State Award for Meritorious Public Service, J&K, the Indira Priyadarshini Vriksha Mitra Award, the Renew tech Award for Best Nodal Agency, and the Gyalwang Drukpa Award. He was also figured in the Book of Guinness World Records for the most trees planted simultaneously (2011), Indira Gandhi Paryavaran Puraskar (IGPP). National Tourism Award, gfile Award, UNDP Solar Thermal Award.
Dr Jitendra Vir Sharma Director, Land Resources, TERI
Dr Sharma holds a doctorate degree in economic valuation of forest ecosystems. He has nearly 34 years' experience in leading, coordinating and managing projects and activities in the forestry sector. Dr Sharma has coordinated and implemented donor-funded projects from both a governmental perspective (as an Indian Forest Officer) and as Director of the Forestry and Biodiversity Division at TERI. He also has extensive expertise in global forest policy and international negotiations and has been a negotiator on behalf of Government of India to the United Nations under the UNFF process. As Deputy Inspector General (DIG) Forest Policy and Forest International Cooperation, Ministry of Environment, Forests and Climate Change (MoEFCC), he was responsible for international cooperation including negotiations. Dr Sharma coordinated with FAO and Asia Pacific Forestry Commission on behalf of Government of India. As National Focal Point he organised the 21st session of the Asia Pacific Forestry Commission in 2006. Dr Sharma was the key organiser and co-chair for a country led initiative on the Payment for Ecosystem Services under United Nations Forum on Forests hosted by the Government of Germany, Berlin.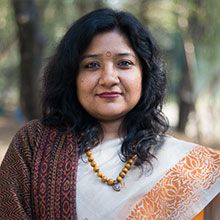 Dr Reena Singh Associate Director, Sustainable Agriculture, TERI
Dr Reena Singh is a mycorrhizologist with a doctorate in microbiology. She has been working on the execution and diffusion of greener and sustainable agriculture solutions in India for over 20 years.
Her experience ranges from programme formulation through project implementation, as well as outreach through trainings, workshops, seminars, and conferences. Her exposure combines different facets of biofertilizers, wasteland reclamation industry as well as research domain. Currently, she is responsible for research activities in the fields of mycorrhiza, reclamation technology applications, and quality aspects of mycorrhiza; including dealing with transnational clients/partners. She is well-versed in developing and working in large global projects involving multi-nations and multi-stakeholders, such as Indo-Swiss (biofertilizer project), Indo-Finland (Rhizocompost project), and FP7 Biorefinery network project.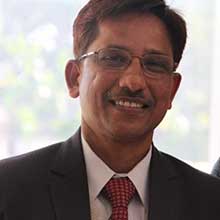 Mr Umakant Joint Secretary, Department of Land Resources, Ministry of Rural Development
Mr Umakant is an IFS officer. Presently he is Joint Secretary in Department of Land Resources. He has served as Divisional officer in Arunachal Pradesh and in Delhi, Asstt IG in MoEF &CC: dealt with Forest fire, climate Change, CAMPA and FCA, 1980, Conservator of Forests in Mizoram, OSD to Govt of Mizoram, and Resident Commissioner, Mizoram. Currently he is looking after Watershed Development Component of PMKSY.
Moderator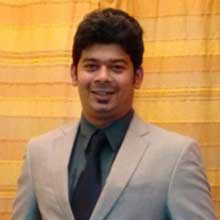 Mr Yatish Lele Associate Fellow, Land Resources Division, TERI
Mr Yatish Lele is currently engaged as an Associate Fellow for The Energy and Resources Institute (TERI) under the Forestry and Biodiversity division of TERI. He is closely associated with the institute for the more than 5 year. Working on the theme of achieving sustainable development, he is more focused on forest management, biodiversity conservation and environmental issues. His primary projects are related to biodiversity documentation, assessment and habitat conservation. Mr Lele has been involved in the projects with regards to Community conserved areas (CCA), Human wildlife conflict, Minor forest produce and ecotourism. He has been able to successfully couple his technical background related to environmental management with community mobilisation and stakeholder consultations. Along with this, he has worked on 10 Small scale A/R CDM projects in Uttar Pradesh which accounts to documenting the carbon sequestered by the plantations and estimating the CERs. Furthermore, he also possesses the know-how needed for applying Participatory and Rapid Rural Appraisals (PRA and RRA). In the urban context, he has prepared Environmental status report for Nagaland, Navi Mumbai, Kolhapur and Nanded Municipal Corporation and also worked in developing state level statistical reports on the quality of Air and Water in Maharashtra in association with MPCB (Maharashtra Pollution Control Board).