East Africa Peru India Climate Capacities: Climate capacity building for risk anticipation and minimisation
---
The project - which covers India, Peru, and Tanzania - aims to identify on a collaborative basis how sound climate models and related tools can be tailored to national needs by strengthening resilience against disruptive weather phenomena and climate change at national, regional and local level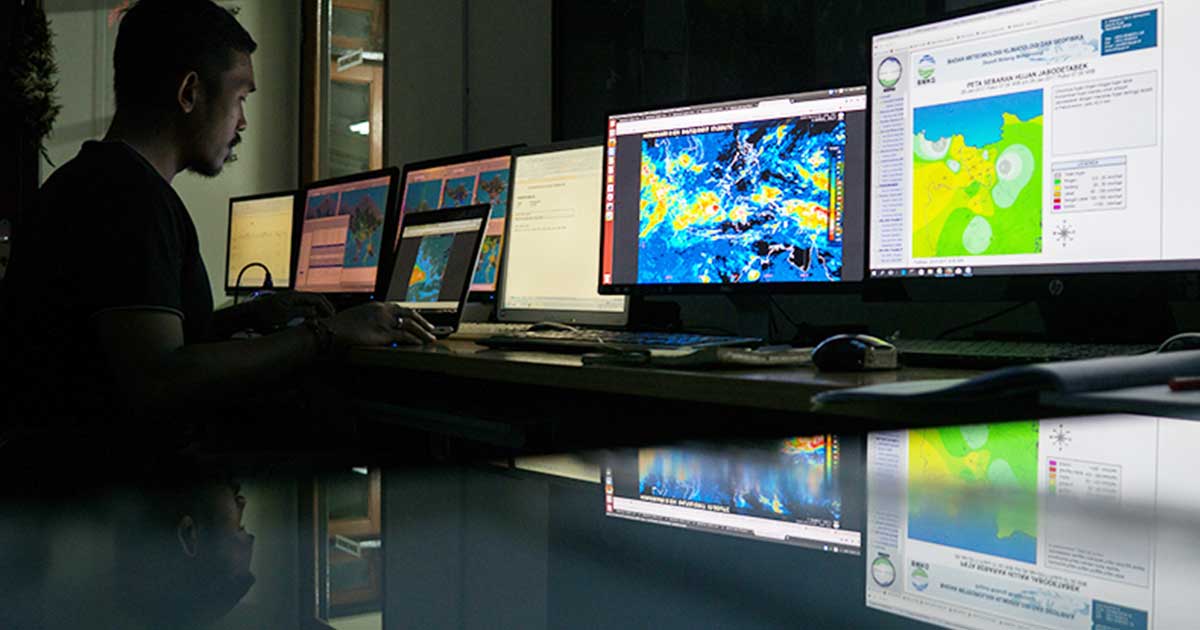 The overarching goal of this project is to strengthen resilience against disruptive weather phenomena and climate change at national, regional and local levels in three partner countries: India, Peru, and Tanzania. This project is an opportunity to reduce the gap between climate research and its application in policy, business and societal decisions - particularly regarding agriculture, hydrology and water resources, and migration issues. Consequently, the project aims to identify on a collaborative basis how sound climate models and related tools can be tailored to national needs. For instance, how can climate scenarios and seasonal prediction models be calibrated and put in to use for agricultural management? Or how can migration-climate hotspot maps support strategies to reduce vulnerability to climate stressors? Capacities to develop, use and disseminate the project results will mature through implementation and notably remain in partner countries for research, education and policy purposes beyond the three-year scope of the EPICC (2018-2020).
For more information click here
EPICC Factsheet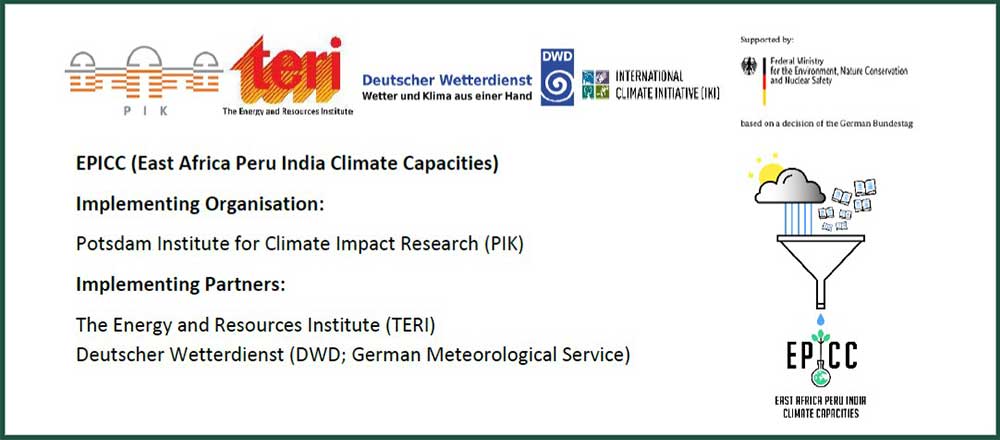 ---
Locked houses, Fallow lands: Climate Change and Migration in Uttarakhand, India
Author: Ms Himani Upadhyay, Dr Kira Vinke, Mr Saurabh Bhardwaj, Ms Mechthild Becker, Mr Muhammed Irfan, Mr Nitin Babu George, Mr Riccardo Biella, Mr Ponraj Arumugam, Mr Santosh Kumar Muriki and Dr Emanuela Paoletti
Uttarakhand's average annual maximum temperature is projected to increase by 1.6°C in the near future (2021-2050) which will add stress to the agriculture-based livelihood in the state and further add to the already-existing outmigration pressure, report notes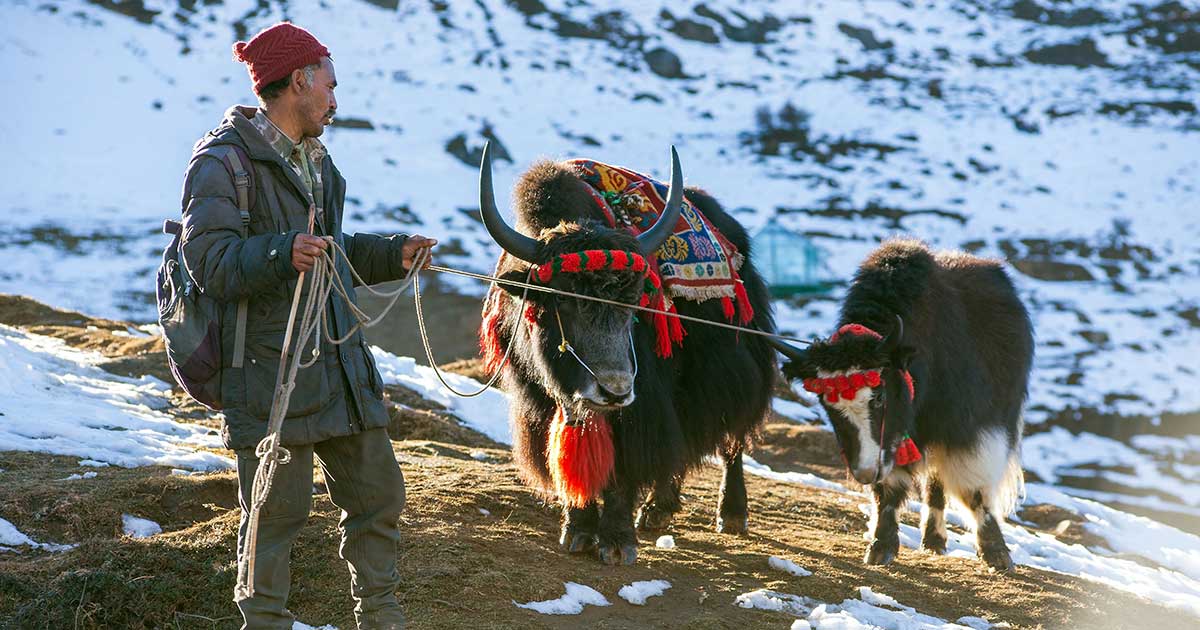 Nestled in the Indian Himalayan Region, the state of Uttarakhand is characterized by snow-covered mountains, dense forests, rich biodiversity, terraced fields, and hills communities with unique heritage and culture. Today, climate change is creating new risks that threaten this very character of Uttarakhand. From unprecedented dengue outbreaks paralyzing the state's health department to the plight of flood-displaced populations, the impacts of climate change are posing new challenges to the state government.
The decade of 2011–2020 was the warmest on record, with 2020 rivaling 2016 as the individual year with the highest global mean surface temperature ever measured. Greenhouse gas emissions are 60% higher now than in 1990, and if this trend continues, the planetary temperature could rise by 3–5 °C by the end of the 21st century. In Uttarakhand, such a global disruption would result in severe regional risks, most notably to the subsistence-based agricultural communities living in the mountains. Currently, a variety of reasons, where deleterious climate impacts grow in importance, are motivating people to migrate from the hills to the plains. And due to this, an increasing number of villages in Uttarakhand are uninhabited. However, if temperatures continue to rise, livelihoods across the entire state could be destroyed, leading to significant outmigration.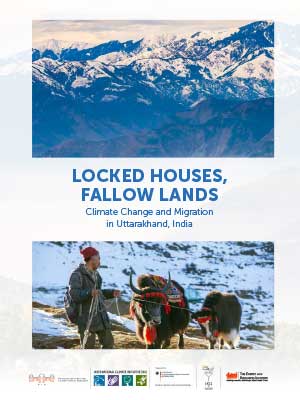 English Version
Hindi Version
For high-resolution reports, please write to Mr Saurabh Bhardwaj at saurabh.bhardwaj@teri.res.in
The year 2020 will go down in history as the time when the world stood still due to the Covid-19 pandemic, yet millions of people were forced to be on the move. Before the pandemic, migrants arriving in urban centres such as New Delhi or Kolkata were largely an invisible population. However, as India entered into a lockdown, migrant workers lost their jobs and sometimes even their place to live. With the transport systems shutting down, they were left with no other option than to return to their native location on foot. A mass reverse migration unfolded. Within India, estimates show that 40 million migrants were impacted by the lockdown. These migrant populations work largely in the informal sector, often on daily wages, and live hand to mouth. Missing just one day's income can make buying food or finding shelter impossible. Therefore, these human beings are the most vulnerable in society, pushed into utterly precarious conditions by the pandemic. The lockdown led to long periods of joblessness, so 71% of return migrants in Uttarakhand decided to stay there, thus interrupting the flow of urban-rural remittances.
The Covid-19 pandemic exhibits many parallels to the climate crisis. Both predicaments show that a multilateral effort is required to address global challenges and that time is of the essence when nonlinear dynamics are at play. The strong measures taken worldwide to fight the Corona pandemic prove that societies are indeed willing to put the health and wellbeing of people above economic profits.
This report is an outcome of a successful collaboration between the Potsdam Institute for Climate Impact Research (PIK), Germany and The Energy and Resources Institute (TERI), India, within the framework of the "East Africa-Peru India-Climate Capacities" project (EPICC). It is one of the first assessments done on climate change and migration at the sub-national level in India. The report provides an integrated assessment, employing the latest climate data to arrive at granular environmental risks and the impacts thereof on migration conditions. It particularly explores the role of agriculture to better understand climate–migration linkages.
The analysis is enriched with concrete recommendations for policymaking and research. The report identifies three main areas of action, namely (i) preparing for demographic changes resulting from migration; (ii) creating alternate livelihood options in the hill districts to revitalize the economy; and (iii) to revisit the state's climate change action plan as well as the state's agricultural policies in the wake of outmigration from hill districts. This report explicitly aims to provide an evidence-based foundation for a science-policy dialogue. It can serve to initiate conversations on the topic and strengthen climate action plans and migration policies.
Despite the stymying Corona crisis, global greenhouse gas concentrations in the atmosphere have kept on increasing in 2020. While countries invest tremendous amounts of money in developing vaccines against the COVID-19 virus family, one must not forget that there is no vaccine against global heating. The planetary surface temperature needs to be kept below 2°C so that rural hill communities in Uttarakhand can continue to live in the places they call home.
---
Events
Virtual Launch of the Study: "Locked Houses, Fallow Lands: Climate Change and Migration in Uttarakhand, India"
The Energy and Resources Institute (TERI), in collaboration with EPICC project, is launching the study "Locked Houses, Fallow Lands: Climate Change and Migration in Uttarakhand, India", on 25th March 2021 at 2:30 PM.
Adaptations Future (AF2020) Webinar on Climate Change and Migration
This webinar was designed as a precursor to the conference as an additional platform to feed into the global adaptation dialogue, highlighting the need to accelerate adaptation in today's uncertain times. It was conducted on 10 December 2020, focusing broadly on the issues of climate change, adaptation and migration.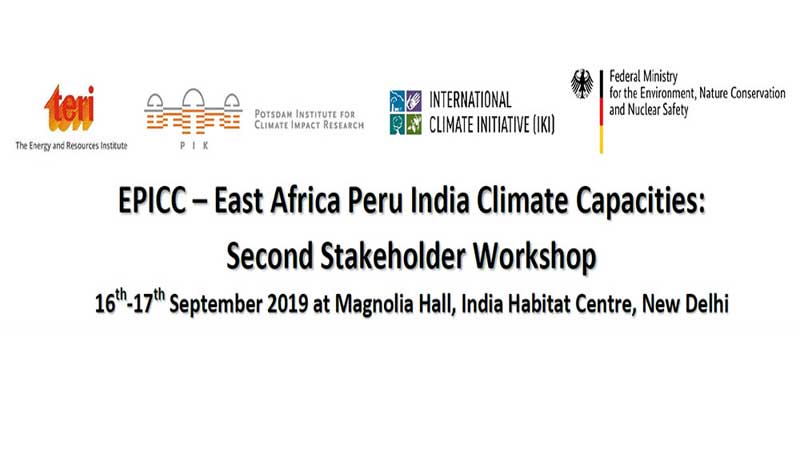 EPICC – East Africa Peru India Climate Capacities: Second Stakeholder India Workshop
Panel discussions at the workshop focused on causes of climate change, weather forecasting, monsoon predictions, adaptation, and migration.
News Coverages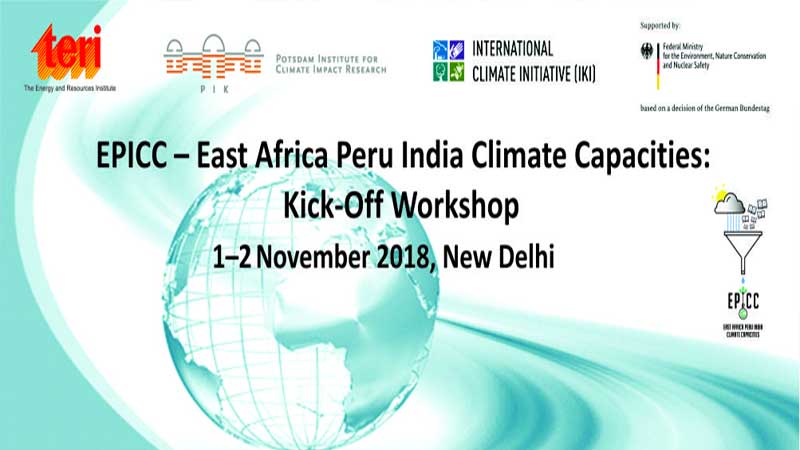 East Africa Peru India Climate Capacities: Kick-Off Workshop
The Kick-Off Workshop in New Delhi in November aimed to provide a platform for establishing networks of partners from science and practice and for defining an action-oriented research agenda to co-create climate adaptation capacities, as well as for exploring further opportunities for international cooperation.
---
Op-Eds
---
Publications
Saurabh Bhardwaj and Md Irfan, 'Regionally Tweaked policy: As India Grapples Climate Change, "Science of Where" is the next best move', News18, December 27, 2020, Op-Ed: https://www.news18.com/news/opinion/regionally-tweaked-policy-as-india-grapples-climate-change-science-of-where-is-the-next-best-move-3217907.html
Mangotra Karan and Saurabh Bhardwaj, 'A long-term, climate-resilient development pathway should guide India's development', HT online edition, June 18th, 2020, Op-Ed: https://www.hindustantimes.com/analysis/a-long-term-climate-resilient-development-pathway-should-lead-india-s-development/story-m7f3Mf6nntsQkaOVBx84UM.html
Bhardwaj, S., Irfan, M. and Muriki, S. K. (2020) 'Towards a climate resilient city planning', in ICCS-6: 6th International Conference on Climate Services, DOI: 10.13140/RG.2.2.23519.20644
Bhatia, A., Muriki, S.K. and Bhardwaj, S., Potential advantages of using a dynamically downscaled high resolution regional scale model PRECIS over India, The National Space Science Symposium, Pune, Maharashtra, January, 2019. DOI: 10.13140/RG.2.2.20933.70886
Bhardwaj, S., Irfan, M. and Muriki, S. K. (2019) 'An Assessment of Climate Extreme Profile over Kolkata', in TROPMET 2019: National Symposium on Land, Ocean and Atmosphere Interactive Processes in the Context of Weather and Climate. Indian Meteorological Society. DOI: 10.13140/RG.2.2.22741.37604
---
Partners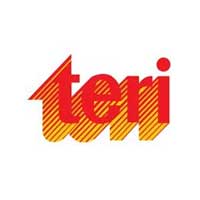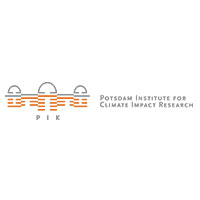 ---
Sponsors