Hill districts of Uttarakhand facing greater warming; will accelerate forced migration of local communities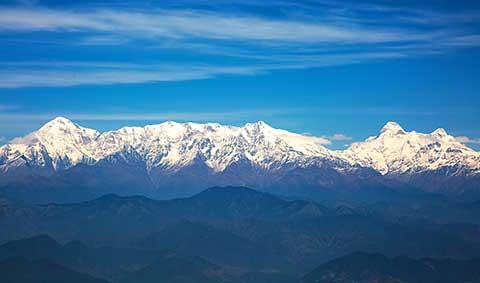 A new study suggests Uttarakhand's annual average maximum temperature may increase by 1.6-1.9 degrees Celsius between 2021-2050, calls for creating alternate livelihood options in the hill districts to revitalize the economy
New Delhi, March 25th: The hill districts of Uttarakhand including Uttarkashi, Chamoli, Rudraprayag, and Pithoragarh are experiencing the greatest warming due to 'elevation-dependent warming'. This phenomenon, which is largely caused by snow albedo, cloud cover, atmospheric and surface water vapor changes, has amplified the rate of warming at higher elevations and made them more vulnerable to the impacts of climate change. This is a key finding from a recent study, titled 'Locked Houses, Fallow Lands: Climate Change and Migration in Uttarakhand, India', conducted by the Germany-based Potsdam Institute for Climate Research (PIK) and The Energy and Resources Institute (TERI) in New Delhi. The study focuses on how climate change impacts- like rising temperatures, increasing glacial melt, and changing rainfall patterns-could affect livelihoods and thereby shape migration patterns in Uttarakhand.
The report identifies three main areas of action for policymakers, namely (i) preparing for demographic changes resulting from migration; (ii) creating alternate livelihood options in the hill districts to revitalize the economy; and (iii) revisiting the state's climate change action plan as well as the state's agricultural policies in the wake of out-migration from hill districts.
Speaking at the launch of the report, Prof. Hans Joachim Schellnhuber, Director Emeritus, PIK, said, "The issue of migration is about transition management. Achieving 1.5 degrees Celsius is difficult, but if we can control global warming up to 2 degree Celsius, we can manage the challenges that will arise. We should identify the places in Uttarakhand which will have favourable living conditions by the end of the century due to rising temperature, and keep them alive and sustained. It's a big challenge for governance and communities both."
Endorsing Prof. S Schellnhuber's views, Dr. Ajay Mathur, Director General, International Solar Alliance (Former Director General, TERI) said, "The transition management strategy should lead to policy changes that integrate migrants and make conditions such that the adverse impacts of climate change do not kill livelihoods but sustains them. Migration has to be considered as a choice to increase both resilience and livelihoods of local populations" Explaining the findings of the study, Mr. Saurabh Bhardwaj (TERI), co-author said "Our analysis projects that the state's average annual maximum temperature is likely to increase by 1.6 degrees Celsius under the medium warming RCP 4.5 pathway and by 1.9 degrees Celsius under the higher warming RCP8.5 scenario pathways in the near future (2021-2050)."
Scientists use RCPs (Representative Concentration Pathway) to make predictions of how concentrations of greenhouse gases in the atmosphere will change in the future as a result of human activities. RCP 8.5 assumes a very high level of future concentrations (resulting from low efforts to curb emissions) while RCP 4.5 is based on a medium level of future concentrations (in line with medium efforts to curb emissions). The RCPs provide science-based evidence for policymakers to plan for the future.
According to the report, the state's average annual rainfall is projected to increase by about 6% under RCP4.5 and by 8%, under RCP8.5 in the near-future (2021-2050). Southern districts such as Udham Singh Nagar, Nainital, Champawat and Pauri Garhwal have the highest projected increases in annual average rainfall for the near-future period, compared to other parts of the state, for both the RCP4.5 and RCP8.5 scenarios.
Ms. Himani Upadhyay, Lead Author of the study, from PIK, added, "Climate change is functioning as a risk modifier influencing existing population movements in Uttarakhand. Seventy percent of the population is dependent on rain-fed agriculture that is not highly productive. Climate change has led to further decline in agricultural productivity over the last two decades, adding to outmigration pressures"
The report indicates that increased water stress could further reduce the crop-yields for both RCP4.5 and RCP8.5 scenarios. This will add to the already-existing outmigration pressures as the income of people would fall and consequently result in the forced migration of populations especially in rural hill areas.
The report also notes that Uttarakhand's lack of good-quality, historical meteorological data is a limitation to climate research in the state. The number and sophistication of its meteorological stations need to be increased and improved, which would require greater investment in high-resolution regional-scale models.
According to Rural Development and Migration Commission, Uttarakhand, the inability to diversify livelihoods in rural areas is the most relevant push factor for outmigration (50%) in Uttarakhand, followed by lack of educational institutions (15%) and healthcare facilities (9%). This dynamic has led to the abandonment of 734 villages since 2011, signifying the extent of depopulation in rural hill areas.
About TERI
The Energy and Resources Institute (TERI) is an independent, multi-dimensional organization, with capabilities in research, policy, consultancy, and implementation. It has pioneered conversations and action in the energy, environment, climate change, and sustainability space for over four decades.
The institute's research and research-based solutions have had a transformative impact on industry and communities. Headquartered in New Delhi, it has regional centers and campuses in Gurugram, Bengaluru, Guwahati, Mumbai, Panaji, and Nainital, supported by a multi-disciplinary team of scientists, sociologists, economists and engineers, and state-of-the-art infrastructure.
About PIK
The Potsdam Institute for Climate Impact Research (PIK) is advancing the frontier of integrated research for global sustainability, and for a safe and just climate future. A member of the Leibniz Association, the institute is based in Potsdam, Germany and connected with the global scientific community. Drawing on excellent research, PIK provides relevant scientific advice for policy decision-making. The institute's international staff of more than 300 is led by a committed interdisciplinary team of Directors. This is science – for a safe tomorrow.
For more information, contact
TERI – Shweta Singh; Shweta.singh[at]teri[dot]res[dot]in