East Africa Peru India Climate Capacities: Kick-Off Workshop
Mr Saurabh Bhardwaj
Magnolia Hall, India Habitat Center New Delhi
---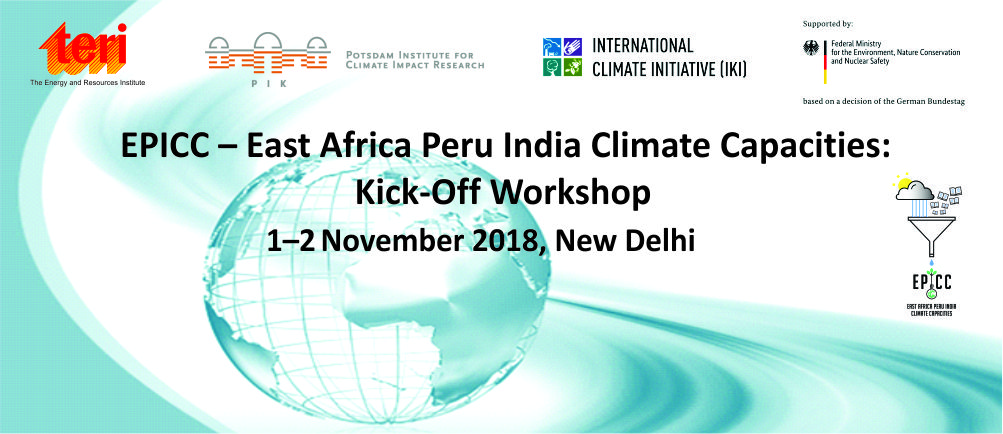 The aim of the EPICC project is to enable the provision of climate services and capacities by jointly producing science which is necessary for climate change adaptation with the three partner countries: Tanzania, Peru and India. The project aims to support resilience against regional climate impacts by developing new methods for seasonal forecasts and jointly working on long-term climate scenarios. The focus of the project lies on the water and agriculture sectors as well as the implications for migration patterns and human security. The EPICC project works through science-stakeholder dialogues, joint Indian-German research, publications and bi-directional research visits and exchanges.
About the Workshop
The Kick-Off Workshop in New Delhi in November aims to provide a platform for establishing networks of partners from science and practice and for defining an action-oriented research agenda to co-create climate adaptation capacities, as well as for exploring further opportunities for international cooperation. The workshop format will provide many opportunities to discuss these objectives from different institutional perspectives.
The event is jointly organized by The Energy and Research Institute (TERI) and the Potsdam Institute for Climate Impact Research (PIK) with participation of German Meteorological Service, the Deutscher Wetterdienst (DWD). It is funded by International Climate Initiative (IKI) of the German Federal Ministry for the Environment, Nature Conservation and Nuclear Safety (BMU).
---