Twenty five lakh hectares of land to be brought under organic farming in five years; government to certify traditionally organic areas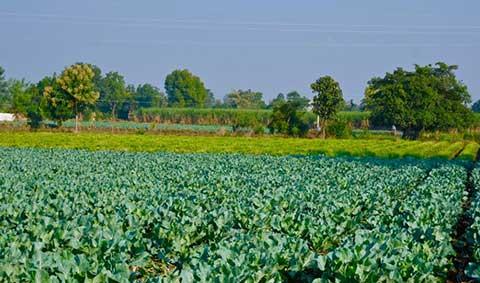 Policy experts from agriculture, watershed management, forestry and biodiversity sectors deliberated on the role of Nature based Solutions (NbS) in Carbon Sequestration in the COP 26 Webinar Series organised by TERI, in partnership with the British High Commission, New Delhi.
December 4, New Delhi: Moderating the agriculture session of the webinar, Dr Alka Bhargava, Additional Secretary, Department of Agriculture, Cooperation and Farmers Welfare, Ministry of Agriculture & Farmers Welfare, said, "In the coming five years, we will get 25 lakh hectares of land under organic farming. We also just launched a programme for certification of traditionally organic areas. We have started getting proposals from Lakshadweep, Ladakh, some states from the North East. We are encouraging states to send these proposals to get organic registration, which will give better remuneration to the farmers." She listed a number of programmes and goals, intended to promote biofertilizers, micro irrigation and climate resilient crops to address climate change challenges in the agriculture sector.
Organised on December 3, the webinar was one of the four-part dialogue series between experts from India and the UK, to discuss strategies for accelerating climate action in the run-up to COP 26, to be hosted by the UK in November 2021. Closing on December 4 with a discussion on climate change adaptation and resilience, the COP 26 Webinar Series is being convened by TERI and UK in India, ahead of the World Sustainable Development Summit, scheduled from Feb 10-12, 2021.
Highlighting that nature based solutions can be at the frontline of fighting climate change, Ms Andrea Ledward, Director of International Biodiversity and Climate, Department for the Environment, Food and Rural Affairs, United Kingdom, expanded on her government's ongoing efforts to further this agenda. "We are committed to increase tree planting in UK to 30,000 hectares per year by 2025 through 640 million pounds 'Climate for Nature' fund. To support environmental NGOs, we have set up the Green Recovery Challenge Fund of up to £80 million to support nature-based projects as well as create green jobs in conservation. In 2018, we launched the ambitious 25-Year Environment Plan for improving the environment within a generation", she said.
Talking about the Indian government's global commitment to restore 26 million hectares of land by 2030, Mr Umakant, Joint Secretary, Department of Land Resources, Ministry of Rural Development said it is a huge commitment, and the government is working towards a new generation of watershed programmes that will revive rainfed degraded land and provide help to small famers to harness maximum benefit in production and productivity. "The new watershed guidelines to be announced soon will have soil organic carbon enrichment, to capture climate change challenges", he added.
Delivering the keynote address, Dr V B Mathur, Chairman, National Biodiversity Authority said there is a need to identify key actors of Nature based Solutions both at the micro and macro level, including citizens, landowners, businesses, NGOs, municipal corporation, regional and national authorities and transboundary players. "Lack of access to public and private finance, technical skills and knowledge, political will to understand the role that nature plays and citizens' buy-in- these are often barriers to promoting Nature based solutions", he said.
Highlighting the role of the forestry sector, Dr JV Sharma, Senior Director, Land Resources Division, TERI, said, "Nature based Solutions (NbS) through afforestation and conservation of forests sequester CO2, and thus offer to be a less expensive solution for mitigating climate change. In addition, NbS provide livelihood to the forest dependent communities and achieve many more sustainable development goals and biodiversity targets."
Dr. Ajay Mathur, Director General, TERI, spoke about the creation of water bodies, interconnected by green corridors, as a viable Nature based solution. "These can have here-and-now benefits for communities. In the urban context, city forests and green corridors have to be brought into the mainstream of urban planning", he said.
---
---
About TERI
The Energy and Resources Institute (TERI) is an independent, multi-dimensional organisation, with capabilities in research, policy, consultancy and implementation. It has pioneered conversations and action in the energy, environment, climate change, and sustainability space for over four decades.
The institute's research and research-based solutions have had a transformative impact on industry and communities. Headquartered in New Delhi, it has regional centres and campuses in Gurugram, Bengaluru, Guwahati, Mumbai, Panaji, and Nainital, supported by a multi-disciplinary team of scientists, sociologists, economists and engineers, and state-of-the-art infrastructure.
For further information, contact:
TERI – Dhawal Trivedi: dhawal.trivedi@teri.res.in
Edelman – Rakhi Aurora: rakhi.aurora@edelman.com