Accelerate the process of total decarbonisation of the built environment: Shri M. Venkaiah Naidu
---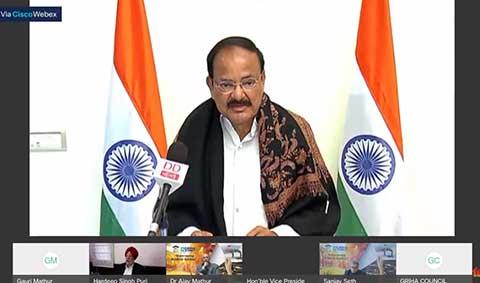 Being held on 15-16 December, the 12th edition of the GRIHA Summit on the theme 'Rejuvenating Resilient Habitats' was virtually inaugurated today by Shri M. Venkaiah Naidu, Hon'ble Vice President of India.
New Delhi, 15 December 2020: Delivering the inaugural address as the Chief Guest at the 12th GRIHA Summit, Shri M. Venkaiah Naidu, Honourable Vice President of India said, "We have to accelerate the process of total decarbonisation of the built environment and become more sustainable and climate-resilient. It is high time for us to make it mandatory for every new building to go green from urban centres to the panchayat level."
Praising the work done by GRIHA, the Vice President congratulated GRIHA Council on the launch of the upgraded version of its rating system, the GRIHA Version 2019. He also expressed happiness over the fact that despite the pandemic, GRIHA Council has continued in its endeavours to promote the sustainability agenda and has developed the Building Fitness Indicator (BFI) tool - a free-to-use self-assessment tool that allows organizations to measure the preparedness of workplaces to prevent exposure to COVID-19.
Reminding about our ancient and traditional practices, he reiterated the need to utilise the natural light and air circulation, promote low-carbon technologies, and encourage resource efficiency in the housing sector. He added that the acronym GRIHA aptly fits with our respect for the environment and encourages harmonious living with nature.
During the inaugural session , the Vice President released an e-publication titled "30 stories beyond buildings" which documents the extensive collaboration between GRIHA Council and the Public Works Department, Government of Maharashtra. GRIHA V.2019 Manual, GRIHA V.2019 online tool, GRIHA Learning Centre and SHASHWAT Magazine were also launched.
Through the integration of user experience, market feedback, and ease of implementation, the newly launched GRIHA V.2019 aims to push the market towards enhanced resource efficiency and increase the green building footprint across India.
The Guest of Honour at the Summit, Shri Hardeep Singh Puri, Hon'ble Minister of State (I/C) for Housing and Urban Affairs and Civil Aviation; Hon'ble Minister of State for Commerce and Industry said, "As our citizens continue to migrate to cities, India has to build 700 to 900 million sq meters of urban space, equivalent to the city of Chicago, every year until 2030. Platforms such as GRIHA Summit are essential in promoting discourse on green buildings and encouraging collaboration to make sure that appropriate urban infrastructure and systems are in place."
He said that the Ministry has organised a Global Housing Technology Challenge-India (GHTC-India) that aims to identify and mainstream best available and proven technologies that are sustainable and disaster-resilient to enable a paradigm shift in the construction sector. Six innovative technologies out of 54 submissions have been selected to be piloted in Indore, Rajkot, Ranchi, Agartala, Lucknow, and Chennai.
"Green buildings can address 9 out of 17 SDGs and GRIHA v2019, the upgraded version of GRIHA Council's rating system, strives to align our efforts more closely with the SDGs", the Minister added.
Talking about building resilience, Dr Ajay Mathur,​ President, GRIHA Council, said, "The lasting impact of COVID-19 on economies and living standards will likely persist for the foreseeable future and it is therefore essential that we work together toward a resilient tomorrow".
Delivering the vote of thanks at the virtual Summit, Mr Sanjay Seth, CEO, GRIHA Council reiterated that GRIHA Council is committed to the decarbonisation of the building sector and thanked the Hon'ble Vice President for reminding the gathering of our ancient practices of construction where sustainability was at the core of it and highlighted on the need for economy and ecology to co-exist. He added that since its inception, GRIHA has evolved to evaluate resource efficiency at the design, construction and operations stages, catering to both new buildings and the existing built environment.
This was followed by a 'Setting the Theme' session with H.E. Hon. Barry O'Farrell AO, Australian High Commissioner to India; H. E. Mr Freddy Svane, Ambassador, Royal Danish Embassy in India and Mr Amit Dasgupta, Strategic Advisor, UNSW and technical sessions on 'Sustainable Buildings for Atmanirbhar Bharat'.
The rest of the day saw further deliberations on 'Building Smart using Artificial Intelligence (AI). Dr. Amarnath Chegu Badrinath, Head – BIM Strategy, Larsen & Toubro Construction and Founder & President, India BIM Association presented on "BIM for progressing buildings and cities" and Dr. Teresa Kerber, Head of Program, "ICT-based Adaptation to Climate Change in Cities" and "International Smart Cities Network" at GIZ presented on "Digital solutions with algorithms contributing to Bhubhaneswar as smart city".
The session also saw the launch of REACT (Resource Efficient & Affordable Choice of Technologies). The application featured an interactive activity where participants competed to optimise the resource demand for a virtual apartment.
Day two of the Summit will witness the presentation of rating and exemplary performance awards to SVAGRIHA, GRIHA and GRIHA LD projects in a Valedictory Session. The valedictory address will be delivered by Shri. Kamran Rizvi, Additional Secretary, Ministry of Housing & Urban Affairs. Ar. Habeeb Khan, President, Council of Architecture will deliver the special address.
About GRIHA Council
Green Rating for Integrated Habitat Assessment (GRIHA) Council is an independent, not- for -profit society jointly setup by The Energy and Resources Institute (TERI) and the Ministry of New and Renewable Energy (MNRE), Government of India to promote and administer green buildings in India. GRIHA has been acknowledged as a tool to evaluate reduction in emission intensity through habitats, as part of mitigation strategy for combating climate change in INDIA's "Nationally Determined Contributions" (NDCs) submitted to UNFCCC.
For further information, contact:
GRIHA Council - Santhosh Ramkumar: santhosh.ramkumar@grihaindia.org
TERI - Dhawal Trivedi: dhawal.trivedi@teri.res.in