Inter School Competitions - Under Clean Air Project in India
Ms Neha
Online
---
TERI, in partnership with the Swiss Agency for Development and Cooperation (SDC), has initiated a project Clean Air Project in India (CAP India) to support India's effort for improving air quality. CAP India announces interschool competitions for all the project participating schools across Pune, Nashik, Lucknow and Kanpur.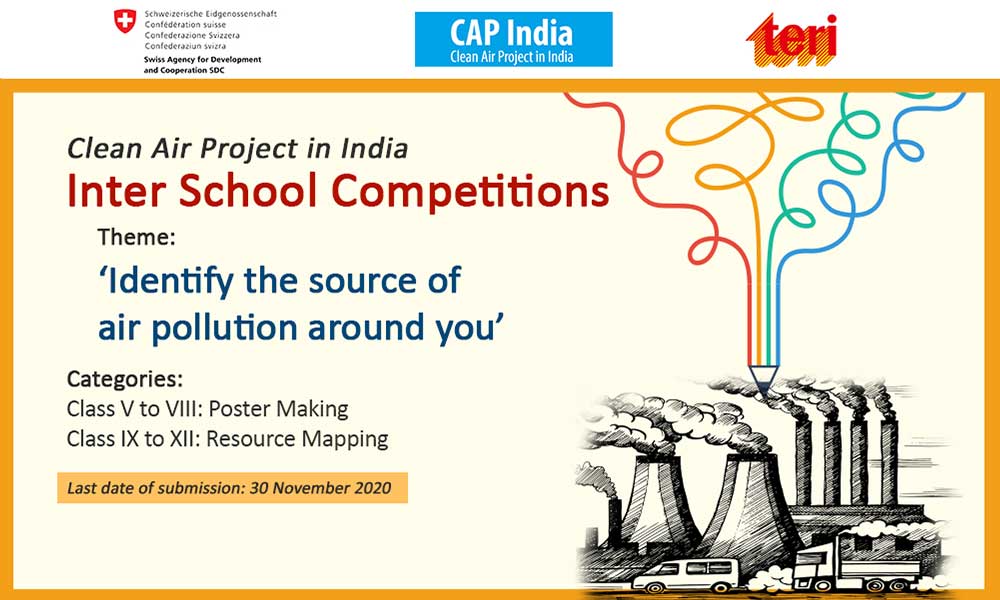 The competitions are open for students from classes 5 to 12 as per the following details:
Theme: 'Identify the source of air pollution around you'
Class 5 to 8: Poster making competition
Observe the various sources of air pollution around you and share it with us in form of a poster. This can include a sketch of your house/neighbourhood/school/nearby market place with the potential sources of air pollution around it. Remember different source of pollution includes, factories, industries, traffic, construction sites, refuse burning, Diesel Generators, etc. Do remember to write your own slogan to curb air pollution on top of your poster.
Class 9 to 12: Resource mapping of sources of air pollution near your home
Draw a map (sketch/outline) with prominent places within 500 meters radius with your home as centre. Mark the elements which you think contribute to air pollution around you, use your creativity in showcasing the impact of pollution due to these sources. Remember to share the elements key at the bottom of the resource map.
Prizes: The winners (first, second, third) will be selected and will be awarded with certificate and prizes during the project duration. Also, the best-selected entries will be posted on the project website and social media pages.
Competition entries will be judged on the following basis of content, creativity, innovative presentation and originality.
Last date of submission – 30th November 2020
Rules and Guidelines:
Students to submit their entries to their teachers, they will share with us either by email (tanvi.sharma@teri.res.in /ravisankar.das@teri.res.in) or WhatsApp in PDF or JPG high-quality format.
Students to use their own A3 sheet (half chart paper – prefer using one side printed waste sheet) with the mention of their complete details at the bottom on the front side of the sheet in the format; Name, Class, Age, and School name with full address.
Acceptable tools of drawing/sketching/painting include pencil, crayon, watercolor, oil pastels, etc. Photographs, wires, and other 3D objects are not acceptable.
The completed poster/resource map must be on a flat piece of paper.
The poster/resource map must not represent any particular individual, organization, or brand name and must not depict any religious theme.
Disclaimer
TERI reserves the right to reproduce select works in any form it deems appropriate for promotion and publicity. The entries will remain the right of TERI and SDC for its exclusive use.
TERI also reserves the right to make minor changes and additions such as the inclusion of TERI and/or partner's logo/signatures.