TERI, SDC launch Clean Air Project in India to reduce air pollution in four Indian cities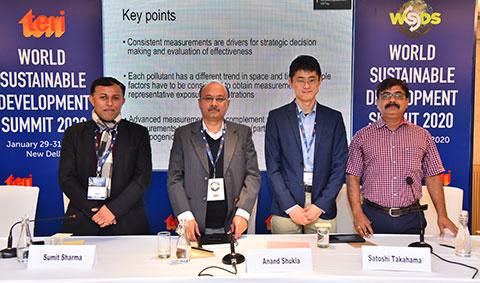 New Delhi: Lucknow and Kanpur in Uttar Pradesh and Pune and Nashik in Maharashtra will launch the Clean Air Project in India (CAP India) initiative to improve air quality in their cities. This project will be implemented by The Energy and Resources Institute (TERI) in partnership with city authorities. CAP India was announced at the World Sustainable Development Summit 2020 being held in New Delhi.
The CAP India programme will focus on improving data measurement, enhancing capacities of city and state authorities to implement clean air policies and action plans, and raising public awareness for clean air action. These four cities were selected after conducting a scoping study, which considered several factors such as severity and sources of air pollution, population density and associated health impacts, economic standing of the state, readiness or preparedness of state in terms of policies/regulation etc. Supported by the Swiss Agency for Development and Cooperation (SDC), the long-term project aims to support National Clean Air Programme (NCAP) by demonstrating viable approaches for cities to address air pollution. NCAP was launched in January 2019 with a goal to meet the prescribed annual average ambient air quality standards across the country.
Shri Arvind K. Nautiyal, Joint Secretary, Ministry of Environment, Forest and Climate Change, spoke about the state of air quality in India and the progress made under NCAP. "Air knows no boundaries. Under the NCAP, state pollution control boards are key stakeholders to address city-level sources of air pollution. We are implementing waste management rules, promoting clean mobility/electric vehicles, and finding alternatives to crop burning to improve India's air quality."
Speaking on the partnership with India, Marylaure Crettaz, Head of Swiss Agency for Development and Cooperation in India, said, "This programme is complementing our other projects on climate resilient cities and energy efficiency buildings in India. We have been working with cities in China and Latin America to bring practical solutions to policy approaches. In India, we aim to replicate such innovations. On this long-term project, we'll work in tandem with global stakeholders to raise awareness about deteriorating air quality." She also said that these four cities are among the most polluted and/or fast-growing urban areas in India.
Dr Ajay Mathur, Director General, TERI, said, "Delhi and other 121 non-attainment cities under NCAP need to curtail air pollution. We need to find city and state level, as well as air-shed level interventions to clean our air." He also stressed upon the need for hand holding and capacity building of the local agencies responsible for control of air pollution in Indian cities.
During its research phase, the project will review the existing air quality management plans as well as suggest potential technological interventions in each of these four cities for mitigating air pollution. This will include high end source apportionment studies to determine the contribution of various ambient air pollution sources.
Speaking at the launch event of CAP India project, Dr Sumit Sharma, Director, Earth Science and Climate Change, at TERI, said, "Apart from these measures, the project will adopt pilot demonstration in selected sectors with high mitigation potential. Furthermore, TERI will partner with academic institutions and resident welfare associations, and plans to sensitize non-profits, local media, and general public for larger public engagement through a series of training workshops."
The CAP India project is planned to be carried out by a consortia of national and international organisations including TERI, Automotive Research Association of India (ARAI), International Institute for Applied Systems Analysis (IIASA), IIT-Kanpur, National Environmental Engineering Research Institute (NEERI), Paul Scherrer Institute (PSI), National Environmental Engineering Research Institute (NEERI), EPFL Switzerland, Indian Institute of Tropical Meteorology (IITM), and University of Berne. PSI, IIASA and EPFL are entrusted to bring international experience and state-of-the-art methodologies for assessment and implementation of strategies for air pollution control.
About TERI
The Energy and Resources Institute (TERI) is an independent, multi-dimensional organisation, with capabilities in research, policy, consultancy and implementation. It has pioneered conversations and action in the energy, environment, climate change, and sustainability space for over four decades.
The institute's research and research-based solutions have had a transformative impact on industry and communities. Headquartered in New Delhi, it has regional centres and campuses in Gurugram, Bengaluru, Guwahati, Mumbai, Panaji, and Nainital, supported by a multidisciplinary team of scientists, sociologists, economists and engineers, and state-of-the-art infrastructure.
About SDC
The Swiss Agency for Development and Cooperation (SDC) is the agency for international cooperation of the Federal Department of Foreign Affairs (FDFA). The SDC is responsible for the overall coordination with other federal authorities of development and cooperation with Eastern Europe as well as for humanitarian aid delivered by the Swiss Confederation.
For further information, contact:
TERI – Dhawal Trivedi: dhawal.trivedi@teri.res.in
Edelman – Rakhi Aurora: rakhi.aurora@edelman.com