Initiative: A 100 KW rooftop solar plant inaugurated in Dwarka, New Delhi as part of Solar City initiative by GIZ, BRPL, and TERI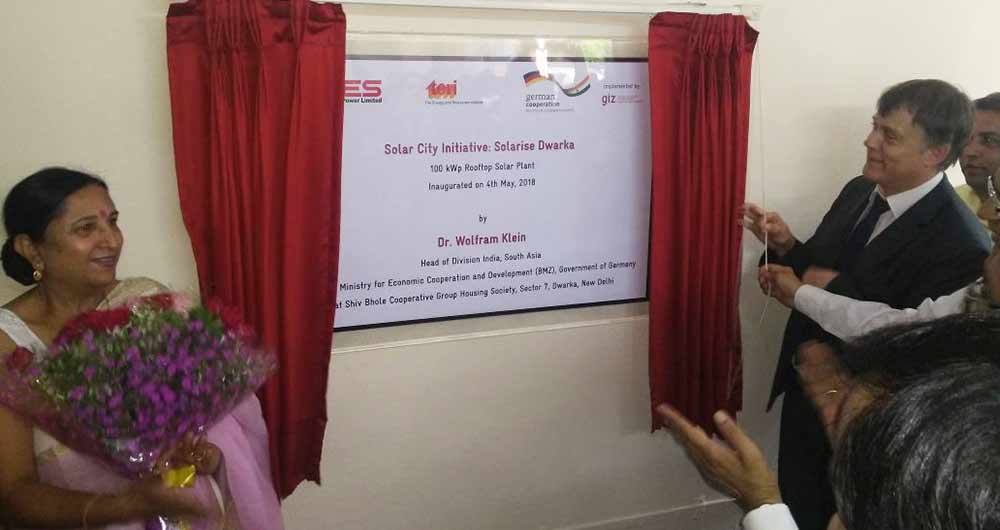 India aims to install 175 GWp (gigawatt peak) of grid-connected solar power projects by 2022, of which 40 GWp is to come from solar rooftop systems. Rooftop solar plants are thus an important part of India's renewable energy plans.
TERI recently concluded a mass awareness creation and market aggregation programme for solar rooftop systems in Dwarka in southwest Delhi under the Solar City initiative supported by GIZ (Deutsche Gesellschaft für Internationale Zusammenarbeit GmbH) and BRPL (BSES Rajdhani Power Ltd). As a result of this initiative to 'Solarise Dwarka', a 100-KW (kilowatt) grid-connected rooftop solar plant – the first plant to be installed under the initiative – was inaugurated at the Shiv Bhole Cooperative Group Housing Society in Sector 7, Dwarka on May 4.
Dr Wolfram Klein, Head of Division India; South Asia, German Federal Ministry of Economic Cooperation and Development, inaugurated the solar plant. Mr Amal Sinha, CEO, BRPL was also present at the event, apart from Mr Joerg Gaebler, Principal Advisor, GIZ, Mr Abhishek Ranjan, Head, Renewable and DSM Initiative, BRPL, and Mr Shirish Garud, Senior Fellow, TERI.
BRPL representatives said that they would like to achieve at least 2.5MW of solar installation within Dwarka and the company is convinced of the increased role solar and other forms of green energy would play going forward.
At the event, Mr Gaebler talked about GIZ's initiatives in solar rooftop systems and its plans to expand programmes such as the current initiative in 10 Smart Cities in India.
TERI too is looking to extend its services and experience in this field to the benefit of urban local bodies and communities in India. It has been actively engaged with solar rooftop market development in India since 2013, when it studied and estimated the market potential and business models for rooftop solar PV systems. Following this, it also worked with Surat and Ahmedabad municipal corporations for similar projects.
The Dwarka project was another example of an awareness creation and demand aggregation exercise through engagement of decision makers with implementing agencies such as suppliers and utility companies, and provision of subsidies or incentive schemes etc. TERI was the knowledge and implementation partner in this project. The campaign to pique people's interest was organised with the help of student volunteers. It used innovative outreach techniques such as skits, expert interviews, interactions with BRPL representatives to resolve queries and special sessions with residents, including senior citizens and the youth, to explain the benefits, monetary and environmental, of solar rooftop systems in the long run.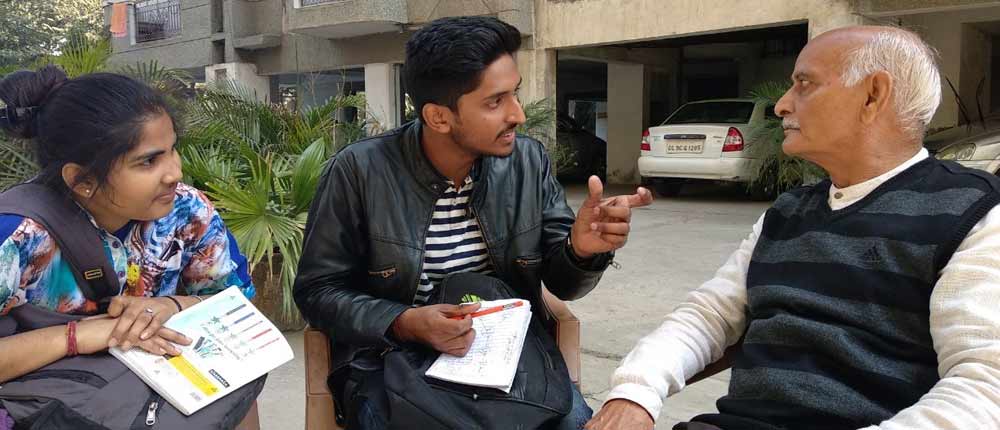 Students from various colleges who signed up as volunteers were trained and given the target to generate 30-50 installation interest forms in four to five days of campaigning. In the three-month period of the project, a total of 51 interest forms were signed from over 100 residential societies that were visited. The installation in the Shiv Bhole building is among the first two rooftop systems, each of about 100kWp, installed.
On the occasion, Dr Klein said, "It is quite encouraging to witness people participating in the energy transition in India: that is the only way to have a sustainable energy transformation; similar to what we see in Germany."