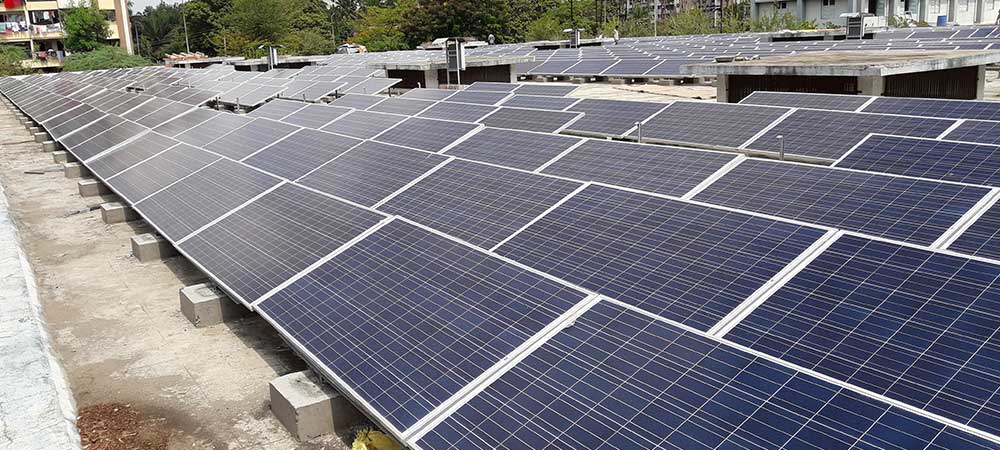 Leaders, students and residents came together for a project by TERI and Surat Municipal Corporation to popularise rooftop solar power in Surat Smart City
India has set for itself the goal of generating 175 gigawatts (GW) through renewable energy by 2022, of which around 100 GW has to come from solar power. This goal has been further broken down region and state-wise targets.
In 2016, TERI and Surat Municipal Corporation (SMC) undertook a campaign to popularise rooftop solar photovoltaic (PV) plants in the Surat Smart City area. For a city whose origins are traced to an ancient town called Suryapur, this should have been a logical choice. However, it still required coordinated effort between the municipal body, residents and TERI within a short period of time. Launched on Solar Equinox Day – September 22, 2016 – the short yet intense project has borne fruit with applications for setting up solar rooftop plants still being received. Alekhya Datta, Fellow, Electricity and Fuels Division, walks us through the project.
Q. What was the genesis of the project?
A. Surat is one of the model solar cities and has been promoting solar energy and energy efficiency projects since 2013-14, even before it made it to the Smart Cities list where it was ranked fourth in the first round. In March 2016, it again made it to the Smart Cities list, this time at the second place.
One of the key requirements as a Smart City was to meet 10 per cent of its energy requirements through solar energy. The SMC therefore immediately decided to undertake a project related to the same. While there were many programmes pertaining to Solar City, green buildings, energy efficiency, National Solar Mission, etc., the municipal corporation needed an implementation and facilitating agency to earnestly pursue the objective of meeting the 10 per cent goal.
However, a consumer who wished to install a solar rooftop system did not know whether he/she had to go to the utility services or the project developer. There were subsidies offered by the government for setting up of grid connected solar system but again the consumer did not know whom to approach – is it agencies such as Gujarat Energy Development Agency (GEDA) or the Ministry of New and Renewable Energy (MNRE).
In May-June 2016, the SMC approached TERI for facilitating harnessing solar power. When we were awarded the project in around July 2016 it was a four-month project, which was subsequently reduced to three months. It involved preparation of a roadmap, stakeholder consultation and cooperation, demand aggregation, and canvassing through on-ground interactions with consumers. A multi-disciplinary team from TERI comprising IT professionals, designers, communication personnel and researchers took on the challenge.
Q. How was the project executed?
Once we were awarded the project, we tried to understand the requirements in detail. During the discussions with the officials concerned in SMC, one of the key issues emerged was the need for a nodal agency so that the consumer does not have to approach multiple agencies.
SMC agreed to act as a facilitating agency, and we suggested that a single-window platform (under a brand called 'SuratSolar') and an Android-based mobile App be developed, which the Surat Municipal Commissioner agreed to.
Next, we also suggested that we need to make the consumers well aware of the steps needed to set up solar rooftop systems and guide them through the process. In all, there were four activities. Firstly, we developed an IT platform where consumers could express their interest and apply for setting up a solar rooftop system, after which we measured their rooftops and ascertained the overall demand (demand aggregation) of the city through all the applications received. This website was hosted on the SMC's server.
Secondly, we developed a 15-page guidebook specific to Surat Smart City with all the information that would prove useful to a consumer for getting a solar rooftop system implemented. We also developed the Surat Solar mobile App.
Post September 22, 2016 the canvassing began in full swing. We conducted capacity building workshops for industries, residential consumers and societies, etc. Lastly, we ran an extensive promotional campaign through radio, public hoardings and movie theatres where, on the instructions of the Municipal Commissioner, a short video clip was played before the start of a movie. The initiative was also covered by local media.
Most importantly, the Mayor came up with the innovative idea to create a video message about the benefits of solar rooftop plants. These messages were recorded in 22 different languages. Surat is a cosmopolitan city with MLAs and MPs from communities across India and there are 22 official languages recognised in the country. We identified such MLAs and MPs and they recorded the video message in their mother tongue.
As part of this, we also engaged consumers through social media. While the means of communication hitherto adopted in the project were unidirectional i.e. from us to consumers, we felt the need for bi-dimensional communication to gauge the demand on-ground. The Mayor further suggested that we involve students to interact directly with the consumers. We engaged 200 students from Surat colleges and institutes to act as 'Solar Friends'.
Of these 200, TERI provided internship to 15 students and the SMC gave all of them certificates of excellence. These 200 'Solar Friends' went from house to house with pamphlets, guidebooks and a smartphone with the App developed by TERI installed to give consumers all the information required. The macro-level approach and thrust of the Solar Friends was - 'This is the information, these are the benefits, please apply'.
Q. How did the students go about it?
A. In Surat there are mohallas and a total of 40-50 wards. We identified the wards and assigned two to three Solar Friends to each ward councillor. They interacted with their area's residents individually and found them to be very receptive. We didn't want a situation where our Solar Friends went out and spent time talking to consumers and then at the end of the day waited for them to apply. So, sometimes the applications they used to go with were filled in the field itself.
Initially, the deadline to fill online applications was December 31, 2016 but it was later extended. More than 4,000 applications were received, of which over 3,200 were from domestic consumers and more than 800 from industrial and commercial consumers. The total capacity to be installed was of the order of 15 megawatt (MW). Of this 11MW was for residential consumers.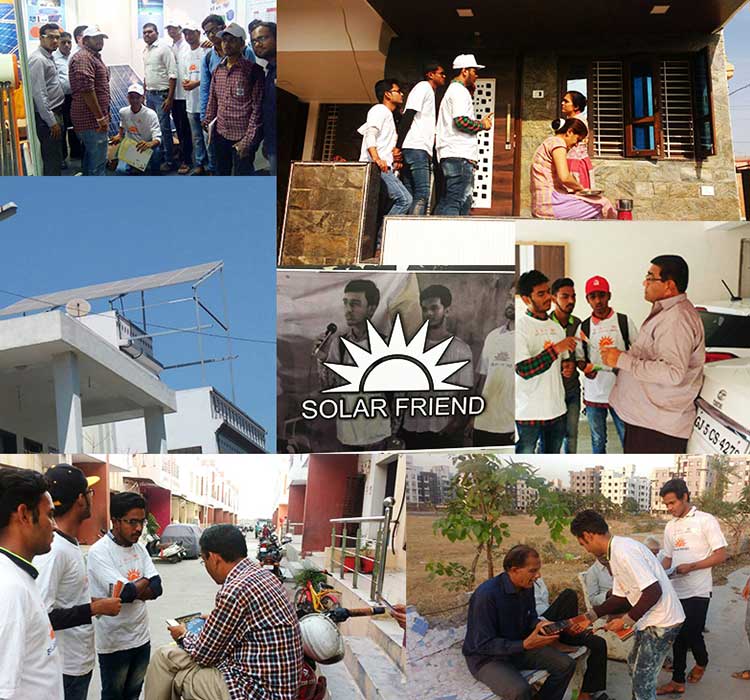 Q. When was the first plant set up and what was the modus operandi?
A. The first plant was set up in a private building under the Smart City initiative was in October 2016. With the SMC acting as a facilitating agency, we created a channel through which applications under residential category were forwarded to GEDA as there is a state subsidy along with MNRE subsidy for domestic/residential consumers.
The applications were forwarded under the non-residential category by SMC to the Solar Energy Corporation of India (SECI) Ltd. There is no subsidy for non-domestic consumers as the electricity tariff they paid was already high so it made business sense for them to go for solar rooftop. For residents, the utility electricity tariff is less and the upfront cost payable by them to install a solar rooftop is more. To offset the same, a subsidy has been in place.
Q. What was the scope of TERI's role in this project and what is the outlook for deployment of solar rooftop in Surat?
A. TERI had an all-encompassing role in the project. This was a unique project in the sense that we worked closely with the municipal body right from developing a road map for solar rooftop plants in the Surat Smart City region to marshalling our resources to create the online portal, mobile App and guidebook. Thanks to keen and pro-active approach of SMC at every step and combined efforts of all concerned including the councillors, requisite momentum has been created and the work is being carried forward by SMC with active support of the councillors. The SMC continues its efforts to facilitate increased deployment of solar rooftop with continued presence of hoardings promoting rooftop solar plants and a Smart City cell to guide people to the best of their ability. With continued zeal of SMC and the councillors, deployment of solar rooftop has been of the order of 30 MW and is bound to increase.