TERI develops feed from locally sourced ingredients such as Azolla, drumstick leaves and egg shells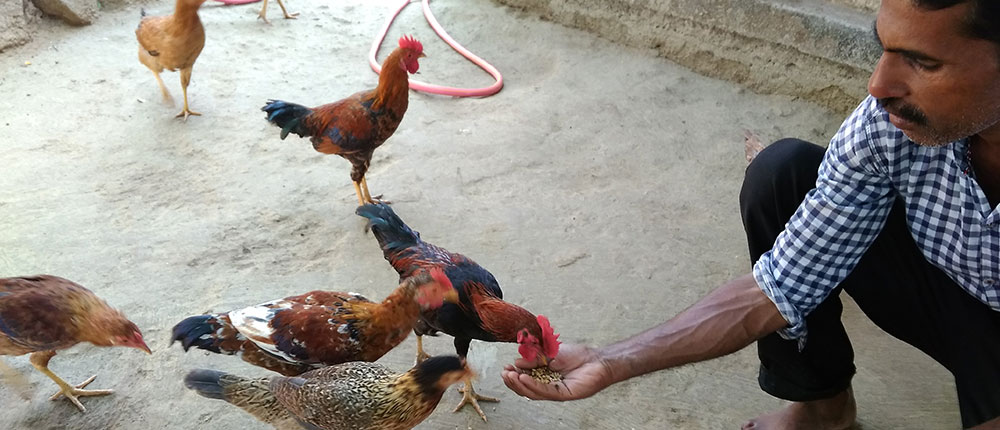 Backyard poultry farming continues to remain one of the foremost ventures undertaken by lower-income groups in rural India, where household poultry production contributes to 70% of the overall food generated in most low-income countries. India ranking 3rd in global egg production and 7th in chicken production accentuates the importance of this occupation to its total output. Backyard poultry is traditionally practiced as a supplementary activity to farming, as it provides an important source of protein (eggs and meat) for household consumption and an added income source for these families. Rural communities prefer to cultivate the local, desi breed of poultry, owing to its relatively low maintenance costs and ability to fend for itself with respect to food.
Now, most of the costs incurred in this otherwise inexpensive venture are effectively for the feed, sometimes as high as 70%. This poses a challenge for tribal and rural communities, seeing as they would rather harness the grains for their own nutrition as opposed to using it to prepare feed for the poultry. Traditionally in India poultry birds are free ranging and left to forage, consuming seeds, and insects and so on. While this makes it easy for their owners to maintain them, it leads to insufficient or improper nutrition at times which in turn results in low body weight of the birds and smaller egg sizes, thus fetching lower prices. Good nutrition will not only lead to healthier poultry for self-consumption of the family, but also an increase in their sale price leading to higher profits.
TERI's Nutrition Security (NS) Division has been working in Palghar district of Maharashtra for the last five years, in an effort to decrease the malnutrition levels prevalent among its population and help bring about sustainable development in the region. In the year 2017-18, we promoted animal husbandry in a water scarce village Pathardi, in Palghar, with the intention of popularizing it as an additional source of income for the villagers; backyard poultry training was also included as part of this venture. Its ongoing initiative continues to remain involved to motivate and guide the villagers so as to ensure that the animal husbandry is practised the right way.
Ideally, a balanced chicken feed should contain 21-23% proteins1and 2700- 3000 Kcal/kg of metabolizable energy2. Commercially soybean, maize, wheat germ, bran, blood meal are included to reach a proportionate amount and balanced ratio of nutrients. However, these sources of proteins are expensive, and not affordable to low income poultry rearers which often poses a challenge.
Given the paucity of affordable chicken feed in this region, we introduced a replacement to conventional chicken feed (which are grains alone) with something nutritious without over-dependence on grains. We undertook research to develop novel, nutritious feed that could be easily prepared by poultry rearers themselves, from inexpensive food items (Table 1) that are locally available in rural areas and are rich in calcium, protein and minerals. The recipe comprises locally grown Azolla, rice and/ or wheat grains, groundnut oil cakes, drumstick leaves, and egg shells.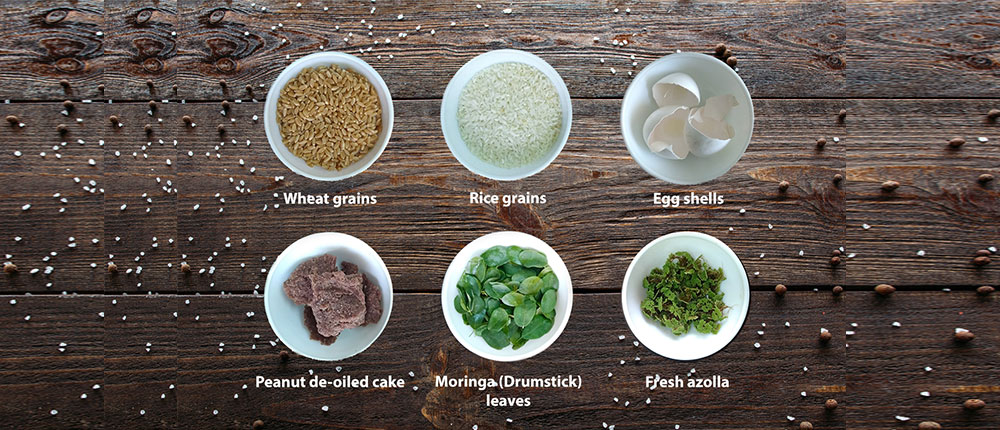 Azolla, a kind of aquatic fern, is capable of enhancing the nourishment obtained through birdfeed even if used in small quantities. Studies have proven that chickens which were given birdfeed mixed with Azolla gained a substantial amount of weight and increased egg production. Moreover, it is easy to grow, as it requires only a fixed amount of water to flourish.
Table 1: Nutritional content per 100 gm of the food sources used in the chicken feed3
Food sources
Nutritional content in 100 g of the source
 Carbohydrate(g)
 Protein(g)
Fats(g)
 Fibers (g)
Rice
79
6.6
0.6
0
Peanut De-oiled cake
39
41
7
3
Whole wheat
72
13
3
11
Moringa or Drumstick (leaves)
8.3
9.4
1
2
Azolla
0
22
0
14.7
Our team of researchers would be training the beneficiaries in preparing the newly formulated chicken feed themselves. This self-reliance will enable them to increase profits from poultry rearing without having to incur any expense or relying on external commercial products. By making available an alternative source of nutrition in chicken feed, villagers could ensure better health of their chickens in turn enhancing their own nutrition and also chances of revenue generation.
Pranali Sadanand Chavan, Roshni George and Abhishek Krishnamurthy have provided key inputs.
---
[1] http://www.fao.org/fishery/affris/species-profiles/nile-tilapia/feed-formulation/en/
[2] http://www.poultryhub.org/nutrition/nutrient-requirements/nutrient-requirements-of-egg-laying-chickens/
[3] http://vikaspedia.in/agriculture/poultry/breeds-of-poultry/feeding-management