Women self-help group of Pathardi village, facilitated by TERI, showcase novel fortified food products at Mahalaxmi Saras
---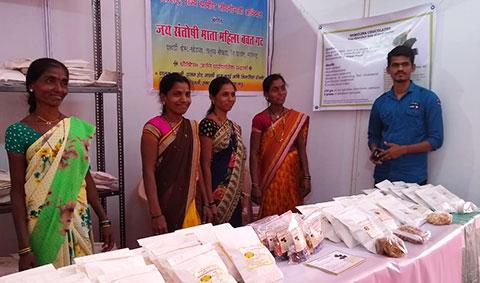 - An effort to create livelihood opportunities ,60 families have been directly benefitted in Pathardi village
- Mahalaxmi Saras Exhibition in Mumbai showcased nutritious food items by women of Pathardi
- Till now, 4 products have been fortified with Spinach, Mushroom and Spirulina have been distributed in the village
- TERI plans to speak with the concerned ministers and urge them to include Spirulina chocolates in the mid-day meal scheme to provide nutrition to the children
Mumbai, 23 January 2019: The Energy Resources Institute (TERI), a leading think tank dedicated to conducting research and policy advocacy for sustainable development, has been actively implementing activities in Pathardi village of Maharashtra, creating sustainable village communities with better livelihood opportunities, especially for the women.
In line with this, facilitated by TERI, the women self-help group of Pathardi village have set up a stall at the ongoing Mahalaxmi Saras Exhibition in Mumbai. The stall showcases the fortified food products that these women have been trained to prepare on their own in order to combat the severe condition of malnutrition in Palghar district. The exhibition was inaugurated by Shri Chennamaneni Vidyasagar Rao, Governor of Maharashtra, Smt Pankaja Munde, Minister for Rural Development, Women & Child Development, Maharashtra and Shri Aseem Gupta, Principal Secretary, Skill Development and Entrepreneurship Development, Govt. of Maharashtra.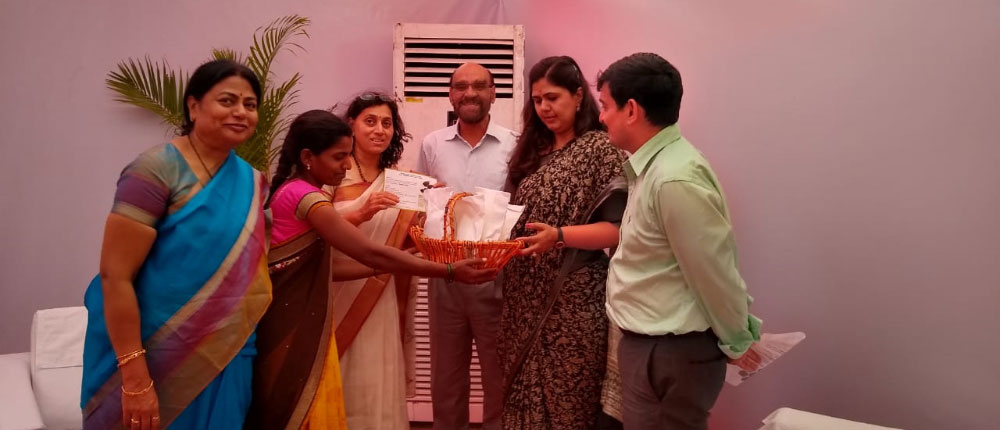 Women of Pathardi village are trained by several experts in the preparation, fortification and standardization of fortified items and packaging them for sale. Till now, 4 products fortified with Spinach, Mushroom and Spirulina have been distributed in the village, and 60 families have been benefitted from this.
The exhibition is an initiative of the Government of Maharashtra to provide a marketing platform to rural entrepreneurs. The stall will display nutritious products made by the women such as spinach chakali, ragi biscuits and spirulina chocolates. The reason behind introducing chocolates was to develop a novel item integrating spirulina, a super food. It is an algae rich in Iron, antioxidants, proteins etc. Consuming algae in raw form would be difficult that too for children. Hence blending it in chocolates was the best option. TERI also plans to introduce the chocolates as part of mid-day meal scheme.
Dr Anjali Parasnis, Associate Director, Nutritional Security, said, "TERI's efforts in supporting communities to recognize and treat malnutrition have helped the tribes in Palghar district to tackle malnutrition. It is a great achievement to showcase our success and achievements through this exhibition. TERI will continue to look for innovative, cost-effective and focused methods for promoting nutritional security while protecting the natural resource base."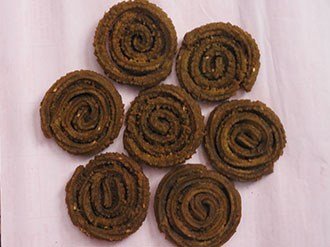 Malnutrition is a persistent problem of India. While nutrition outcomes across India is poor, they are significantly worse in tribal areas, and vary depending on the diversity in their socio-economic, socio-cultural and ecological factors. Hence, Nutrition Security is a top priority, and has also been given its due importance in the UN Sustainable Development Goals (SDGs) emphasizing on Zero hunger, health and well-being of individuals as one of its prime objectives.
To support the villagers, TERI has used simple, low cost but sustainable methods to create demonstration projects that have high potential of scale up and replication which would be important for government, policy makers, scientific community, development agencies as well as society at large. The interventions have been planned in such a way that stakeholders like women, youth, school teachers, parents, primary health care center, aanganwadi workers, and villagers would be empowered and encouraged to tackle malnourishment using simple methods and resources easily available in the local areas. The approach has ensured sustainability of the interventions and has also magnified the impact.
The interventions carried out include training on goat rearing and goat farm management, training workshops on bamboo cultivation and bamboo article making, poultry farming and so on. The entire village has started cultivating the vegetables in their backyard and integrating healthy food sources in their regular diet.
About TERI
The Energy and Resources Institute (TERI) is an independent, multi-dimensional organisation, with capabilities in research, policy, consultancy and implementation. It has pioneered conversations and action in the energy, environment, climate change, and sustainability space for over four decades.
The institute's research and research-based solutions have had a transformative impact on industry and communities. Headquartered in New Delhi, it has regional centres and campuses in Gurugram, Bengaluru, Guwahati, Mumbai, Panaji, and Nainital, supported by a multidisciplinary team of scientists, sociologists, economists and engineers, and state-of-the-art infrastructure.
For further information, contact:
TERI:
Pallavi Singh: pallavi.singh@teri.res.in

Edelman:
Swati Sharma: swati.sharma@edelman.com
Mehak Arora: Mehak.arora@edelman.com