In view of the growing plastic waste crisis and India's commitment to lower the emissions intensity of its GDP by 33-35% by 2030, the article discusses TERI's roadmap for bringing resource efficiency and circularity to the plastic value chain in India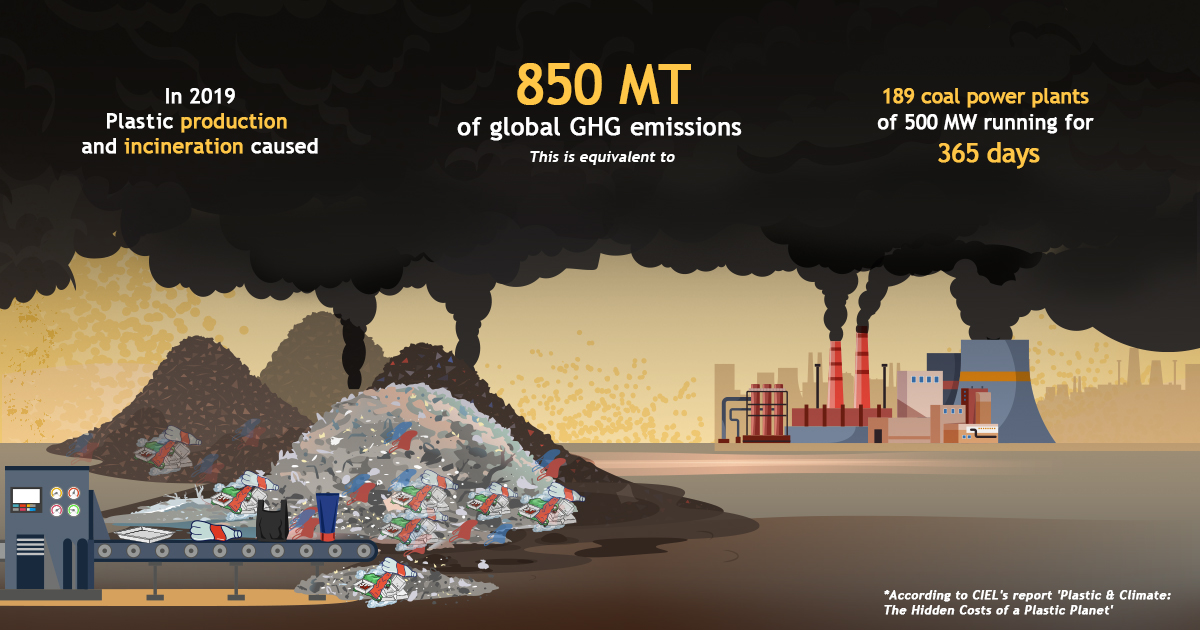 Have you ever wondered how much plastic do we interact with on any given day? Starting from our toothbrushes, to the tube holding our toothpaste, the electronic devices that we use at our homes and offices, or even the bottles we carry our water in; we are surrounded by plastic. But what happens to it, and consequently, to our planet, when it is being produced and after it is thrown away? In 2019, the global greenhouse gas (GHG) emissions from production and incineration of plastic alone were estimated to be more than 850 million tonnes. This is equivalent to emissions from 189 coal power plants, producing 500 MW of power, all through the year. 1
At a time when the world is pushing for a crucial 'decade of action' and setting targets for net zero carbon emissions, these figures paint a worrying picture. In India alone, of around 15 million tonnes of plastic consumed in 2018-19, almost 58% came out as plastic waste by the end of the year. 2 This is when government estimates suggest that 60% of the total plastic waste in India is collected and recycled. 3
These figures are of importance for India because with economic growth usually comes a rise in consumer buying capacity. What this means for our country's growing economy is that the demand for plastics is only going to rise in the coming years. As it stands today, 99% of feedstock for plastics is fossil fuel based4 and 90% of the plastic in these products is virgin plastic, raising concerns about the large carbon footprint. As India aims to lower the emissions intensity of its Gross Domestic Product (GDP) by 33-35% by 2030 under its Nationally Determined Contributions as part of the Paris agreement, dealing with plastic and plastic waste becomes critical.
The way plastics have penetrated our industries and our lives, rejecting them completely is not an option. So how do we decouple increased plastic use from increased carbon emissions and waste as we strive to grow as an economy?
Bringing plastic full circle
Traditionally, economic development models have been shaped in a linear 'produce-consume-discard' approach. This works primarily with virgin resources that do not come back into the system once the final product is used and discarded. The consequence of this approach has been the garbage piles in streets corners and the ever-increasing burdens on landfill sites. Circular economy, on the other hand, offers a sustainable shift from this approach. It makes consumption a part of a closed loop, treats "waste" as a resource rather than something to get rid of, and optimises material consumption at every stage of the value chain.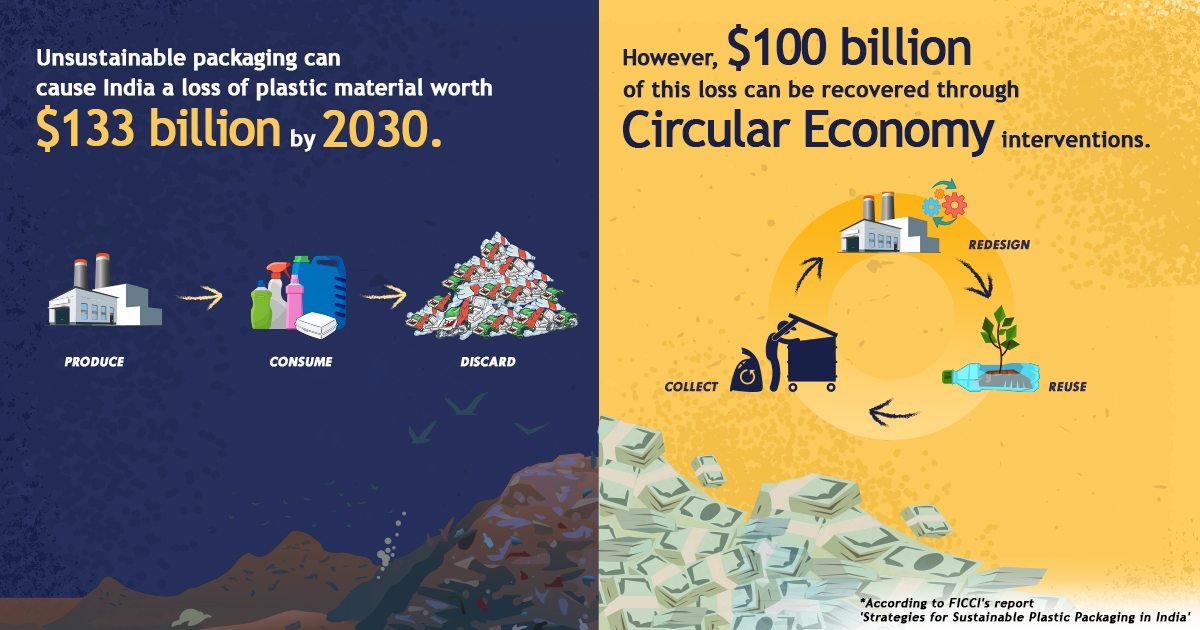 According to a FICCI report, India could incur losses of $133 billion of plastic material value till 2030 due to unsustainable plastic packaging, but circular economy interventions can recover $100 billion of this projected loss value.5 TERI's report, titled 'Circular Economy for Plastics in India: A Roadmap', supported by The Children's Investment Fund Foundation (CIFF), provides a roadmap for the country to look into its plastic value chain through the lens of circular economy and suggest ways that have both environmental and economic benefits.
In the context of India, which has maintained a people-first approach towards climate action and mitigation, circular economy for plastics has the potential to accelerate the country's progress in meeting its emission intensity targets. By using circularity to look at India's entire plastic value chain, the report suggests ways to reduce plastic related emissions. It also recommends incentivising plastic recycling and reuse, and reducing plastic waste and bringing down unnecessary plastic consumption.
The roadmap looks at -
Reducing emissions related to plastic production
Improving the quality of secondary plastics (recycled plastics) by enhancing existing collection, segregation, storage, and recycling processes can greatly increase their share in the production of new plastics. This will result in reduced demand for virgin plastics that have a large carbon footprint. Redesigning the production process in order to produce plastics that have a long shelf life is another way to reduce emissions.
Incentivising plastic recycling and reuse
A large part of plastic recycling is handled by the informal sector that has neither the skills nor the infrastructure required to efficiently recycle plastic. It also currently doesn't have the incentive to tackle hard-to-recycle plastic. Integrating the informal sector with formal recycling through contracts ensuring good pay and better health and safety standards could provide this incentive.
Reducing plastic waste and bringing down unnecessary plastic consumption
Encouraging research on innovative ways to reutilise plastic waste, such as using it in manufacturing bricks and composites or as a substitute for bitumen to construct roads could reduce plastic waste. Restrategising packaging could also help bring down unnecessary plastic consumption.
India's growth will have a significant impact on plastic production. Thus, it is imperative for the country to look at sustainable management of plastics, while keeping in mind its NDC targets.
In our next article in this series on 'Refurbishing Plastic for Climate Action', we will look into the roadmap offered by the report through its key objectives. This would include understanding the untapped potential of plastics for strengthening climate action through adoption of sustainable material solutions for plastics, increasing the supply of good quality recycled plastic feedstock and the need to encourage R&D to tackle problematic plastic waste.
This is the first article in the series 'Refurnishing Plastic for Climate Action'. To read the second article click here
Footnotes
[1] www.ciel.org/plasticandclimate
[2], [4] Kapur-Bakshi, S., Kaur, M., and Gautam, S., 2021. Circular Economy for Plastics in India: A Roadmap. New Delhi: The Energy and Resources Institute
[3] http://164.100.24.220/loksabhaquestions/annex/172/AS82.pdf
[5] FICCI. (2020). Strategies for Sustainable Plastic Packaging in India. Retrieved from accenture report 2020-1.cdr (ficci.in)