TERI proposes a fiscally responsible Green Stimulus to revive growth and jobs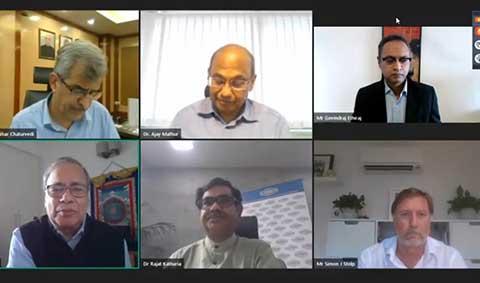 The paper suggests six focus areas that can accelerate growth of renewable energy and improve air quality in India
New Delhi, 24 August 2020: The Energy and Resources Institute (TERI) released a discussion paper on 'A Fiscally Responsible Green Stimulus' to revive Indian economy by creating demand and jobs with policy and regulatory interventions using minimal government spending.
Speaking at the launch of discussion paper, Dr Ajay Mathur, Director General, TERI, said, "The focus of India's stimulus packages has been on enhancing credit availability in the agricultural and small and medium enterprises (SME) sectors so as to stimulate economic growth and create sustainable jobs. We suggest that policy and regulatory measures are used to create demand which can pull private investment into green options – this will make the green economy commercially viable, and accelerate economic growth, job creation and the environmental transition."
Commenting on the report, Shri Indu Shekhar Chaturvedi, Secretary, Ministry of New and Renewable Energy (MNRE), said, "The paper adopts a holistic approach on issues related to clean energy and environment. It focuses on interventions in areas that are rather neglected such as generating waste to energy or animal waste to energy or agriculture waste to energy. Some of the recommendations are already being acted upon by MNRE such as the PM KUSUM Scheme. We hope to have a framework where domestic solar manufacturing gets impetus. We also have plans for generating energy from surplus biomass."
On renewable energy performance, the secretary added, "India's installed renewable energy capacity has grown by 2.5 times in the last 6 years. However, our share in RE electricity generation remains at 12% or 1/10th of overall production. Rapid technological changes in coming years will help us to reduce renewable energy costs and costs associated with integrating RE into grid."
Mr Ajay Shankar, Distinguished Fellow, TERI and the author of the discussion paper said, "Recognizing the fiscal constraints at this juncture and the need for a demand stimulus in the economy, the discussion paper puts together specific proposals that rely on primarily policy and regulatory instruments. These measures would accelerate the use of renewable energy and improve air quality. The investment potential has turned out to be huge."
The Green Stimulus proposed by TERI is approximately INR 40,00,000 crores (or 540 billion USD), spread over this decade. The specific proposals suggested for this stimulus are as follows:
Incentivising Cleaner Transport (investment potential of INR 160,000 crores per annum)
Subsidise fleet modernization of existing vehicles to BS-VI, use of electric vehicles and provision of buses for public transport.
Producing Renewable Energy from Agricultural Residues (investment potential of INR 22,470 crores per annum)
Announce a commercially viable procurement price for the next five years for briquettes made from crop waste.
Creating Renewable Energy from Animal Husbandry Waste (investment potential of INR 88,000 crores per annum)
Introduce a commercially viable feed-in tariff for purchase of electricity generated from animal husbandry waste (excreta from cattle, poultry, pigs, etc.) by Distribution Companies.
Promoting Solar Generation in Rural India (investment potential of INR 27,00,000 crores)
Announce a commercially viable feed-in tariff for purchase of electricity generated from rural areas in the kilowatt range by Distribution Companies.
Supporting MSMEs to Become More Green and Competitive (savings potential INR 15,000 crores every year)
The stimulus package envisaged by the government can be used to finance investments in the MSME sector for enhancing competitiveness through energy efficiency. This would involve replacement of energy inefficient boilers, pumps, motors etc.
Creating Domestic Manufacturing Capacity for Solar Power and Energy Storage (investment potential of INR 2,94,000 crores by 2030)
Invite bids for solar power with-storage with the condition that manufacturing with full value addition would be done in India.
Dr Rajat Kathuria, Director and Chief Executive, Indian Council for Research on International Economic Relations (ICRIER), said, "India faces a huge social and humanitarian crisis in terms of jobs and productivity. We should not waste this opportunity to put in place sustainable and green reforms. We need to create social security for the large informal sector. India needs to use the market mechanism and price signals much more, through measures such as carbon pricing and feed in tariffs. The private sector should be brought in wherever they can deliver."
Endorsing the recommendations of the paper, Mr Simon J. Stolp, Country Lead (India), Energy and Extractives at the World Bank Group, said, "This green stimulus is pragmatic. It has a demand-driven approach. Governments across the world are not in a strong fiscal position, so there is a need to bring in private sector to reduce the burden on public resources. This discussion paper taps the potential of short-term job growth, balancing it well with the long term goals of climate change and the decarbonisation agenda."
About TERI
The Energy and Resources Institute (TERI) is an independent, multi-dimensional organisation, with capabilities in research, policy, consultancy and implementation. It has pioneered conversations and action in the energy, environment, climate change, and sustainability space for over four decades.
The institute's research and research-based solutions have had a transformative impact on industry and communities. Headquartered in New Delhi, it has regional centres and campuses in Gurugram, Bengaluru, Guwahati, Mumbai, Panaji, and Nainital, supported by a multi-disciplinary team of scientists, sociologists, economists and engineers, and state-of-the-art infrastructure.
For further information, contact:
TERI – Dhawal Trivedi: dhawal.trivedi@teri.res.in
Edelman – Rakhi Aurora: rakhi.aurora@edelman.com