TERI and MoEFCC launch initiatives to enhance resource efficiency and reduce, reuse and recycle plastic waste
---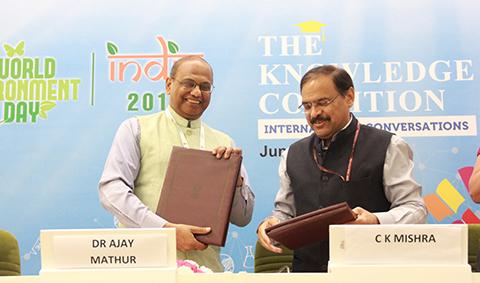 New Delhi, June 2, 2018: In the run up to World Environment Day, The Energy and Resources Institute (TERI) today launched a number of initiatives to support the Ministry of Environment, Forests and Climate Change, Government of India's (MoEFCC) focus on waste management and resource efficiency. The initiatives were unveiled by Shri CK Mishra, Secretary, MoEFCC and Dr Ajay Mathur, Director General, TERI, at an event at Vigyan Bhawan in Delhi.
TERI and MoEFCC sign MoU to set up a Resource Efficiency Cell at the Ministry:
TERI and the MoEFCC entered a Memorandum of Understanding (MoU) to set up a resource efficiency cell in the Ministry. The main objectives of the cell are to provide a platform to mainstream resource efficiency in public policy. It aims to achieve this through coordinated thinking among the various relevant Ministries and agencies for promoting resource efficiency in the use of materials in the country. It also aims to ensure a 'systems' thinking based on materials, products and processes, apart from enabling the preparation of an overarching resource efficiency policy for India and coordinated sectoral policies and regulatory mechanisms.
Between 2010 and 2020, India's demand for various materials is estimated to increase from US $1.4 trillion to US $5 trillion. In such a scenario, improving resource-use efficiency will be very important in delinking economic growth and human wellbeing from ever-increasing consumption of natural resources and the resultant environmental impacts. Resource efficiency encompasses a wide variety of technology, process, policy and institutional issues along the various stages (design, manufacturing, refurbishment, and end-of-life) of product life cycles, including the three 'R's - reduce, reuse, and recycle.
Release of TERI Paper on Plastic Waste Management:
Shri C K Mishra, Secretary, MoEFCC, released a TERI paper on 'Opportunities and Challenges of Plastics Waste Management'. As per the findings, the paper states that the annual average per capita consumption of plastic in India is about 11 kgs. Further, households generate maximum plastic waste, of which water and soft drink bottles form a large number. In terms of plastic in water bodies, seas near Mumbai, Kerala and the Andaman and Nicobar Islands are among the worst polluted in the world. The plastic debris under water affect at least 267 species worldwide, including 86% of all sea turtle species, 44% of all seabird species, and 43% of all marine mammal species.
The paper highlights how effective collection and recycling could lead to an overall reduction of waste, cost, and energy consumption, and also effectively reduce GHG (Green House Gas) emissions. It also focuses upon the need to promote the use of biodegradable plastic, especially in high-end large-scale applications, which can help in pushing bioplastics from labs to markets.
The paper emphasizes on the role of urban local bodies to set up decentralized Material Recovery Facilities and corporates to adopt Extended User Responsibility to collect back packaging waste generated from their products.
---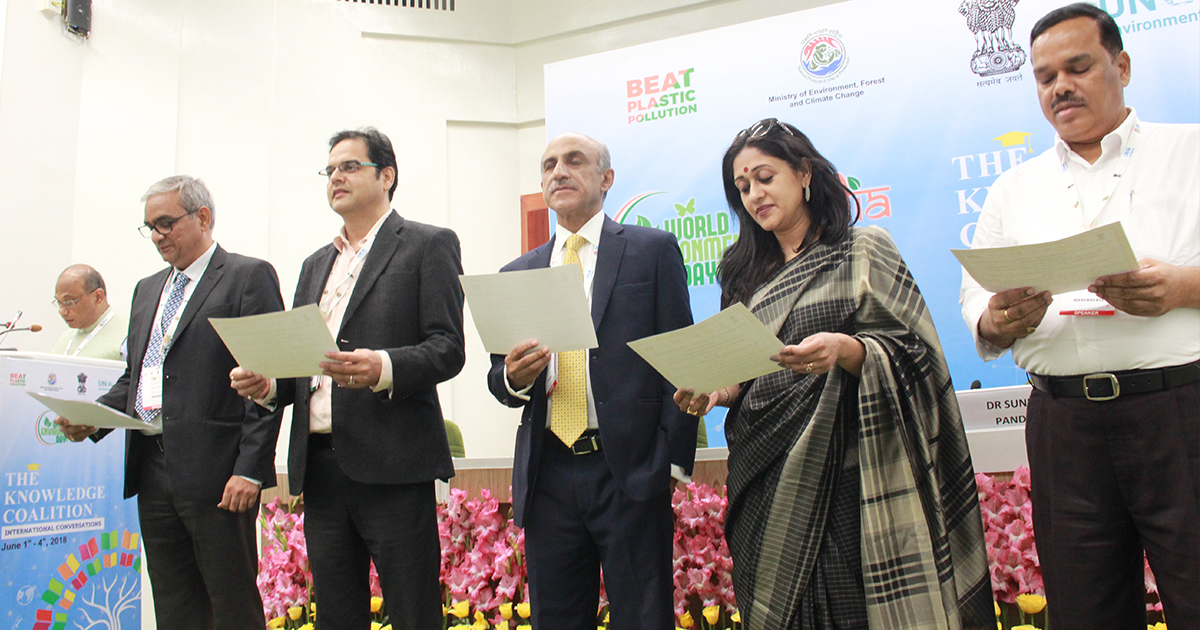 Industry Consortium Launched to Create Supply Chain to Manage Plastic Waste:
An industry consortium on 'Waste-Proofing the Future' to identify the institutional and policy interventions needed to sustainably manage waste was launched at the event. The consortium has been launched with eight members comprising Aditya Birla Group, Mainetti India Pvt. Ltd, RED FM, KidZania India – ImagiNation Edutainment India Pvt Ltd, Dalmia (Bharat) Cement Ltd, Uflex Ltd, and DS Group of Companies.
India generates an estimated 32 million metric tonnes of packaging waste each year, of which plastic constitutes 16 per cent. The unorganised collection of waste leads to cherry-picking of wastes, with only 14% of plastic packaging being collected for recycling.
It is the first time that stakeholders from diverse sectors have come together for the cause of waste management. The roadmap for the consortium will be to create a supply chain for various types of wastes so that there is a business case for all stakeholders. To begin with waste collection points will also be set up in schools through KidZania, and policy research will be conducted on varied issues for better implementation.
Speaking on the occasion, Shri CK Mishra, Secretary, MoEFCC, said, "There is a need to provide people with alternatives, and organisations like TERI can play a key role in bringing together like-minded entities to find a common solution. Collaboration and partnership are key to implementing effective waste and pollution management. While there can be learnings from around the world, our solutions will have to be local."
Dr Ajay Mathur, Director General, TERI, said, "Waste proofing needs both technologies and business models. We need to convert used plastics into hangers and buckets and into higher quality products. We also need to enable collectors and recyclers to run these as profitable enterprises. Banning plastic is not the solution – banning only makes sense when collection and recycling is not possible.
I hope that, with the support of the government and the consortium partners, we will be able to handle this issue more effectively through implementing necessary measures along with citizen participation and engagement."
At the event hosted by TERI, the European Union and MoEFCC also signed a Joint Declaration of Intent (JDI) to support the implementation of the EU Resource Efficiency Initiative (EU-REI) Project in India, with a specific objective to foster the efficient and sustainable use of natural resources in India. The JDI seeks to strengthen technological, scientific and management capacities of MoEFCC, the EU and other relevant partners from private and public sector along with the implementing partners in the field of Resource Efficiency.
About TERI
The Energy and Resources Institute (TERI) is a leading think tank dedicated to conducting research for sustainable development of India and the Global South. Established in 1974, TERI has become the pre-eminent institution for research, discussion and thought leadership on environmental governance and sustainable development.
TERI is ranked globally as one of the five most impactful think tanks by the International Center for Climate Governance. The Institute is committed to the application of thought that drives action in the direction of tackling climate change.
For further information, contact:
TERI:
Pallavi Singh: pallavi.singh@teri.res.in
Aastha Manocha: aastha.manocha@teri.res.in
Edelman:
Sneha Dev: Sneha.dev@edelman.com