A panel discussion on Enabling Ecosystem for Sustainable Choices and Consumer Engagement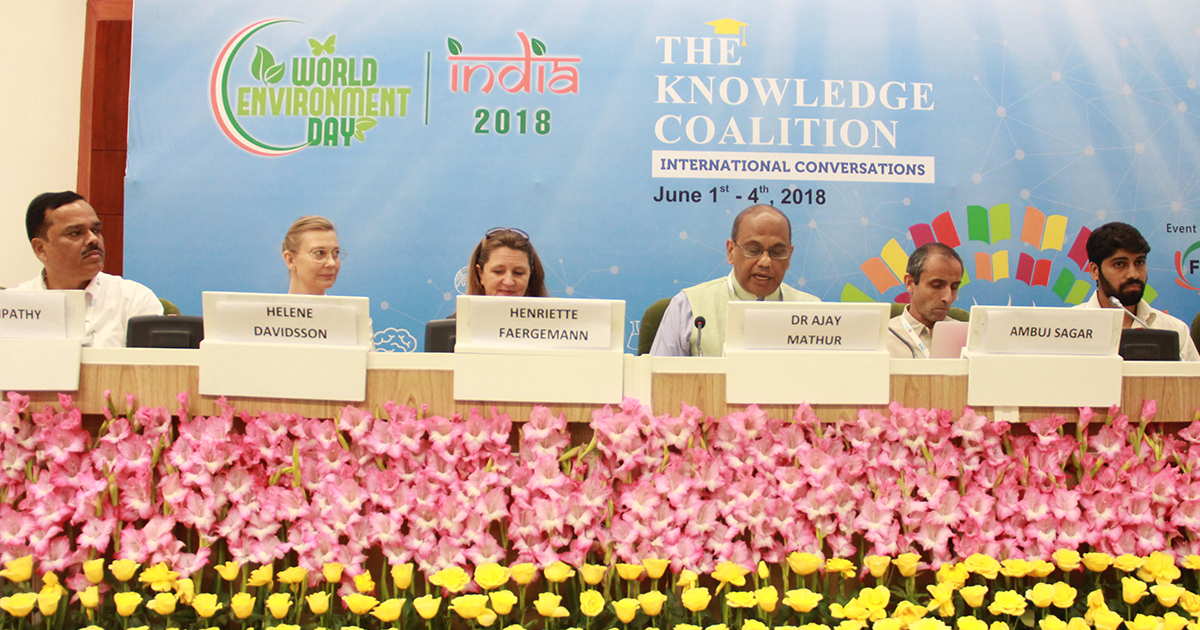 Does the answer to our plastic woes come from you, the consumer? It is the conscientious consumer whose choices can make manufacturers and service providers across sectors resource efficient in their products and supply chains. This was the major takeaway of a session on Enabling Ecosystem for Sustainable Choices and Consumer Engagement that was held on June 2 at Vigyan Bhawan in New Delhi, as part of the World Environment Day celebrations.
India is the global host for this year's World Environment Day, which is observed on June 5. The theme for 2018 is 'Beat Plastic Pollution' and this session, focussing on resource efficiency and circular economy took a more holistic view of how all materials can be efficiently used, and more importantly, reused.
The session, chaired by Dr Ajay Mathur, Director General, TERI, had panellists cutting across sectors – Henriette Faergemann, Environment, Energy and Climate Change Counsellor, EU Delegation to India; Heléne Davidsson, South Asia Sustainability Compliance Manager, IKEA; Vaibhav Rathi, Deputy Manager, Environmental Management, Development Alternatives; Megha Behal, Research Associate, Sustainable Buildings, TERI; PK Tripathy, Group Head – Manufacturing, Dalmia Bharat Cement; Kapil Mandawewala, Founder and CEO, Edible Routes; and Kamna Swami, Technical Advisor, GIZ GmbH. Professor Ambuj Sagar, Founding Head, School of Public Policy IIT-Delhi, was the co-chair.
If we want to make good choices as a consumer we need knowledge, said Ms Faergemann. She gave the example of Europe where almost every product, she said, is labelled. However, a label that encompasses all aspects of the product is difficult, she conceded.
Charity begins at home
According to Mr Rathi, there is a huge housing deficit in India right now and thus the residential sector is going to make up a major part of the demand in the construction sector. In this context, abiotic materials will dominate India's future material consumption.
Among these materials, agricultural soil used to make bricks, and materials such as limestone and gypsum (used in cement production) are non-recyclable. As a resource-efficient version of cement, he suggested Limestone Calcinated Clay Cement, or LC3, which replaces limestone by calcinated clay. He mentioned that Development Alternatives has successfully worked with LC3 in a pilot project and got their products GRIHA certification which measures energy and environmental performance of a product.
Mr Tripathy, while speaking on the role of cement industry, which he said is also the most energy efficient in the world, too pushed for blended cements and said that we need policies that provide incentives for the same.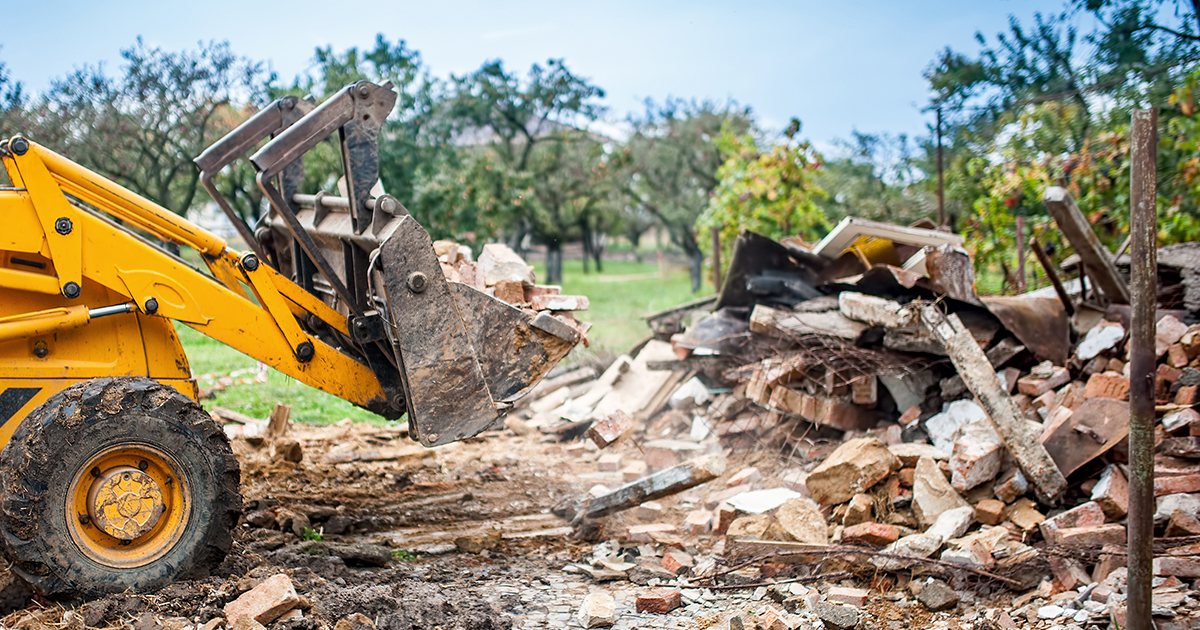 Mr Rathi also stressed on reuse of construction and demolition (C&D) waste. The projected C&D waste generation in urban India is estimated to be 2,700 million tonnes in 2041, he said, adding that a life cycle analysis of C&D waste processing vs natural stone processing suggests that 21 per cent of carbon dioxide savings can be achieved from processing one tonne of C&D waste. However, the challenges faced in ensuring widespread use of LC3 and reusing C&D waste are similar – product standardization, creating a viable business model and awareness to encourage entrepreneurs to take this up, and limited availability of science-based data and evidence.
A similar point was raised by Ms Behal, who said that reliable published data for environmental, resource and operational performance enables informed decision-making. She also stressed on the need for training and capacity building and pilot projects that 'walk the talk' establishing potential benefits of using alternative technologies.
What we keep in our homes
Speaking about circularity in design, IKEA's Ms Davidsson, who has been working in India for over a year, said that customers these days demand more sustainable products and strive to consume less.
Putting forward a new way of looking at resource use, she said, "We try to eliminate the word 'waste' from our vocabulary. It is just unutilised resource'. We see products as material banks for the future." She added that they are moving towards putting circularity at the start of design such that these products can be reused, repurposed, repaired and recycled.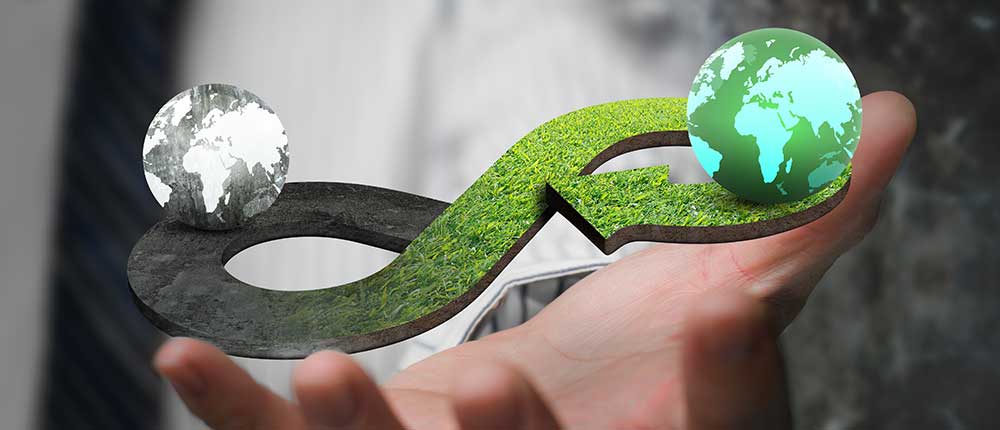 In fact, IKEA itself has claimed that "By planning for products' next life at the design stage, we get a head start. To make more from less, we also use materials that are renewable and recycled and from more sustainable sources. Our products must last as long as they are needed and be easy to care for, repair, reuse, reassemble, and recycle."
As an example of this approach, Ms Davidsson showed a photo of a kitchen front by IKEA made from a number of recycled PET bottles.
Making our homes more resource efficient also means efficiently using the space available in our homes. And what better way to use this space than to ensure healthy food for our families? This is where Mr Mandawewala came in. His company Edible Routes helps people grow food at home – be it a balcony or a window sill – as a way to close the gap between us and the food we eat, which these days comes from miles away.
"When you start tending for a plant, you change as a person. You become sensitised to the environment. You start forming a connection with what you grow," he said.
Agreeing with his assessment, Dr Mathur noted that in cities the higher-income group has the most space. "If we make growing our own food more aspirational, we would have hit two birds with one stone."
Coming down to waste
All said and done, human activities will still produce waste at the end of the day. The municipal solid waste, produced mostly in our homes, ends up in landfills where the recyclable and non-recyclable, biodegradable and non-biodegradable are all mixed up. While waste segregation at source is often talked about, successful examples of it require a lot of coordination among residents, urban local bodies and the informal sector.
Giving an example of one such successful waste segregation and management initiative, Ms Swami presented a case study of the 'Alag Karo' in Gurugram.
She mentioned that 'Alag Karo' was the result of a unique partnership between an international agency, private companies and an NGO Saahas. Speaking of her experience, she said that successful waste management is largely determined by urban local bodies so it is good to have them on board. While composting is important for biodegradable waste, she said that for recyclable waste, better facilities such as material collecting centres for the informal workers who deal with waste is very helpful.
Consumer-driven
Giving an example of consumer action in India, Dr Mathur said that prolonging the life of products and getting them back (to the manufacturers) after use is something Indian consumers had been doing, but are now losing it.
Rounding up the takeaways from the session, Professor Sagar said that today the consumer is driving the choices in the economy. "Consumers are not passive agents, they can drive policy change," he said, adding that it is hence important for them to be educated about their choices by their peers or other consumers.