Net zero emissions in India's energy system by 2050 technologically possible but highly challenging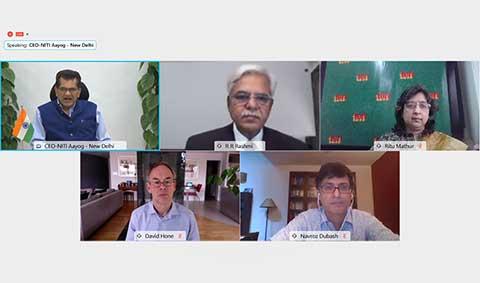 A recent modelling report jointly undertaken by TERI and Shell maps out an illustrative technological pathway for India's domestic energy system to move towards net-zero emissions by 2050, while delivering sustainable economic growth.
New Delhi, March 23, 2021: Energy is at the heart of development and India has high aspirations as it strives to create a better life for its population of almost 1.4 billion people. But how can India accomplish this and make progress towards reaching a net-zero emissions economy by 2050 in support of broader well-being? To reach a net-zero emissions energy system by 2050, India needs a suitable policy and innovation driven context to deploy clean energy technologies on a massive scale. It requires more and faster deployment of large-scale solar, wind and hydro power to enable greater electrification across the country. It also requires the development of new fuels, such as liquid biofuels and biogas, as well as hydrogen produced from electrolysis. Energy efficiency must improve significantly, and carbon removals (from technology and nature-based solutions) will have a critical role in moving towards zero emissions. These are the key insights from a new scenario sketch by TERI and Shell, that has assessed India's technology and policy options if it were to accelerate its transition to a net zero emissions energy system by 2050.
Today, India has opportunities to chart out its own unique development pathway rather than take up fossil-fuel driven paths previously pursued by developed economies. At the same time, it will be important for India to ensure that its energy pathway is socially inclusive, economically viable and ensures long term sustainability of resources.
Speaking at the launch of the report, India: Transforming to a net-zero emissions energy system, Mr Amitabh Kant, CEO of the NITI Aayog said, "I'm really pleased to participate in the launch of this very important study on transforming India to a Net Zero emissions energy system which I believe is a step towards pursuing the goal of achieving cleaner energy transition and spearheading discussions amongst policy makers, knowledge partners and think tanks. With its geographic advantage and availability of vast potential, not only can India materialize its renewable potential, it can also become a global leader to showcase its green energy pathways. This is the right time for India to think in this direction of net-zero emissions by 2050"
Speaking on the occasion, Nitin Prasad, Chairman, Shell Companies in India, said "Building on many years of collaboration in the work related to the Indian energy sector and its transition, The Energy and Resources Institute (TERI) and Shell have partnered to present a Scenario Sketch for India outlining the options and choices towards developing a technically possible though challenging net-zero energy system for India. The challenge actually provides an opportunity for India to embed sustainability principles while achieving its developmental priorities – and minimise the risk of stranded investment in high emitting infrastructure. This approach has important implications in accelerating economic growth, local manufacturing, job creation and energy security."
"The energy sector alone does not have enough choices with the technologies available today to achieve net-zero by 2050. The industry sector, in particular, lacks technological solutions. Additional options for sequestration through nature-based solutions and CCS/CCUS would need to be adopted if net-zero were to be achieved by 2050" added Dr Ritu Mathur, Director, Integrated Assessments & Modelling at The Energy & Resources Institute (TERI).
Given announcements made by a number of countries about their net zero emission targets, this report assumes significance as it is one of the first assessments of the challenges that India would face if India were to move towards such a pathway. India: Transforming to a net-zero emissions energy system indicates that the transformations needed over the next thirty years for India, in pursuit of this goal by mid-century would consist of the following areas of action:
Accelerate clean technologies
Grow the power sector by a factor of more than four in 30 years, dominated by renewables (around 90%)
Target 13% hydrogen in final energy, including as a fuel for industry and transport
Transform bioenergy, with liquid biofuels surpassing petroleum products by 2040 to fuel industry and transport, including hard-to-abate sectors such as aviation
Support energy-efficient and lower-carbon choices
Invest in processes, technologies and end uses to improve energy intensity per unit of GDP by almost 60% by 2050, a rate of improvement nearly twice historical levels
Adopt economic mechanisms, such as carbon trading and/or pricing to facilitate reallocation of capital and resources to support commercialization of new fuels and technologies
Remove carbon emissions
Resort to carbon sequestration to an extent of around 1.3 Gt CO2, using nature-based solutions and /or carbon capture and storage (CCS)to achieve net zero emissions by 2050
The report adds that success in achieving the net zero emissions goal will depend on clear and coherent policies at the national and sub national level. It suggests that the economic and social impact of the transition will need to be understood and managed, and a well-designed policy framework will be required to contain the overall macroeconomic costs; address transition impacts and ensure more resilient and environmentally just outcomes for the most vulnerable and underserved communities.
Full report available here - www.shell.in/Indiasketch
For more details please contact
TERI
Aastha Manocha
Senior Content Writer
Email - aastha.manocha@teri.res.in

Shell
Priyanka Dube
Country Media Manager
Email - Priyanka.Dube@shell.com;
Mobile - +91 9910385564
About TERI
The Energy and Resources Institute (TERI) is an independent, multi-dimensional organisation, with capabilities in research, policy, consultancy and implementation. It has pioneered conversations and action in the energy, environment, climate change, and sustainability space for over four decades.
The institute's research and research-based solutions have had a transformative impact on industry and communities. Headquartered in New Delhi, it has regional centres and campuses in Gurugram, Bengaluru, Guwahati, Mumbai, Panaji, and Nainital, supported by a multi-disciplinary team of scientists, sociologists, economists and engineers, and state-of-the-art infrastructure.
About Shell
Shell is one of the most diversified international energy company in India with over 9500 employees and presence across upstream, integrated gas, downstream, renewable energy, and deep capabilities in R&D, digitalization, and business operations. With a retail presence across six states – Karnataka, Tamil Nadu, Telangana, Maharashtra, Gujarat, and Assam Shell is expanding its network of fuel stations across the country. It has the entire Lubricants end-to-end value chain in India, from conceptualization and development to production and distribution. Serving 50000 consumers through a robust network of 200+ distributors across B2C and B2B lines of Sales. This includes a world class lubricant oil blending plant that manages a large supply chain through a network of 4 Regional Distribution Centers and 8 warehouses. The company also fully owns and operates an LNG re-gasification terminal at Hazira. With a focus on digitization and future ready sustainable solutions, the company is nurturing a vibrant ecosystem in India to accelerate energy innovations with Shell E4 for start-ups, Shell Eco-marathon and investments in new energy companies like Husk Power, d.light, Orb Energy and Cleantech Solar. Shell also remains committed to making positive contributions to the communities in which it operates through programmes like NXplorers, Access to Energy and Road Safety across India. Follow @shell_India @makethefuture @shell_ecomar to know how it is redefining the energy space.
Royal Dutch Shell plc
Royal Dutch Shell plc is incorporated in England and Wales, has its headquarters in The Hague and is listed on the London, Amsterdam, and New York stock exchanges. Shell companies have operations in more than 70 countries and territories with businesses including oil and gas exploration and production; production and marketing of liquefied natural gas and gas to liquids; manufacturing, marketing and shipping of oil products and chemicals and renewable energy projects. For further information, visit www.shell.com.
---
India sketch: Legal disclaimer
In developing this scenario sketch, TERI and Shell have adopted a goal-oriented approach towards achieving net-zero emissions from the energy sector in India by 2050. It is rooted in stretching but realistic development dynamics today, but explores a goal-oriented way to achieve that ambition. We worked back in designing how this could occur, considering the realities of the situation today and taking into account realistic timescales for change. Although ambitious in its goal and assumptions, we believe today it is still a technically possible, but highly challenging pathway for the Indian economy. However, we believe the window for success is quickly closing and without significant action it may take longer for India to achieve a net-zero energy system. Of course, there are other possible paths for India to take towards a net-zero energy system – these depend on the technologies and policies the country prioritises.
This scenario sketch is more ambitious in its goal and assumptions than Shell's Sky 1.5 scenario in some respects, but not all. For example, the India NZE scenario is more ambitious on the 2050 emissions profile of the energy system, but less ambitious on the role of CCS. Shell believes different places and sectors will move towards net-zero emissions at different paces, and all should move as fast as possible for society to achieve the goal of the Paris Agreement. This scenario sketch is not intended to be projections or forecasts of the future. Shell scenarios, including scenarios in this document, are not Shell's strategy or business plan. When developing Shell's strategy, our scenarios are one of many variables that we consider. Ultimately, whether society meets its goals to decarbonize, is not within Shell's control. While we intend to travel this journey in step with society, only governments can create the framework for success. 
The companies in which Royal Dutch Shell plc directly and indirectly owns investments are separate legal entities. In this content "Shell", "Shell Group" and "Royal Dutch Shell" are sometimes used for convenience where references are made to Royal Dutch Shell plc and its subsidiaries in general. Likewise, the words "we", "us" and "our" are also used to refer to Royal Dutch Shell plc and its subsidiaries in general or to those who work for them. These terms are also used where no useful purpose is served by identifying the particular entity or entities. ''Subsidiaries'', "Shell subsidiaries" and "Shell companies" as used in this content refer to entities over which Royal Dutch Shell plc either directly or indirectly has control. Entities and unincorporated arrangements over which Shell has joint control are generally referred to as "joint ventures" and "joint operations", respectively. Entities over which Shell has significant influence but neither control nor joint control are referred to as "associates". The term "Shell interest" is used for convenience to indicate the direct and/or indirect ownership interest held by Shell in an entity or unincorporated joint arrangement, after exclusion of all third-party interest.
Shell's operating plan, outlook and budgets are forecasted for a ten-year period and are updated every year. They reflect the current economic environment and what we can reasonably expect to see over the next ten years. Accordingly, Shell's operating plans, outlooks, budgets and pricing assumptions do not reflect our net-zero emissions target. In the future, as society moves towards net-zero emissions, we expect Shell's operating plans, outlooks, budgets and pricing assumptions to reflect this movement.
This content contains forward-looking statements (within the meaning of the U.S. Private Securities Litigation Reform Act of 1995) concerning the financial condition, results of operations and businesses of Royal Dutch Shell. All statements other than statements of historical fact are, or may be deemed to be, forward-looking statements. Forward-looking statements are statements of future expectations that are based on management's current expectations and assumptions and involve known and unknown risks and uncertainties that could cause actual results, performance or events to differ materially from those expressed or implied in these statements. Forward-looking statements include, among other things, statements concerning the potential exposure of Royal Dutch Shell to market risks and statements expressing management's expectations, beliefs, estimates, forecasts, projections and assumptions. These forward-looking statements are identified by their use of terms and phrases such as "aim", "ambition", ''anticipate'', ''believe'', ''could'', ''estimate'', ''expect'', ''goals'', ''intend'', ''may'', ''objectives'', ''outlook'', ''plan'', ''probably'', ''project'', ''risks'', "schedule", ''seek'', ''should'', ''target'', ''will'' and similar terms and phrases. There are a number of factors that could affect the future operations of Royal Dutch Shell and could cause those results to differ materially from those expressed in the forward-looking statements included in this content, including (without limitation): (a) price fluctuations in crude oil and natural gas; (b) changes in demand for Shell's products; (c) currency fluctuations; (d) drilling and production results; (e) reserves estimates; (f) loss of market share and industry competition; (g) environmental and physical risks; (h) risks associated with the identification of suitable potential acquisition properties and targets, and successful negotiation and completion of such transactions; (i) the risk of doing business in developing countries and countries subject to international sanctions; (j) legislative, fiscal and regulatory developments including regulatory measures addressing climate change; (k) economic and financial market conditions in various countries and regions; (l) political risks, including the risks of expropriation and renegotiation of the terms of contracts with governmental entities, delays or advancements in the approval of projects and delays in the reimbursement for shared costs; (m) risks associated with the impact of pandemics, such as the COVID-19 (coronavirus) outbreak; and (n) changes in trading conditions. No assurance is provided that future dividend payments will match or exceed previous dividend payments. All forward-looking statements contained in this content are expressly qualified in their entirety by the cautionary statements contained or referred to in this section. Readers should not place undue reliance on forward-looking statements. Additional risk factors that may affect future results are contained in Royal Dutch Shell's Form 20-F for the year ended December 31, 2019 (available at www.shell.com/investor and www.sec.gov). These risk factors also expressly qualify all forward-looking statements contained in this content and should be considered by the reader. Each forward-looking statement speaks only as of the date of this content, March 23, 2021. Neither Royal Dutch Shell plc nor any of its subsidiaries undertake any obligation to publicly update or revise any forward-looking statement as a result of new information, future events or other information. In light of these risks, results could differ materially from those stated, implied or inferred from the forward-looking statements contained in this content.
We may have used certain terms, such as resources, in this content that the United States Securities and Exchange Commission (SEC) strictly prohibits us from including in our filings with the SEC. Investors are urged to consider closely the disclosure in our Form 20-F, File No 1-32575, available on the SEC website www.sec.gov.