Need to check shift to private motorized transport post lockdown: TERI
---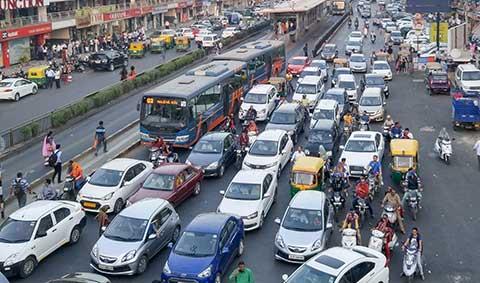 TERI recommends a series of solutions – low-cost, medium cost and high cost – for the state governments, local authorities, and transport operators for sustainable urban mobility.
New Delhi, May 14: A certain degree of preparedness is expected from the local governments and authorities in the post-lockdown scenario for ensuring the safe movement of people by public transport systems and to check a likely shift towards individual motorized transport. It is also necessary to ensure healthy practices and adopting cleaner technologies for transporting goods. Keeping this in view, The Energy and Resources Institute (TERI) has put forth a series of solutions – low-cost, medium cost and high cost – for the state governments, local authorities and transport operators in the post-lockdown situation.
Explaining the idea behind these recommendations, Shri Prakash, Distinguished Fellow, TERI, said, "One of the critical segments that need an increased focus of the government/s is public transport, especially the bus-based transit systems. At the same time, the gains of improved air quality during the lockdown period should be sustained by reducing traffic congestion caused by the proliferation of private vehicles particularly scooters and motorbikes, as well as shifting to cleaner technology for urban freight transportation."

The suggestions for the safe movement of people are as follows:
LOW-COST INVESTMENTS:
While the government and offices could devise Work from Home strategies, and explore staggered working hours, citizens could opt for car sharing. The other measures that the government could implement are the number plate restrictions or the Odd-Even scheme in cities across the country, bus/Independent Public Transport priority lanes, real-time passenger information, travel guidelines for passengers to ensure the safety of all (use of masks, specifying entry and exit gates, reduced occupancy, etc.), parking pricing, pollution under control (PUC) based taxation and parking standards.
MEDIUM-COST INVESTMENTS:
According to the recommendations, another critical focus should be towards the promotion and adoption of non-motorized transport - cycling and pedestrian mobility - at the city level. People could prefer non-motorised transport (NMT) to help contain the benefits of lockdown on air quality, and prevent congestion on roads. The government could look at specially-abled friendly pedestrian linkages, congestion pricing, permit fee waiver for e-autos, fiscal/tax benefits to organizations encouraging NMT, Public Transport Corridor oriented commercial development and building pedestrian, cycle only streets in market areas and pedestrian crossings for popularising NMT. The Linked Intermediate Public Transport (IPT) infrastructure could be worked upon for last-mile connectivity, charging infrastructure for e-autos, cycle routes and pedestrian pathways linked with mass transit and secure cycle parking zones across cities.
HIGH-COST INVESTMENTS:
The effort of central and state governments should continue in the direction of EV plans, even after lockdown and COVID-19. These will give a boost to India's push towards fighting local air pollution and climate change and also develop local capabilities in the EV segment. The measures that could have high-cost implications for the government include subsidizing public transport and a continued focus on clean energy - EVs, bio-fuel, hydrogen, etc. The road design/re-design such as circle intersections and building mass transit corridors could also be included.
The suggestions for the safe movement of freight are as follows:
LOW-COST INVESTMENTS:
Likewise, sustainable solutions for the transportation of goods for Light Commercial Vehicles and Heavy-Duty Vehicles include guidelines to ensure the health and safety of drivers, helpers, and loaders as a low-cost measure.
The easy to implement solutions are entry/exit regulations for essential and non-essential traffic, compulsory PUC/penalty on non-compliance, regularization of two-wheeler based freight transport, routes/parking regulation, 'time of day' operation of commercial vehicles, emission-based entry/exit taxation, fuel-based taxation, and parking regulation.
MEDIUM-COST INVESTMENTS:
The medium-range actions in the same category are incentivizing shift to EV-based or alternate fuel-based freight transport and transit-oriented development for freight, and development of logistics hub with necessary facilities in the high-cost solution. In the days to come, the government needs to ramp up charging infrastructure for EVs, tax exemption for EV, Transit-Oriented Development for freight, specific parking/loading/unloading zones, designated loading unloading infrastructure, and creation of a database of vehicles involved in essential services and non-essential services.
HIGH-COST INVESTMENTS:
The lorry parks at city borders, and the development of logistics hub with basic facilities are some of the measures that come with a heavy cost implication.
"The sustainable transport solutions in the passenger and freight segments are city-specific and encompass demand management, economic measures, land-use regulations, and infrastructure development," said Sharif Qamar, Associate Fellow and Area Convenor, Centre for Sustainable Mobility, TERI.
TERI has suggested that these measures will have a considerable bearing on the health and safety, accessibility, economy and environment. They will ensure safe distancing from each other during travel, contain the spread of COVID-19 virus and road accidents, facilitate improved, efficient and clean mobility, minimize the costs of mobility and reduce the impact of mobility on air quality.
About TERI
The Energy and Resources Institute (TERI) is an independent, multi-dimensional organisation, with capabilities in research, policy, consultancy and implementation. It has pioneered conversations and action in the energy, environment, climate change, and sustainability space for over four decades.
The institute's research and research-based solutions have had a transformative impact on industry and communities. Headquartered in New Delhi, it has regional centres and campuses in Gurugram, Bengaluru, Guwahati, Mumbai, Panaji, and Nainital, supported by a multi-disciplinary team of scientists, sociologists, economists and engineers, and state-of-the-art infrastructure.
For further information, contact:
TERI – Shilpi Singh: shilpi.singh@teri.res.in
Edelman – Rakhi Aurora: rakhi.aurora@edelman.com