Employment vulnerability in mind, experts stress equity in India's push for a green economy
---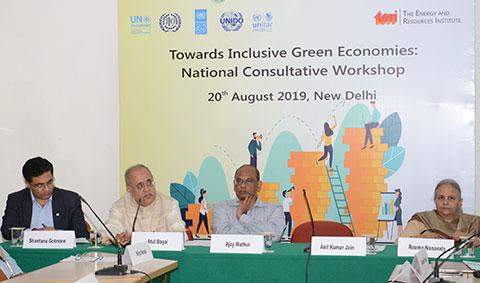 A national consultative workshop for transitions to an inclusive green economy was held at TERI in New Delhi
New Delhi, August 21: A transition to a green economy in India must be a 'Just Transition', keeping in mind vulnerable livelihoods. A Just Transition would need to look at the labour surplus issue in India especially for those employed in agriculture and informal sectors. This was among several issues pertaining to a green economy that were discussed on Tuesday at the national consultative workshop on 'Towards Inclusive Green Economies' held at The Energy and Resources Institute (TERI) in New Delhi under the Partnership for Action on Green Economy (PAGE) India initiative.
Just Transitions are a process and a goal to undertake green actions that advance job creation, social justice, and fair transitions for workers, enterprises and communities on an equal footing.
The consultations brought out the need for looking at the labour surplus and informal sectors in India. A report by ILO shows that 77.4% jobs in India are 'vulnerable'. However, Cristina Martinez, Senior Specialist, Environment and Decent Work, ILO, said that 14.2 million jobs could be added in the Asia-Pacific and India if countries adopt changes in energy use that limit global warming to 2°C.
"India has the challenge of reaching a $5 trillion economy, meeting its climate goals to keep global temperatures to 1.5°C, and at the same time catering to provide jobs for 1.3 billion people," said Shantanu Gotmare, Country Representative, Global Green Growth Institute.
Reema Nanavaty, Executive Director, SEWA, stressed on the inclusion of women and the poor in the transition to a green economy and said they should be at the centre of planning and policy making. She also said that there should be a mechanism to incentivise youth and communities to regenerate forest land, wetlands, etc. to create green jobs.
To help countries achieve green economies, five UN agencies – UNEP, ILO, UNIDO, UNDP and UNITAR – and working closely with national governments. In India, TERI is the implementing agency for the stocktaking study that is part of the initiative. It has so far held regional consultative workshops for north, south and western India, apart from Tuesday's national-level consultation.
The following focus areas for a green economy were discussed at the workshop –
Green budgeting and natural resource accounting at national and state levels
In terms of economic policy making processes, existing processes of annual budgets and economic surveys at the state and national levels need to be revamped to consider implications for environment in terms of green budgeting as well as changes in the stock of natural resources.
Green Financing
In green projects, the gestation period is often long and returns come after a long time. Getting adequate finance with reasonable rates is necessary to push the green agenda.
Sustainable public procurement
A robust transparent system in tendering system needs to be put into use for sustainable public procurement. This can happen if there is sufficient information on products and services for which eco-labels can be used as an information tool. The existing eco-labelling need to be revamped and a new strategy needs to be charted. It was also suggested that there is a need to get customers more interested in eco-labelling and to get more corporates on board for the idea.
Sustainable consumption and production
The discussions on circular economy in India have been focused more on recycling but focussing on other aspects of remanufacturing, reduce, reuse, repair and refurbish is also required. There is also a need to establish an e-market for trading of outputs from different industrial sectors and other economic activities. Such a portal should also act as an information portal for uses of different types of wastes/outputs so that users of different wastes can trade and make use of information and best practices. In this context, integrating resource policy with climate and energy policy will be imperative.

RR Rashmi, Senior Fellow, TERI pointed out that we don't have a resource use policy like we do with energy and TERI has made policy recommendations to the government for the same.
Creating awareness and environment education
There is a need to create awareness about the issues related to a green economy. It was pointed out that in the current environment education syllabus the word 'green economy' doesn't even find a mention. Not just school students but even adults need to be sensitised about such issues.
Underlining the importance and urgency of such measures, Dr Ajay Mathur, Director General, TERI, said it has not come a day too soon. "There is no question of the direction in which we must move, it is now only about speed. A work plan for just transition is possible. We need to look at the kinds of interventions, business models, ecosystem, and policies that make sense," he added.
Atul Bagai, India Country Head, UNEP, who gave the opening remarks at the inaugural session of the day-long workshop said, "PAGE is present in 18 countries, of which India, which joined just last year, is the largest."
About TERI
The Energy and Resources Institute (TERI) is an independent, multi-dimensional organisation, with capabilities in research, policy, consultancy and implementation. It has pioneered conversations and action in the energy, environment, climate change, and sustainability space for over four decades.
The institute's research and research-based solutions have had a transformative impact on industry and communities. Headquartered in New Delhi, it has regional centres and campuses in Gurugram, Bengaluru, Guwahati, Mumbai, Panaji, and Nainital, supported by a multidisciplinary team of scientists, sociologists, economists and engineers, and state-of-the-art infrastructure.
For further information, contact:
TERI - Aastha Manocha: aastha.manocha@teri.res.in
Edelman - Rakhi Aurora: rakhi.aurora@edelman.com