Green economy to create additional jobs, developmental benefits
---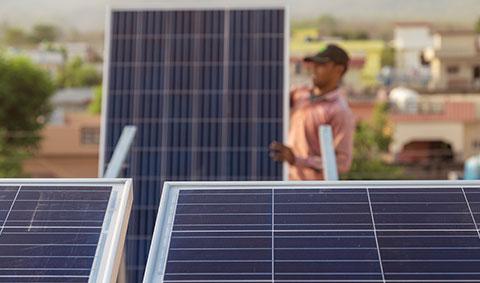 Five UN agencies are partnering with India to set up an action plan for a greener and more inclusive growth trajectory for the country
Goa, July 18: We need to focus on the 'Future We Should Have' rather than 'The Future We Want', CK Mishra, Secretary, Ministry of Environment, Forest and Climate Change (MoEFCC), said in Panaji on Monday. He was speaking at a two-day regional consultative workshop on inclusive green economies under the Partnership for Action on Green Economy (PAGE) India initiative in Panjim on Monday.
"The climate change narrative needs to focus on the way environment can supplement and support the economic growth process towards sustainability," he said.
"Ideation of a green economy agenda should be practical enough, encompassing more partnerships, programmes, and concrete plans to be interwoven into public policy," he added.
Under the PAGE India initiative, five international agencies – UN Environment (UNE), International Labour Organization (ILO), UN Industrial Development Organization (UNIDO), UN Institute for Training and Research (UNITAR), and UN Development Programme (UNDP) – are partnering with the MoEFCC. The Energy and Resources Institute (TERI) is the implementing agency for the stocktaking study that is part of the initiative.
The preliminary findings of the stocktaking study emphasised that in the context of India, policy tools for inclusive green economies would lead to strengthening of the third tier of the government along with the mobilising commitments and actions from business and industry and civil society. An analysis by TERI found that green economy measures can lead to additional employment of almost 12 million people by 2031. In addition, there will be developmental benefits such as income generation, greater energy access, education and positive impact on indicators such as infant and maternal mortality rates.
The workshop was attended by representatives of the five UN agencies and stakeholders from government departments, industry sectors, etc. Apart from the study findings, the participants deliberated on the issues of resource efficiency and circular economy, financing green economy, and employment and livelihoods.
In the context of the water crises in Chennai, the workshop participants unanimously agreed on the need to focus on resource efficiency of biotic resources and highlighted the limitations of the current approach which focuses on abiotic resources. In terms of responsible investment, the workshop deliberations put forth the need for greater awareness on green bonds and hybrid indices for investment decision-making processes. The discussions highlighted the need for effective enforcement of social protection measures as being equally important as economic growth. Given the vulnerability and limited restorative capacity of marine and beach ecosystems, the urgent need to protect sand dunes along the Indian coast was brought out as a measure to achieve the sustainable development goals (SDGs), especially Goal 14.
Mangesh Tayde, Additional General Manager, Bombay Stock Exchange, who was also present at the workshop, said, "It is a prerequisite to have a common defined taxonomy of green finance across all stakeholders (borrowers, investors, regulators, marketplace providers, capital market players, policy makers, and government)."
B Kalyan Chakravarthy, Director General, Environment Protection Training and Research Institute (EPTRI), Telangana, stressed on expansion of the scope of green jobs and green skills to the informal and rural sectors.
About TERI
The Energy and Resources Institute (TERI) is an independent, multi-dimensional organisation, with capabilities in research, policy, consultancy and implementation. It has pioneered conversations and action in the energy, environment, climate change, and sustainability space for over four decades.
The institute's research and research-based solutions have had a transformative impact on industry and communities. Headquartered in New Delhi, it has regional centres and campuses in Gurugram, Bengaluru, Guwahati, Mumbai, Panaji, and Nainital, supported by a multidisciplinary team of scientists, sociologists, economists and engineers, and state-of-the-art infrastructure.
For further information, contact:
TERI - Aastha Manocha: aastha.manocha@teri.res.in
Edelman - Rakhi Aurora: rakhi.aurora@edelman.com