Integrate livelihood with environmental protection activities to move towards a green economy, say experts
---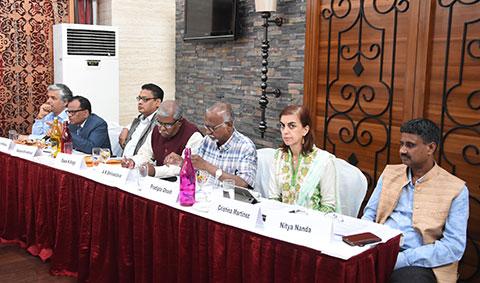 Government officials, business representatives and experts from eastern and north-eastern states and the United Nations discussed sustainability issues at a consultative workshop held by TERI in Kolkata
Kolkata, August 26: Experts at the eastern regional consultative workshop on Inclusive Green Economies, held in the city on Friday, highlighted the need to integrate livelihood concerns in all economic and environmental protection activities.
The regional workshop, which is the fourth in a series, brought together experts and stakeholders from eastern and north-eastern states to deliberate on sub-national issues focussing on tools and policy solutions. It was organised by The Energy and Resources Institute (TERI) under the Partnership for Action on Green Economy (PAGE) initiative.
The discussions at the event focussed around three key themes – Agriculture, livelihoods and resilience; Ecosystems, biodiversity and climate change; and Mining and extractives. Senior officials from various states and United Nations (UN) agencies were present for the inaugural session of the event which was moderated by Dr Prodipto Ghosh, Distinguished Fellow, TERI.
To facilitate behaviour change in lifestyles, Dipak Kumar Singh, Principal Secretary, Environment, Government of Bihar, said, "Policy level strategies are important but there is also need for strategies that are intelligible to the common man." He also pointed out the need to use a language that is understandable to the common man instead of using terms that economists would understand.
The Principal Secretary (Environment) of the Government of West Bengal, Prabhat Kumar Mishra, screened a movie on the 24 Paraganas, West Bengal. The area has high vulnerability due to the presence of Sundarbans and is also being affected by increasing salinity. The movie also showcased the state government's initiatives that sought to increase agriculture-based livelihoods.
Mukund Srivastava, Principal Secretary, Environment, Government of Sikkim, highlighted the need to develop 'missing markets' involving payment for ecosystem services and the need to change mind-sets for promoting environmental sustainability.
Keeping livelihood concerns centre stage, Dr Cristina Martinez, Senior Specialist, ILO, too stressed on the need to look at climate change as a threat to the future of livelihoods in India, including looking at the displacement of communities in vulnerable employment sectors. In an earlier workshop, she had said that an ILO report showed that 77.4% jobs in India are 'vulnerable'.
The presence of government officials from north-eastern states also brought forth issues of Northeast India at the discussions.
"State governments need to be consulted on economic activities before national policies are formulated on sectors such as tourism that involve not only state governments but also local sentiments around mountain peaks, forests, etc.," Alok Kumar Shrivastava, Chief Secretary, Government of Sikkim said in his keynote address at the workshop. While recognising the importance of being realistic, he added that conceptual issues of sustainable development should not be forgotten.
"In the name of promoting tourism, a lot of unnecessary infrastructure assets have been created in the hills that add to climate hazards by hindering new geological formations and also impact traditions and sentiments of indigenous people," he said.
Supongnukshi Aier, Chief Conservator of Forests, Nagaland underscored that sustainable development for the state in tandem with natural resource conservation will require educating people and inculcating a deeper sense of responsibility.
Bhaskar Kakoty, Chair, Tourism Committee, Federation of Industry and Commerce for North Eastern Region, focused on the importance of 'social recognition of the farmer' for agricultural policies and measures to bring impactful improvement in livelihoods. He highlighted the need for addressing farmers' vulnerability.
Satish Sinha, Professor, Indian Institute of Technology, Dhanbad, highlighted that green economy for mining and extractives is the sustainable way ahead for the industry to prosper further and it is in their interest to adapt to it.
In the discussions, hill states such as Sikkim, Nagaland etc. sought green bonus from the Central government for having greater area under forest cover as the land under forest could not be used for other infrastructure based development projects. States in the plains, such as Bihar, Chhattisgarh and West Bengal, sought fiscal incentives based on percentage increase in forest cover.
The discussions also highlighted that integrating livelihood concerns in economic development and environmental protection activities is paramount. The current developmental projects require mandatory processes such as environmental impact assessments for environmental clearances. However, this process needs reform and a greater emphasis is needed on planning based on ecosystem services and long-term implications for livelihoods along with required monitoring mechanisms.
Under the PAGE initiative, five international agencies – UN Environment (UNE), International Labour Organization (ILO), UN Industrial Development Organization (UNIDO), UN Institute for Training and Research (UNITAR), and UN Development Programme (UNDP) – are working closely with various national governments. TERI is the implementing agency for the stocktaking study that is part of the initiative in India. It has so far held regional consultative workshops for north, south, and western India, apart from a national-level consultation in New Delhi.
Stressing on the need of consultative processes for a country as diverse as India, in a manner that realises the imperatives of social justice along with environmental protection, Dr Ghosh said, "There is a need to engage with government agencies and other stakeholders to identify implementation mechanisms, barriers, and opportunities. The consultative exercise will also aim to identify leverage points for areas of potential action."
About TERI
The Energy and Resources Institute (TERI) is an independent, multi-dimensional organisation, with capabilities in research, policy, consultancy and implementation. It has pioneered conversations and action in the energy, environment, climate change, and sustainability space for over four decades.
The institute's research and research-based solutions have had a transformative impact on industry and communities. Headquartered in New Delhi, it has regional centres and campuses in Gurugram, Bengaluru, Guwahati, Mumbai, Panaji, and Nainital, supported by a multidisciplinary team of scientists, sociologists, economists and engineers, and state-of-the-art infrastructure.
For further information, contact:
TERI - Aastha Manocha: aastha.manocha@teri.res.in
Edelman - Rakhi Aurora: rakhi.aurora@edelman.com