The DBT-TERI Centre of Excellence (CoE) in Advanced Biofuel and Bio-commodities, supported by Department of Biotechnology (DBT), Govt of India, is a unique initiative by The Energy and Resources Institute (TERI) in partnership with IIT Guwahati, Indian Agricultural Research Institute, and Transtech Greenergy. The centre aims to generate biofuels through the marine algal route and from selected third generation feedstock, apart from assessing their sustainability.
This centre will also explore the development of technologies for production of value added bio-commodities including bio-plastics, fish feed, nutraceuticals, and novel specialty and industrial platform chemicals, through a biorefinery approach. These bio-commodities have various application across many industrial sectors. This initiative is envisaged to complement existing activities under various DBT supported schemes and will help India reach its energy and environment mandates.
---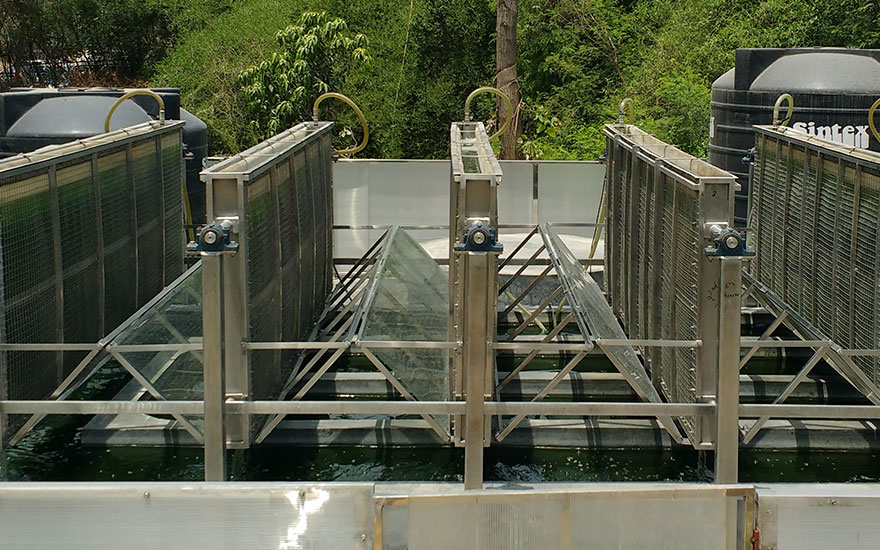 Feedstock improvement and production
India's National Policy on Biofuels aims at production of biofuels only from non-food feedstock, considering the need to balance food security with climate security concerns In view of this, the centre is working on development of sustainable next generation feedstock (algae biomass) and aquatic plant (Azolla and water hyacinth) to use as platform feed for production of advanced biofuels (algal biodiesel, biohydrogen, and pyrolytic bio-oil).
Under this, the centre aims to
Set up an indigenously designed 100,000 litre algal photo-bioreactor growth-harvest system at a coastal location in Mumbai
Large scale cultivation of Azolla in wastewater with a goal to recover nutrient from waste and generate value added biomass to use as feed for biohydrogen production
Manage water bodies from invasive water hyacinth through collection of these biomasses to use feed for biohydrogen production
---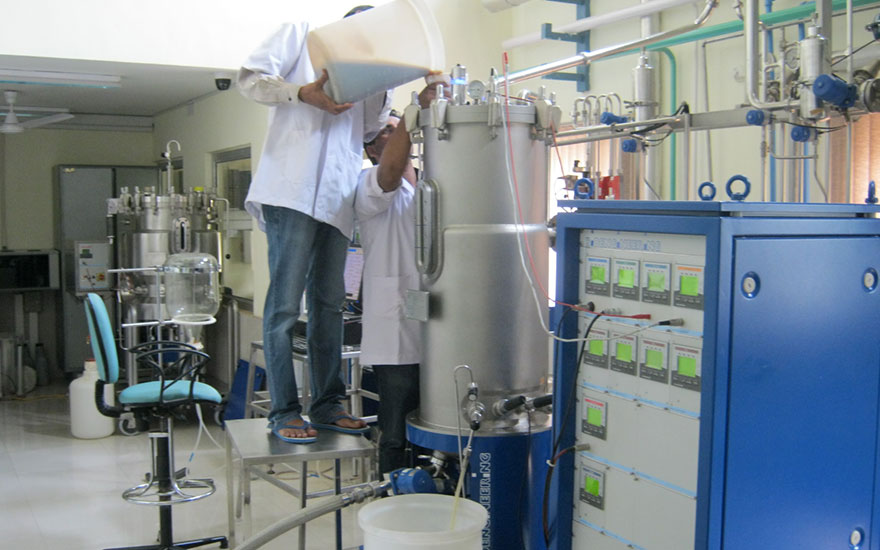 Biofuel production
The centre is also exploring production of three forms of advanced biofuels – algal biodiesel, biohydrogen and pyrolytic bio-oil – from next generation feedstock through the following methods
The wet algae harvested from the algal production system would be processed for lipid recovery for application in biodiesel production
Deoiled algae biomass being explored for pyrolytic bio-oil production would then be upgraded to drop-in fuel forms through employment of specific catalysts.
Aquatic plant biomass and deoiled algae biomass are being explored as new second and third generation biomass for hydrogen production through biological route in pilot scale.
---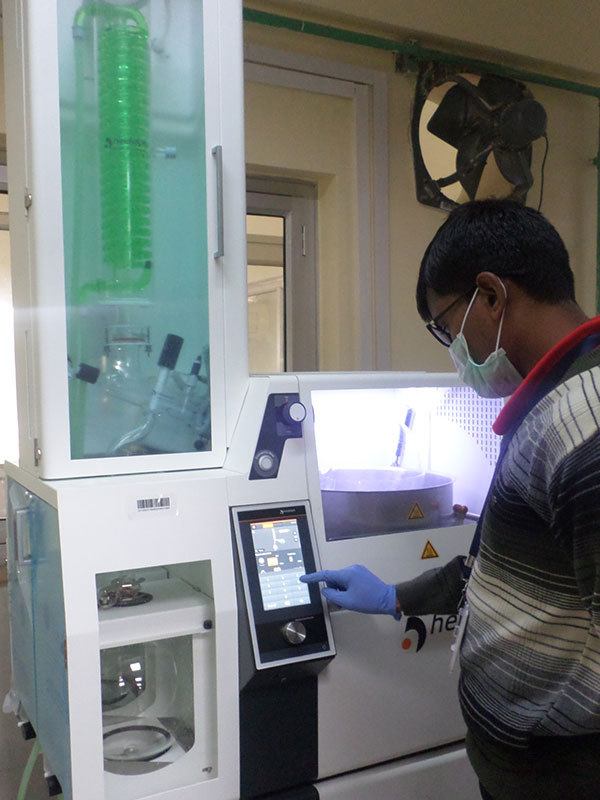 Value added bio-commodities
A major goal of this centre is zero-waste discharge, for which it is also exploring the use of co-products released during biofuel production as feed for production of high value bio-commodities, through a bio-refinery approach. This would aid in making the overall process economically viable.
To achieve this, the following activities are being undertaken
Crude glycerol released during biodiesel production is being explored for production of high value industry platform chemicals; 2, 3 Butane Diol (Biochemical) and acrylate polymers
Deoiled algae biomass is also being explored for production of high value biopigments, omega fatty acids, biodegradable plastics (Polylactic acid based), high-value amino acids as well as for formulation of aqua feed and cattle feed, in a biorefinery approach.
---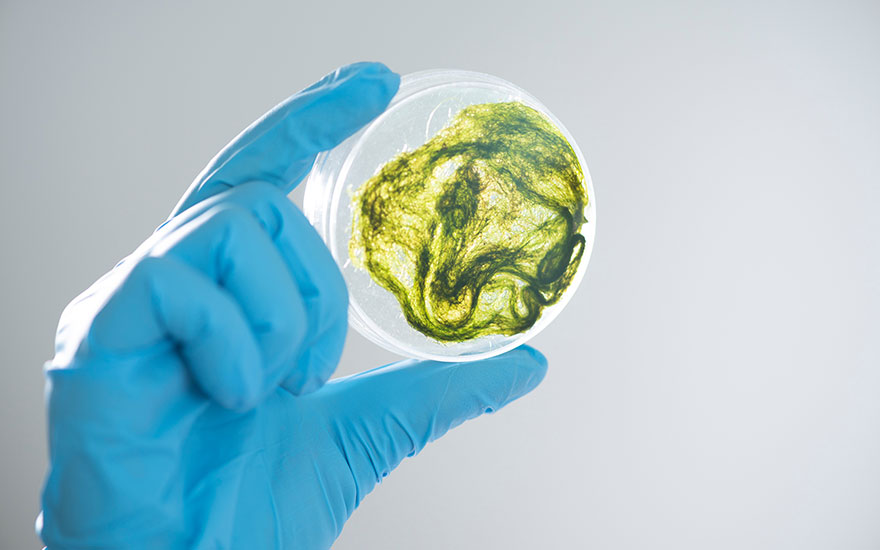 Sustainability assessment
A bio-economy is an economy in transition towards bio-based production of fuels and materials that were previously derived from fossil fuels.
Growing climate change threats, increased oil price volatility, and the environmental issues associated with fossil fuels have led to greater thinking from scientific and policymaking communities towards exploring alternatives that help minimise these impacts.
This centre of excellence will potentially be able to respond to the issues arising from application of algal and aquatic macrophytes feedstock, thereby minimising impacts otherwise raised in the context of application of biomass-based feedstock for fuel and material production. Nevertheless, there may remain concerns with regard to environmental, social, and economic sustainability of technology and processes for obvious reasons. Hence, it is critical to validate the benefits of any given algal and aquatic macrophytes feedstock-based refinery using a sufficiently overarching sustainability assessment.
The main objective of sustainability assessment under the centre would be to analyse environmental, economic and social implications of bio-energy concept including a SWOT analysis of its environmental, economic, and social aspects.
---
PARTNERS
TEAM
Distinguished Fellow, Director-General's Office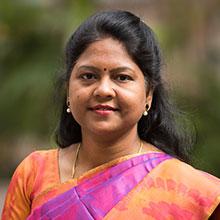 Area Convenor, Microbial Biofuels and Biochemicals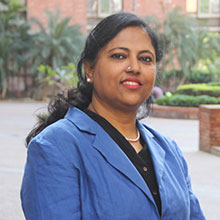 Area Convenor, Pyrolytic Biofuels, Biochar and Green Chemicals
Work Package 1:
Feedstock Improvement and Production
WP 1.1 Scale-up of marine algae production
Dr K Dheeban Chakravarthi
Fellow
TERI-Deakin Nano Biotechnology Centre
Sustainable Agriculture Division, TERI

Dr Amitabh Tandon
Managing Director
Transtec Green Power Pvt. Ltd., Jaipur
WP 1.2 Algal growth physiology
Prof. Sunil Pabbi
Principal Scientist
CCUBGA Department of Microbiology,
ICAR-Indian Agricultural Research Institute, New Delhi
WP 1.3 Feed-stocks for biohydrogen production
Dr Sanjukta Subudhi
Area Convenor
Microbial Biofuels and Biochemicals Area
Advanced Biofuels Division, TERI
Work Package 2:
Production of Biofuels
WP 2.1 Algal lipid recovery and biodiesel production
Dr K Dheeban Chakravarthi
Fellow,
TERI-Deakin Nano Biotechnology Centre
Sustainable Agriculture Division, TERI

Dr Piyali Das
Area Convenor
Pyrolytic Biofuels, Biochar and Green Chemicals Area
Advanced Biofuels Division, TERI
WP 2.2 Production of bio jet fuel, pyrolytic oil and upgraded-pyrolytic oil from algal paste
Dr Piyali Das
Area Convenor
Pyrolytic Biofuels, Biochar and Green Chemicals Area
Advanced Biofuels Division, TERI
WP 2.3 Biohydrogen production from new second- and third-generation feedstocks (after pretreatment)
Dr Sanjukta Subudhi
Area Convenor
Microbial Biofuels and Biochemicals Area
Advanced Biofuels Division, TERI
Work Package 3:
Development of value-addition bio-commodities
WP 3.1 Pilot scale production of second-generation 2,3 butanediol (2G 2,3-BD)
Dr Sanjukta Subudhi
Area Convenor
Microbial Biofuels and Biochemicals Area
Advanced Biofuels Division, TERI
WP 3.2 Algal nutraceutical and Green recovery
Dr Mayurika Goel
Associate Fellow
Advanced Biofuels Division, TERI

Dr Amritpreet Kaur Minhas
Research Associate
Advanced Biofuels Division, TERI
WP 3.3. Development of aquaculture feed and animal feed from deoiled microalgae
Dr Fraddry D'Souza
Fellow & Area Convenor
The Coastal Ecology & Marine Resource Centre Goa, TERI
WP 3.4 Food packaging bioplastics and cellulose nanocrystal-based biocommodities from algal biomass
Dr Vimal Katiyar
Dept. of Chemical Engineering
Indian Institute of Technology Guwahati
WP 3.5. Production of acrylate polymers/bioplastic from glycerol
Dr Piyali Das
Area Convenor
Pyrolytic Biofuels, Biochar and Green Chemicals Area
Advanced Biofuels Division, TERI
Work Package 4:
Sustainability Assessment of integrated biofuel production systems
Souvik Bhattacharjya
Fellow & Associate Director
Resource Efficiency & Governance Division, TERI

Dr Arindam Datta
Fellow
Earth Science and Climate Change Division, TERI