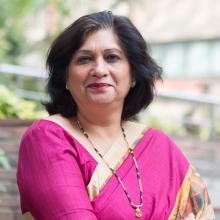 Dr Vibha Dhawan
Distinguished Fellow, Director-General's Office
Dr Dhawan is responsible for planning and coordination and leads the research for algal biotechnology.

She has been with TERI since 1985. For almost three decades, she has been actively involved in tree tissue culture and has developed the technique of in-vitro nodulation for the leguminous tree and has been instrumental in setting up of the modern tissue culture laboratory at the institute.

Dr Dhawan plays an active role in policy development both at the state and national levels and is a task force member for a number of committees of the Department of Biotechnology including those reviewing applications for accreditation of tissue culture laboratories; projects for rural development and climate change and the selection panels of DBT, CSIR, DRDO, etc.

Apart from being an executive council member of five prestigious universities; she is also Advisor, Bioresources & Biotechnology to the Chief Minister of Assam. Furthermore, she is the co-ordinator of DNA (Department of Biotechnology's Natural Resource Awareness Program Club), where TERI has been entrusted with the responsibility of implementation of a project to work with 651 schools in all the seven Northeastern states of India. She is also the Principal Investigator of a project on, "Pilot Scale Demonstration of Algal oil Production" under the aegis of the Department of Biotechnology (Government of India).

Dr Dhawan is also associated with Michigan State University and since 2004 has been offering a distance-learning programme on food laws in India. In addition, she is the Adjunct Professor & Consul General (Regional Coordinator) under the College of Agriculture and Natural Resources (CANR) South Asia Partnership. Furthermore, she has been selected as a Member of the Independent Science & Partnership Council of Consultative Group on International Agricultural Research (CGIAR) and is also a Non-Executive Director of CABI Board (CABI, an organization dedicated to International agriculture).

She has a number of awards to her credit including: AIBA award in the category of Individual Scientist for the year 1998; Kamal Kumari Foundation award for Science and Technology for the year 1998; First Biotech Product & Process Development and Commercialization Award of the Department of Biotechnology for the year 2000.

Dr Dhawan has more than 60 publications including six books to her credit and holds both a Ph.D in Botany from the University of Delhi.