DBT-TERI Centre of Excellence in Advanced Biofuels and Bio-commodities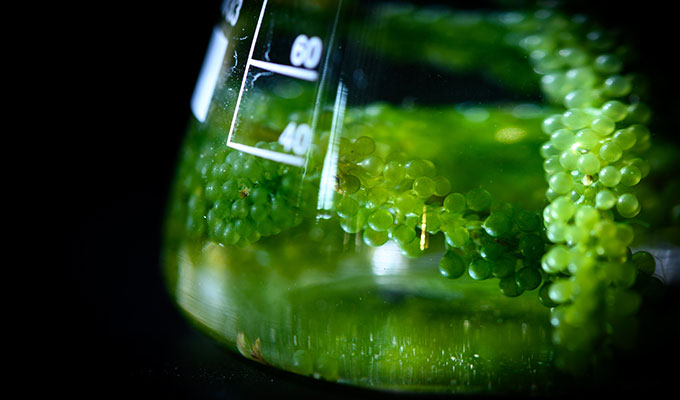 The Department of Biotechnology, Govt of India established its fifth bioenergy centre of excellence 'DBT-TERI Centre of Excellence in Advanced Biofuel and Bio-commodities' at TERI. This centre aims at development of technologies for production of advanced biofuels; Algal biodiesel, pyrolytic oil, Biohydrogen; and Bio-commodities; 2, 3 Butane Diol, acrolyn, high value pigments, bio plastic, aqua feed and animal feed, from third generation feed (algae and aquatic macrophytes) in a bio-refinery approach. This is the first bio-refinery project established by DBT-TERI with a goal to achieve the zero waste discharge by effectively utilizing the co-products of different processes as feed to produce value added bio-products that would aid in closing loop along with addressing the challenges of economic feasibility of producing advanced biofuel in a sustainable manner.
To achieve this, the research is done intensively at TERI's different programs (Environmental and Industrial Biotechnology Division, Nano Biotechnology Center, Renewable Energy Technologies Division, Resource Efficiency & Governance, Earth Science and Climate Change & the Coastal Ecology & Marine Resources Centre) and at collaborating institutes namely Indian Institute of Technology, Guwahati (IITG) and Indian Agricultural Research Institute (IARI).
To demonstrate algal cultivation in 100,000 litre scale large scale bioreactor is being established and the selected indigenous saline algal strain is being adapted to grow in coastal site. The goal is to use algal biomass for production of biodiesel, pyrolytic oil and other value added products as highlighted above. Further large scale cultivation of Azolla microphylla in domestic grey water is being demonstrated in outdoor ponds at TERI GRAM campus (in the area spanning approximately 0.01 ha). This aids in treatment of waste water along with generation of value added biomass to be used as feed for clean hydrogen production. Crude glycerol which is the co-product of biodiesel production is being explored for production of 2, 3 Butane Diol (by novel strain Enterobacter tabaci) and Acrolyn, the value added industry platform chemicals. Azolla and water hyacinth biomass being explored for hydrogen production through use of select C5 and C6 sugar co-fermenting microbe. The algae biomass explored for fabrication of biodegradable cellulose nanofiber for downstream application in production of biodegradable plastic by the experts at IIT Guwahati.