Solar rooftop systems for consumers in Surat and New Delhi have helped in reducing electricity bills as well as achieving India's renewable energy goals.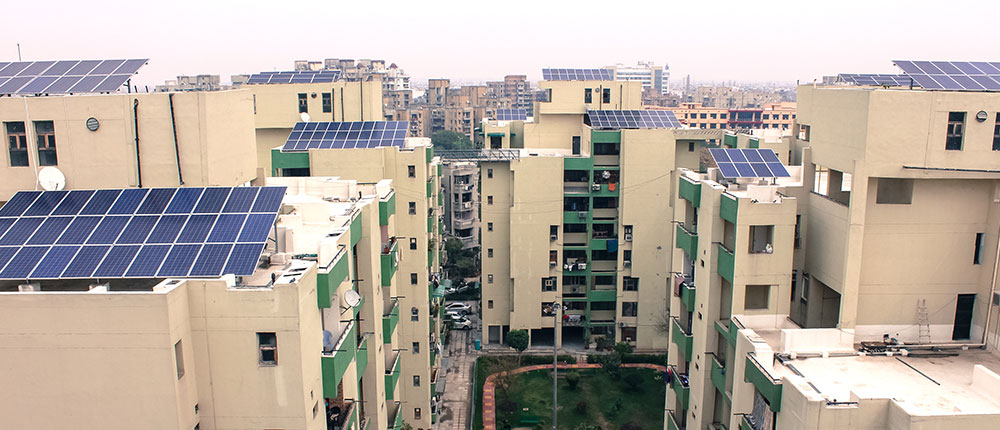 "My monthly electricity bill has reduced by 90%", Manish Patel, a resident of Surat makes this startling claim. He installed a 3.2 kW rooftop solar panel for Rs 91,000. This included a subsidy of 30% from the central Ministry of New and Renewable Energy and a financial support of Rs 20,000 from Gujarat Energy Development Agency (GEDA). The lifespan of his solar installation is nearly 25 years. Patel expects the payback period to be within four years.
The solar surge in Surat is hard to miss. Dipak Patil, another resident of Surat whose electricity bill has come down by almost 100% says, "During rainy and winter season, my panel generates enough units for personal consumption and then some to give back to the grid. Due to increase in consumption units in summer months, I only have to pay the discounted bill."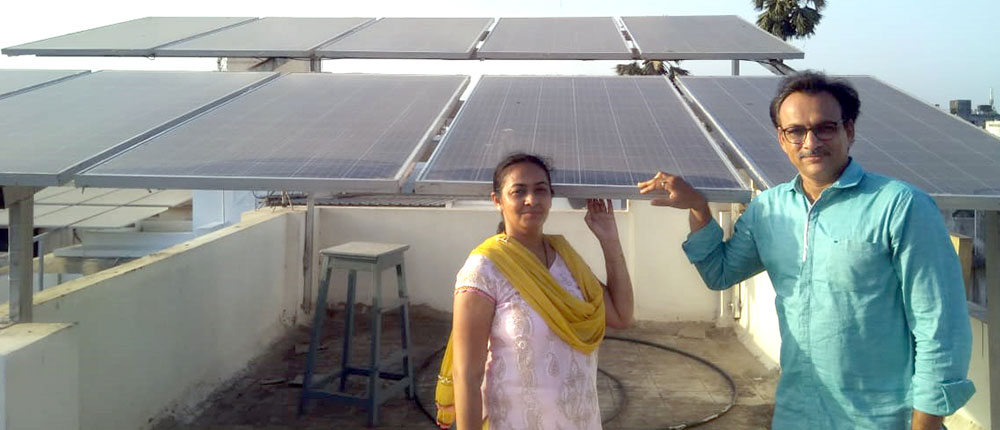 Net metering applies where a solar rooftop system for home is able to generate more electricity than the units consumed from the grid, then a meter generates credits that can be sold back to the DISCOM at a predetermined rate. Jinesh Patel, Assistant Engineer in the Surat Municipal Corporation, the nodal agency which led the solar campaign in the city informs that more than 6,000 rooftop solar plants have been installed so far and the overall residential capacity achieved stands at nearly 40 megawatts (MW).
Being developed as a Smart City, Surat needs to fulfil 10% of its power requirements through solar energy. In the summer of 2016, the Surat Municipal Corporation (SMC) approached TERI to popularise rooftop solar photovoltaic (PV) plants in the 'Silk City'. India's first city-wide rooftop solar demand aggregation campaign in Surat saw the light of day on September 22, 2016, the Solar Equinox Day.
Alekhya Datta in Electricity & Fuels Division at TERI remarks, "Our aim was to reduce multiple barriers for the solar market, implement sustainable program models, raise awareness through targeted outreach for importance of solar energy among the public, and increase transparency between consumers and solar developers." He further adds, "By creating a website for this programme, people could easily get all the necessary information and sign up for installing a rooftop solar panel. We initiated an extensive campaign using multiple mediums such as radio, public hoardings, a video message in 22 languages, and local newspapers."
Jayesh Solanki, Pratik Parekh, and Vishal Patil were three out of 200 Solar Friends or volunteers recruited by TERI and SMC to reach out to residents in around 50 wards to hand out pamphlets, guidebooks, and relevant information about rooftop solar panels.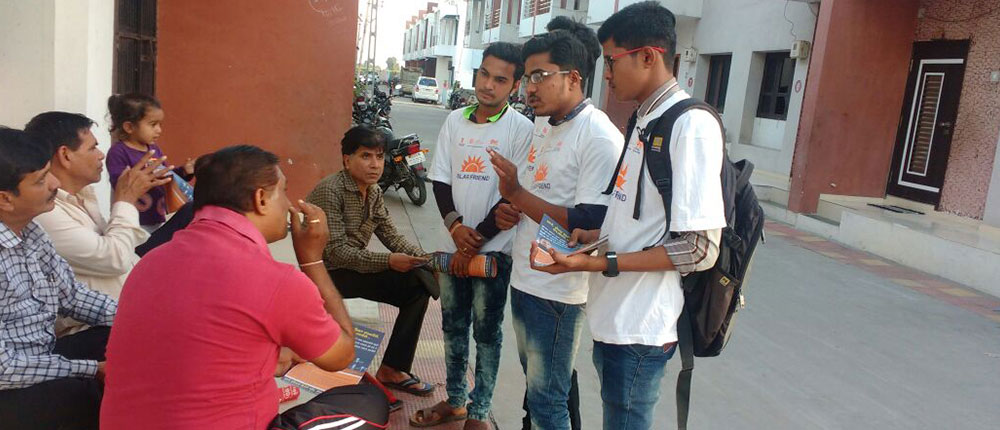 Jayesh says, "First of all, we informed ourselves, via seminars and workshops, about renewable energy before raising awareness about solar panels in my city." His batchmate Pratik adds, "From door-to-door campaigns to community seminars, we approached and explained about how rooftop solar is financially and environmentally beneficial." Vishal concludes, "After seeing several people in my community opted for rooftop solar, I feel proud that I did my part well in the demand aggregation initiative."
The SMC is able to produce 118.9 MW which is nearly 34% of its overall power demand by renewable sources. Setting an example for other cities, the civic body is carrying on its efforts toward promoting rooftop solar panels in the city and living up to its ancient name of Suryapur, meaning 'City of the Sun'. The future goals of SMC for promoting clean energy include targeting commercial and industrial (C&I) sectors, converting over 250 schools into Model schools, and the development of Renewable Energy Knowledge Centre in Surat.
"Since installing rooftop solar panels in July 2018, our RWA has saved approximately an average of Rs 40,000 per month in electricity bill. We use the electricity generated from solar panels for lighting up the common area in our society." comments Vidyadharan MP, Secretary of Kalka CGHS Apartments in Dwarka, New Delhi.
Abhay Anand, Secretary of Ispatika Apartments in Dwarka, comments "The average monthly electricity bill for our RWA which caters to 195 flats has been reduced by nearly 25% due to net metering. During sunny weather, we are even able to export the electricity from solar panels to distribution companies (DISCOM)."
By reducing the need to generate coal based power, rooftop solar is coming up as a viable technology to bring down carbon dioxide emission. "Using a natural asset like solar is a wonderful idea to help the environment." Mr. Anand echoes this view.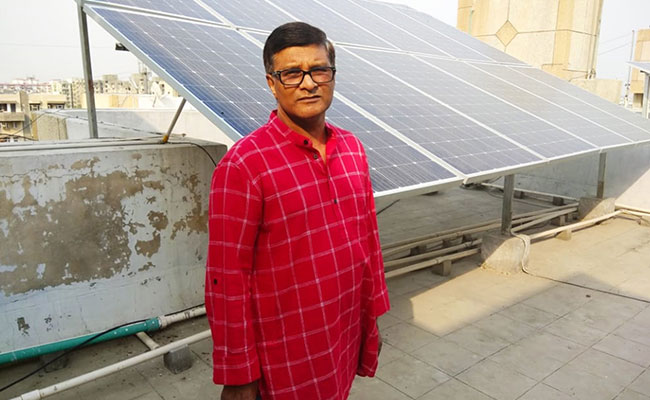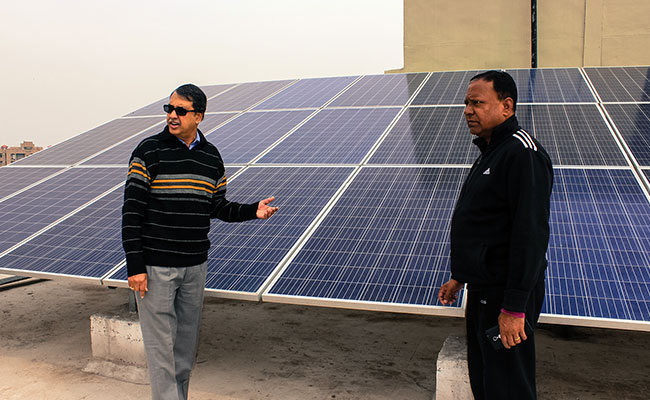 TERI in early 2018 concluded a mass awareness and demand aggregation programme in Dwarka in Southwest Delhi. This collective effort was a great way of procuring competitive pricing by aggregating the potential of rooftop solar among Residential Welfare Societies (RWAs). The large-scale solar installations helped to engage more people, quickly achieve scale, and simultaneously bring down transaction costs. The initiative to 'Solarise Dwarka' was implemented by TERI in association with BRPL (BSES Rajdhani Power Ltd) and GIZ (Deutsche Gesellschaft für Internationale Zusammenarbeit GmbH.
A ground-level outreach campaign, which went on for 6 subsequent weekends, was conducted with the help of college students. With outreach techniques such as skits and interactions with DISCOM representatives, this group of volunteers successful brought over 100 residential societies to register on the project website. The overall project capacity in Dwarka, at present, stands at approximately 30 MW.
Abhishek Ranjan, AVP System Operations, BRPL in New Delhi remarks that "alternative sources of electricity generation like rooftop solar offer both the advantages of relief in network congestion/overloading and low-cost green power supply at the consumer end." He further explains, "Electricity from rooftop solar panels helps us in optimising network planning and avoiding wire losses from the supply of conventional power sources, the benefit of which is ultimately passed on to RWAs through the annual revenue."
I-SMART- TERI and Cadmus to steer bigger campaign on rooftop solar
The Indian Solar Market Aggregation for Rooftops (I-SMART) is a GIZ and Ministry of New and Renewable Energy (MNRE)-sponsored initiative, run by the project team of Cadmus and TERI, to support the scale-up of the rooftop solar market in India using demand aggregation. The project would help achieve competitive pricing for rooftop solar by reducing customer acquisition costs and barriers to adoption.
Anand Upadhyay, Co-Project Manager of I-SMART project, asserts, "Our hands-on experiences in Surat and Dwarka have helped us refine our campaigning strategy. Creating awareness among individuals and businesses for adopting solar can really accelerate the installation of solar systems. Consumers can also take the benefit of the capital subsidy schemes of the central and the state governments, where available."
With a goal of generating 1,000 MW of aggregated demand, the project team targets to tap the potential of solar rooftops in four states of Gujarat, Himachal Pradesh, Uttarakhand, Jammu and Kashmir, and two union territories of Daman and Diu, and Dadra and Nagar Haveli. The project team is implementing all-out demand aggregation activities through outreach in residential, government, and commercial and industrial (C&I) sectors.
Anand elaborates, "Taking cues from traditional and digital outreach in our previous ventures, I-SMART team is recruiting a large network of college students as volunteers/coordinators to campaign at a grass-roots level to garner public attention. All an interested user has to do is register on our I-SMART website for rooftop solar and we'll facilitate the rest of process."
Rooftop Solar: Potential untapped
A rooftop photovoltaic (PV) power station is an electricity-generating solar panel installed on the rooftop of a residential or commercial building/structure. The installation of rooftop solar provides a boost to a consumer's energy independence during a power outage or network overload.
In the global climate debate, it is well-recognised that the energy demand and consumption of developing countries like India will rise during their journey to come at par with its developed counterparts. With rising energy demand, it becomes all the more crucial to spread renewable technologies like rooftop solar among a mass consumer base.
So far, the residential sector has contributed only 3.85 GW out of India's 40 GW target from rooftop solar by 2022. Both Surat and Dwarka are shining examples that if residential consumers are informed, helped and supported, there is every reason to believe that maximum rooftops in India can radiate with solar energy.