Youth and industry voices delivered clear messages at the UN Climate Action Summit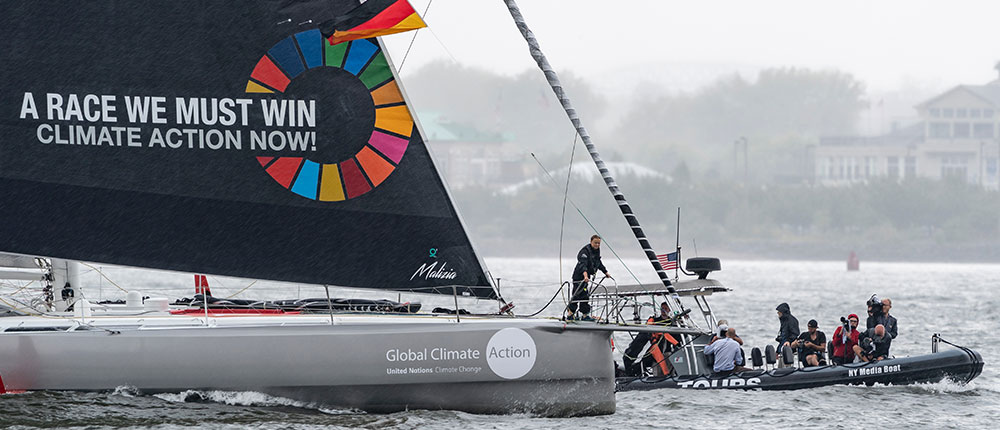 With the theme 'A race we can win. A race we must win.' the UN Secretary General convened the Climate Action Summit in New York on 23rd September 2019. The Summit was organised to mobilise political and economic stakeholders at the highest levels to raise ambition on climate action. Touted as the 'Summit with a difference', it was attended by 65 heads of state and governments, sub-national leaders, members of civil society including youth participants, and senior industry figures. To paraphrase the words of youth activist Greta Thunberg, all eyes were on the leaders of the world to deliver commitments to increase action. For the first time, both youth leaders and industry representatives were 'in the room' at a major international climate event – but how did this impact the success of the Summit and how does this pave the way for the future?
The Summit was notable for voicing the growing sense of urgency to act, which was reiterated not just by the overwhelming scientific evidence and the growing youth movements, but also through the leadership of the UN Secretary General, António Guterres. In the lead up to the summit, the UNSG sent letters to every Head of State, setting out the expectations for the Summit and urging governments to bring forward tangible plans of action. The demands set out by the UNSG were in line with the ambitious goal of stabilising global temperature increases to 1.5C, in line with the Paris Agreement.
To drive action, the Climate Action Summit focused on nine tracks led by 19 countries with partner organisations, to achieve the goals set out by the UNSG. These tracks are interdependent and were prioritised to ensure transformative action. These include finance, energy transition, industry transition, nature-based solutions, cities and local action, resilience and adaptation, mitigation strategy, youth engagement & public mobilisation, and social & political drivers.
To date, climate conferences have primarily focussed on negotiations, rather than implementation. As negotiations draw to a close, the UNSG emphasised that now is the time for action. In response, major announcements were made by 65 countries and sub-national entities committed to achieving carbon neutrality by 2050. However, only 77 countries, representing just 8% of global emissions[1], announced that they would be enhancing their nationally determined contributions (NDCs) or are already in the process of doing so. To put this in context, the Paris Agreement has currently been ratified or otherwise joined by 179 countries, representing 89% of global emissions[2]. The international community expressed their severe disappointment, highlighting that these announcements fell woefully short of what is required.
Climate action: The growing role of non-state actors
Since non-state actors contribute directly to mitigation and adaptation efforts, participation from these groups can effectively boost political willingness of governments to raise their own ambition and create a space for further action[3]. In the US for example, non-state action has surged in the absence of leadership at the federal level. Organisations such as the US Climate Alliance, Climate Mayors and the We Are Still In coalition, representing nearly 70% of US GDP and 65% of the US population, are still committed to the Paris Agreement. Beyond the US, international organisations focusing on collaboration at the city-level, including C40 and 100 Resilient Cities, have also been highly effective.
As non-state actors gain importance in the international political arena, their influence can aid national governments in their implementation of existing targets. Moreover, non-state actors are crucial in building political support to push for more ambitious action[4]. It's worth noting that the 1992 United Nations Framework Convention on Climate Change made no reference to non-state actors or observer organisations. It was only at the previous Climate Action Summit, convened by Ban-Ki Moon in 2014, where non-state actors first started to play a more influential role.
Subsequently the UNFCCC and the Peruvian government launched a platform to track non-state action (Non-state Actor Zone for Climate Action) in COP20. The creation of the Lima-Paris Action Agenda in the lead up to COP21, mobilised over 10,000 commitments from sub/non-state actors, and was cited as a contributing factor for the success at Paris. It is important to note that the Paris Agreement and the COP21 decision text have both officially formalised the role of non-state actors. The role of non-state actors has been growing ever since so that this time round, in New York, there were unprecedented levels of involvement and commitments from these groups.
Non-state action therefore has the potential to help close the gap between current commitments and the required action to achieve the 1.5C Paris goal[5]. Nevertheless, bringing together youth movements and industry at the Climate Action Summit, two groups with often wildly different viewpoints, did not guarantee success. Through assessing the outcomes influenced by these groups we can begin to understand whether or not this approach was successful in driving more ambitious climate action.
The youth movement: Speaking truth to power
There is no doubt that youth involvement created significant additional pressure on governments and the private sector at the Summit. Off the back of one of the world's largest protests on the Friday prior to the event, with marches and events continuing throughout the week, attention on the Summit's proceedings and outcomes intensified. It's important to note that whilst this is often referred to as a 'youth' movement, the impact of these protests has spread far beyond this demographic into other areas of civil society. Anyone on the streets during the climate protests would have noticed a broad and diverse participation, showing how the youth movement has helped not just give a voice to the generation likely to be worst affected by the climate crisis but also created a space for others who are concerned about the current lack of action.
On the day of the Summit itself, Greta Thunberg, the Swedish climate activist, made headlines with a speech admonishing world leaders for their inaction. Governments came under fire for empty words, impossible promises and a lack of urgency, driving home the scale of the challenge for all in attendance.
"How dare you pretend that this can be solved with just 'business as usual' and some technical solutions? With today's emissions levels, that remaining CO2 budget will be entirely gone within less than 8 ½ years."
The inclusion of the youth movement at UNCAS went some way in applying greater pressure on government and business and overall was a successful and necessary addition to the process. Despite this, ultimately, the lack of ambition from major emitters, including many G20 countries, continued to have a significant negative impact on the outcome of the Summit.
Mobilising industry for climate action
To drive the change required, a broader coalition, including but not limited to the youth is vital. To this end, UNCAS also provided a platform for a broad range of industries to get more involved. Prior to the event, the UNSG's Special Envoy for the Summit, Luis Alfonso de Alba stated that the Summit provided industry with a unique opportunity to establish a new relationship with the UN, reiterating that this was no longer about negotiations between states but action from all members of society.
Inclusion of industry was primarily achieved through the aforementioned nine tracks. There was a huge amount of activity across all these areas in the days, weeks and months preceding the Summit, culminating in a series of ambitious announcements on the day of the Summit itself. A full list of announcements under each track has been provided by the UN[6] but we'll just cover two key initiatives of most interest to India here.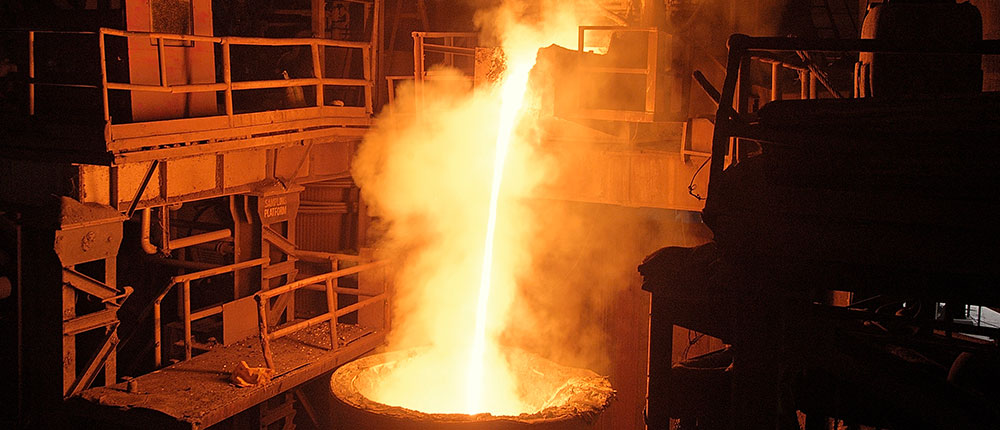 The Governments of India and Sweden led the 'Industry Transition' track, supported by the World Economic Forum (WEF). TERI also played a role in supporting the Indian government in its preparation for the Summit, with a series of high-level meetings and workshops in the run-up to the event. This track aimed to facilitate action in the heavy industry sectors, namely iron & steel, cement, aluminium and petrochemicals, as well as heavy-duty transport, covering aviation, shipping and trucking. These sectors have received relatively little attention to date but as decarbonisation moves beyond the power sector and light passenger vehicles, these represent the next big challenge as the world simultaneously decarbonises and continues to develop.
A series of lively discussions taking place between major industry players, government representatives and supporting institutions on the weekend prior to the Summit, set the stage for a new coalition to be announced by the lead countries to help guide these high-emitting sectors onto a low carbon pathway. The Leadership Group for Industry Transition[7] aims to drive transformation in the 'harder-to-abate' and energy-intensive sectors. This is a global initiative that will be supported by the World Economic Forum, the Energy Transitions Commission, Mission Innovation, Stockholm Environment Institute, and the European Climate Foundation. TERI is also playing an important role in India to drive forward action in these sectors under its Energy Transitions Commission India work.
It was in these discussions where leading industries were able to highlight the successes and opportunities in their sector, showcasing ambition for the governments in attendance. Through sharing insights on the challenges they faced or the technological solutions they were testing, industry players were able to form common messages on what was required to decarbonise. Representatives from lead countries reported these messages back prior to the Summit, creating the foundation for a new global coalition on industry transition. Under this coalition companies agreed to demonstrate:
Bold and ambitious emission reductions in line with the Paris Agreement
Engagement with governments and peers across the value chain to support policy, innovation and technology measures that will deliver emissions reductions
Reporting on progress at key milestones, such as COP25, COP26 and the global stocktake in 2023
From India, there was strong participation from leading companies, including Dalmia Cement and Mahindra Group. Dalmia Cement is world-leading in its ambitions on sustainability, where under the leadership of Mahendra Singhi, who also gave a speech at the Summit, they have committed to be carbon negative by 2040. The level of ambition shown by industry leaders in these heavy industry sectors, helped create the necessary conditions for countries to be more ambitious and join such coalitions. Going forward, these industries will continue to collaborate under WEF's coordination, working towards sectoral initiatives that can enable faster and deeper decarbonisation.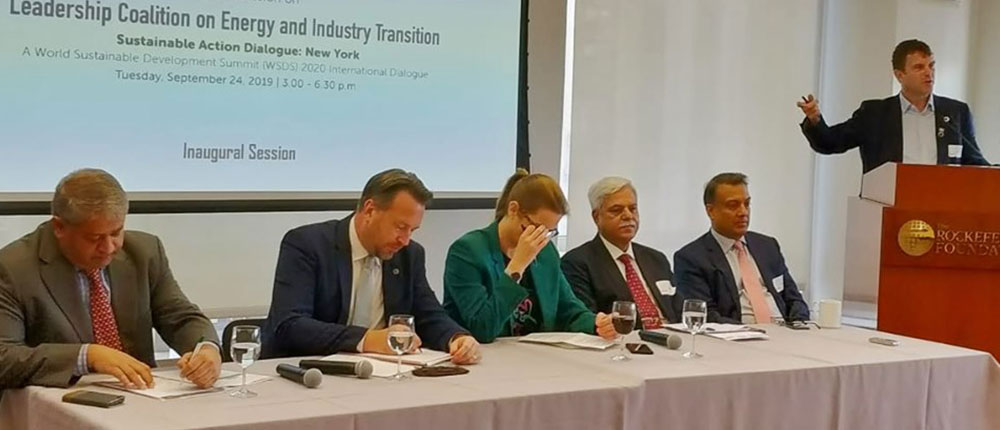 On the sidelines of UNCAS, TERI organised a session on 'Accelerating the Decarbonisation of Power in India' and 'Enabling the Decarbonisation of Indian Industry' to help facilitate similar discussions. This session was held as an International Sustainable Action Dialogue of TERI's flagship event, the World Sustainable Development Summit (WSDS). At this meeting, Union Minister Prakash Javdekar confirmed India's commitment to power sector transition, with 440GW of renewables by 2030. In the first panel discussion, electricity sector experts highlighted the flexibility challenges as India increases its share of renewables and the need to move away from 'incumbent mindsets' to manage this transition. Panellists in the industry session stressed the importance of R,D&D, financing and technology collaboration to deliver deep decarbonisation.
The second area to mention is cooling, which fell under the 'Energy Transition' track. A Cool Coalition[8]was established to help mitigate energy and emissions increases from the cooling sector, which could see a 90% increase in emissions by 2050 without any action. Under the Cool Coalition, countries will develop and adopt comprehensive cooling action plans. India was able to provide a blueprint for action in this regard, having published its own plan in March 2019[9]. Beyond action plans, 5 countries committed to integrating cooling into their NDCs, the World Bank and Green Climate Fund will start to integrate clean and efficiency cooling across their lending and investment portfolios and C40 cities will work with their networks to improve urban cooling design.
What also gave state-led commitments more weight was the inclusion of private sector participants, who were also involved with the formation of the coalition. Ultimately, it will be these industry partners who will be delivering the technology solutions to both improve access to cooling but also mitigate its environmental impact. These included Electrolux and Mabe who are likely to release plans by the end of this year to reduce the global warming potential of refrigerant in all their product lines. Engie also plans to invest between €1.8-2.0 billion in highly efficient District Cooling systems by 2024. Others will scale up pilot projects – for example, EMPOWER will support projects in 10 new cities and Tabreed will invest in cooling efficiency innovations in seven countries. With private sector organisations in the room, showcasing the necessary solutions, state actors were motivated towards greater action.
Way forward
On 10th October 2019, the Pre-CoP25 event concluded in San José, Costa Rica. As with UNCAS, the Pre-CoP highlighted the growing importance of non-state action as we approach CoP25 in Santiago, Chile. With many of the major emitters not currently set to make announcements on early NDC enhancements and with most activity on long term strategies reserved until 2020, non-state action provides a much-needed avenue for increased ambition outside the state-level processes at this year's conference. The success at UNCAS of youth and industry leaders in particular has paved the way for greater involvement from these constituencies in future. Indeed, for both CoP25 and CoP26 to be a success, all participants will need to factor in the role of these groups to help drive up ambition and deliver increased action.
Footnotes
[1] https://www.wri.org/blog/2019/09/4-leaders-and-far-too-many-laggards-un-climate-action-summit
[2] https://www.wri.org/faqs-about-how-paris-agreement-enters-force
[3] Non-state actors here are considered as those organisations that are officially recognised by the UN as non-party stakeholder organisations. This would encompass private sector organisations, businesses, sub-national entities, civil society and research groups. Non‐state actors in hybrid global climate governance: justice, legitimacy, and effectiveness in a post‐Paris era (Kuyper et.al, 2018).
It should be noted that the action carried out at the sub-national level in many countries including India contribute overall to the NDC. Therefore, the definition of non-state actors will vary in these countries. [4] The Role of Sub-state and Non-state Actors in International Climate Processes (Hale, 2018) [5] Ibid [6] https://climateaction.unfccc.int/views/cooperative-initiatives.html [7] https://climateaction.unfccc.int/views/cooperative-initiative-details.html?id=103 [8] https://climateaction.unfccc.int/views/cooperative-initiative-details.html?id=97 [9] India Cooling Action Plan (MoEFCC, 2019)