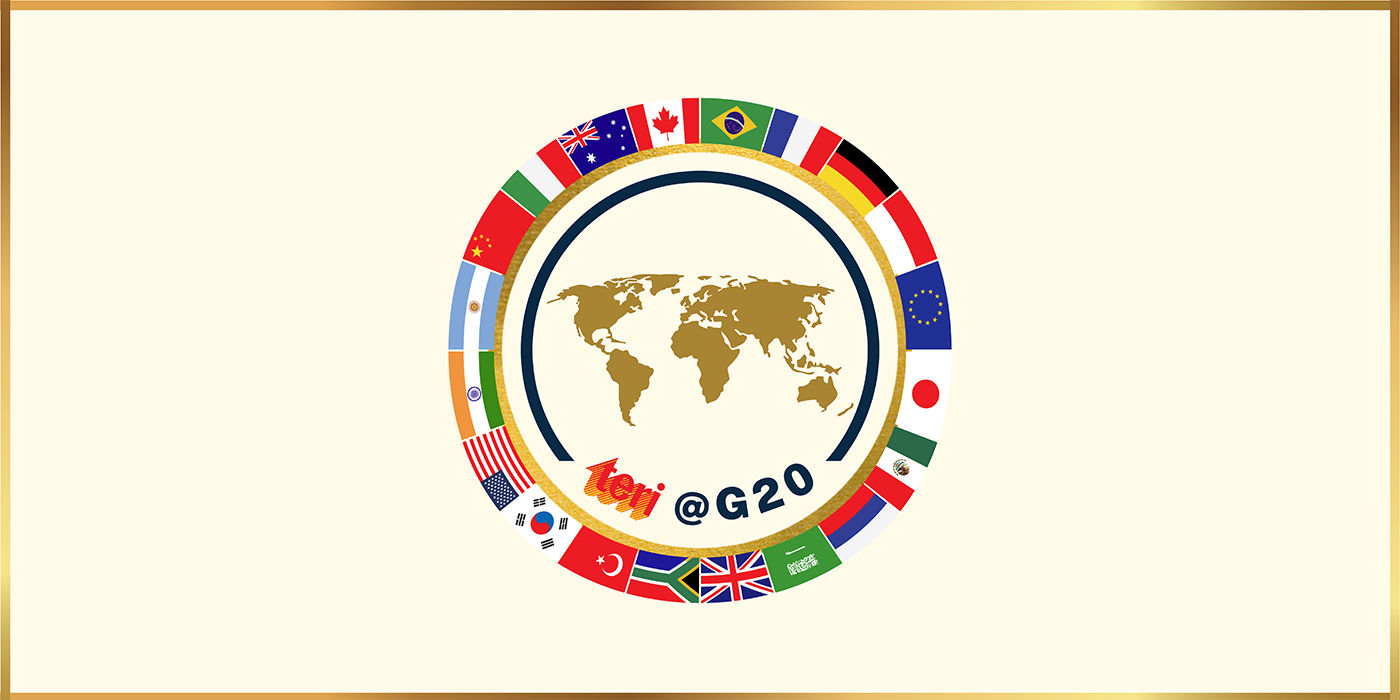 ---
TERI@G20 Sherpa Track
The Sherpa Track has working groups spanning 13 themes which include agriculture, environment and climate sustainability, energy transitions and health among others. TERI is engaged with the working groups on energy transitions, and environment, climate and sustainability.
With the decarbonisation of hard-to-abate industries such as steel and cement being a priority area of engagement for the working group on energy transitions, TERI has been mandated by the Bureau of Energy Efficiency (BEE) to carry out a study on 'Decarbonising Heavy Industries: Global Policies and Best Practices for Industry Transition'. The international partners of the study are UNIDO, SEI and CEM. The key findings of the study will be presented at an Energy Transitions Working Group IV (ETWG) side event on 'Sharing Global Policies and Best Practices to Decarbonize Hard-to-Abate Sectors' in April 2023 at Gandhinagar, Gujarat. The study will feed into the discussions under the ETWG during the Indian G20 Presidency.
TERI is also associated as a Knowledge Partner for the circular bioeconomy theme of Environment, Climate and Sustainability Working Group (ECSWG) of the Sherpa Track. We are also preparing a base paper for the Ministry of Environment, Forest and Climate Change (MOEFCC) whose key findings will be presented at the main segment of the First ECSWG meeting scheduled from February 9-11, 2023, in Bengaluru. The study will feed into the discussions under the ECSWG during the Indian G20 Presidency.
---
2nd Development Working Group Meeting, Side Event
The concept of just transitions around coal in the context of energy supply and mitigation have gained discursive traction. However, sadly just transitions have recently received more focus specifically on energy supply. Demand side sectors such as agriculture, micro, small and medium enterprises, and transport haven't found enough space in the socio-economic narratives around just energy transition narratives. There is thus, the scope for factoring in inclusivity in the demand-side interventions more strongly.
It is critical that India's G20 Presidency play a key role not just in defining the normative contours of what constitutes just green transitions but also in terms of specific proposals that will aid in the development of an international enabling environment for just green transitions, one which considers holistic approaches to resources, energy, climate mitigation, climate adaptation, and integration of sustainable development. Given the transnational and sectoral impacts of climate change, transitions associated with both adaptation and mitigation need to be 'just' in nature.
The Energy and Resources Institute (TERI) in collaboration with the Ministry of External Affairs, Government of India, India's G20 secretariat, and Research and Information System for Developing Countries (RIS), is hosting the side event on the theme "Just Green Transitions" at Backwater Ripples, Kumarakom on April 06, 2023, from 1:45 PM – 5:00 PM (IST).
---
TERI@G20 Engagement Groups
Think20 Task Force 4
Dr Vibha Dhawan, Director General, TERI, will be chairing the G20's Think20 Task Force 4 on 'Refuelling Growth: Clean Energy and Green Transitions'. TERI will act as the host institution for this Task Force.
Discussions at the Task Force will focus on ways in which the green transition can be mainstreamed, the energy transition accelerated, and transition financing made more urgent and inclusive. It would also look into what can the G20 do in terms of providing technological assistance to reduce dependency on fossil fuels. Additionally, the Task Force will also deliberate on how the green transition can be just and sustainable for all the stakeholders ranging from households, citizens and companies.
From searching for channels to integrate green growth solutions into national development pathways to exploring instruments and institutions needed, domestically and globally, to ensure a swift energy transition in developing countries and building international collaborations, the following are the workstreams that Task Force 4 will be looking into-
Technology Transfer for Green Transitions
Climate Mainstreaming and Embedded Green Transition Policies
Role of MDBs, Blended Finance, New Instruments, and Private Capital
Assessment of Emerging Energy and Fuel Choices
G20 & International Partnerships
At the Think20 Inception Conference held on January 13, 2023, in New Delhi, Dr Dhawan chaired the plenary session on 'Finding Consensus on Global Wellbeing: LiFE, Energy Transitions and the SDGs'.
Think20 Task Force 3
Dr Shailly Kedia, Senior Fellow and Associate Director, TERI will co-chair the G20's Think20 Task Force 3 on 'LiFE, Resilience & Values for Wellbeing'. The Task Force will deliberate on the need to create a mass movement for sustainable consumption, where every citizen and stakeholder contributes to the green transition effort.
From discussions around the need for technologies, re-skilling initiatives, financial support through the development of robust, just, and inclusive economic systems, to exploring a new measurement matrix of well-being beyond GDP, the following are the workstreams that the task force will be engaged in-
LiFE and Promoting Sustainable Consumption
Building Integrity and Ethics into the Architecture of Financial Institutions
Growth Measurement and Approaches on Wellbeing
Catalysing Investments for Disaster Resilient Infrastructure, Cities, and Societies
---
G20 in action: How collective effort drives development and keeps 1.5 degree C target within reach
The world is on the path of crossing the 1.5°C guardrail as early as 2026 (WMO, 2022). The twin challenges of stabilizing climate change in the long-term and slowing the rate of warming in the near term have to be tackled urgently to reduce the risk of extreme climate events. Collective action from the G20 nations can play a key role in accelerating climate action that effectively limits CO2 and non-CO2 greenhouse gases (GHGs) emissions and scale such efforts by unlocking climate finance by developing an investible project pipeline.
At the official G20 prelude to the World Sustainable Development Summit 2023, co-hosted by TERI and the Institute for Governance & Sustainable Development (IGSD), key ambassadors from G20 countries addressed the challenges and opportunities for collective action to accelerate and scale climate action and deploy climate finance in this decisive decade
---
TERI@G20 In The News
---
---
---
---