TERI and DBT to set up Centre of Excellence: 'Integrated Production of Advanced Biofuels and Bio commodities'
---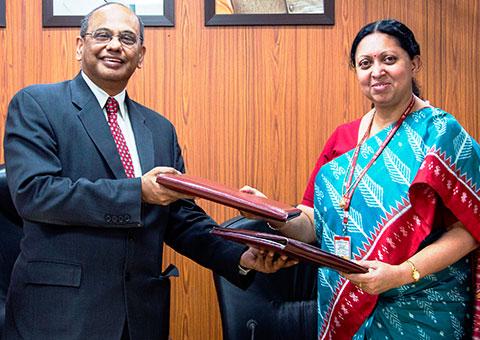 The two organisations signed a MoU to set up what would be DBT's fifth Centre for Excellence in Bioenergy
New Delhi, November 1: Realising the importance of investing in research and commercialisation of biofuels, the Department of Biotechnology (DBT), Ministry of Science and Technology, Government of India has taken up a major research initiative. Under this initiative, a large numbers of scientists across various institutions in India and abroad are collaborating in second and third generation biofuel production. The DBT has already established four Bioenergy Centres across the country with state-of-the-art facilities and dedicated inter-disciplinary teams that have been working on cutting edge research to develop advance biofuels.
In what will become the fifth such centre, The Energy and Resources Institute (TERI) and DBT signed a Memorandum of Understanding (MoU) on Wednesday, October 31, to set up the DBT-TERI Centre of Excellence: Integrated Production of Advanced Biofuels and Bio commodities. The Centre is being established with the support of DBT in collaboration with the following institutes:
Agricultural Research Institute, New Delhi
Indian Institute of Technology-Guwahati
Transtech Green Power Limited, Jaipur
ONGC Energy Centre, Delhi NCR
The MoU was signed by Dr Ajay Mathur, Director General, TERI and Dr Mohd. Aslam, senior advisor, DBT and exchanged between Dr Mathur and Dr Renu Swarup, Secretary, DBT on Wednesday.
On the occasion, Dr Mathur, said, "Advanced biofuel technologies in biorefineries help us to use waste biomass for fuel production - thus helping us address the waste disposal, energy import and greenhouse gas emission problems, as well as bringing new livelihoods to rural communities. We look forward to pioneering new applications, technologies and business models through this programme, just as earlier DBT programmes in TERI pioneered the commercialisation of micropropagation and of mychorrhizal production technologies."
So far, economic viability is a major constraint for advanced biofuel production, thus limiting its commercialisation. It is recognised that the by-products generated during the biofuel production process can be utilised to produce value addition in bio commodities, in an integrated bio-refinery approach to make the overall process cost competitive. The by-products could be utilised as food, feed, nutrition supplements, developing bio-plastics and novelty speciality chemicals that can be further utilised for production of customer products. This will also ensure that waste generation is minimal.
Addressing these issues, Dr Swarup, said, "It is a pleasure to be here to fully launch this centre - the fifth in a series. We're looking at processes that can be developed and commercialised. 'Waste to value' is our topmost priority and this centre having an integrated bio-refinery approach is a good approach for us."
She also stressed on how the field of energy and biosciences is a truly multi-disciplinary area and there is a need to connect people working across different streams in this field.
Advanced biofuels production technologies in bio-refinery approach would aid in reducing dependence on the finite fossil fuel reserves, crude oil imports and greenhouse gas (GHG) emissions from energy utilisation. It can also open up new economic streams in sustainable management of waste generated from agriculture, industrial or urban sectors, apart from bringing economic opportunities to rural communities.
Dr Vibha Dhawan, Distinguished Fellow & Senior Director, said, "TERI is in a unique position because we have a multidisciplinary team ranging from engineers, biotechnologists, economists etc. Hence, we are capable of undertaking research on not just biofuels but also bio commodities, which are also co-products of the production process. This makes the entire process economically and environmentally sustainable with minimal waste generation."
The unique concept of integrated production of advanced biofuels and bio commodities is based on the multidisciplinary research expertise of TERI, including previous successes in establishing photo bioreactor of a 10,000-litre capacity for year-round production of high lipid containing algal strain, pilot scale (1,500-litre) biohydrogen production through dark fermentation process, and pyrolytic bio-oil production. Comprehensive techno-economic analysis, environmental assessment and socio-economic assessment would be carried out covering the entire range of the integrated bio-fuel and bio commodity components.
About TERI
The Energy and Resources Institute (TERI) is a leading think tank dedicated to conducting research for sustainable development of India and the Global South. Established in 1974, TERI has become the pre-eminent institution for research, discussion and thought leadership on environmental governance and sustainable development.
The Institute is committed to the application of thought that drives action in the direction of tackling climate change.
For further details, please contact:
TERI - Aastha Manocha: 8447049011 | aastha.manocha@teri.res.in
Edelman - Sneha Dev: 9958000706 | Sneha.Dev@edleman.com