COP26 Charter of Actions
---
The Energy and Resources Institute (TERI) has prepared a knowledge document titled, COP26 Charter of Actions, which assimilates questions and thematic options to advance climate action and ambition in the country and globally.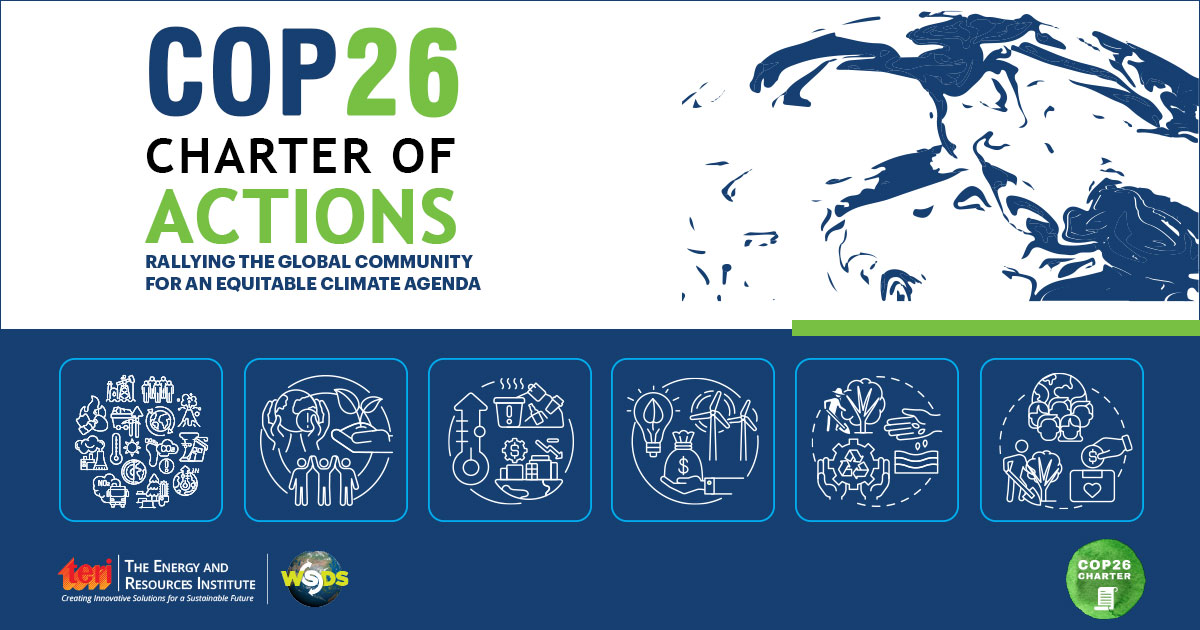 Global deliberations are important, but the real arena for climate action is at the national and sub-national levels and also in business and industry.
The 26th Conference of the Parties (COP26) under the United Nations Framework Convention on Climate Change will be held from 1–12 November 2021 in Glasgow and will aim to mobilize the action on mitigation, adaptation, and resilience, and strengthen the narrative for better alignment with sustainable development goals.
There is a need to address the developmental deficit in emerging economies such as India while simultaneously taking measures to limit global warming as agreed in the United Nations Framework Convention on Climate Change and the Paris Climate Change Agreement.
Issues emanating from the COP26 discussions and the Charter would culminate in a review at a plenary session at the World Sustainable Development Summit 2022, which would assess the efforts of international climate negotiations in securing a sustainable future, and deliberate on future actions. The Charter will examine the themes of equity, green finance, nature-based solutions, adaptation & resilience, energy, clean transport, and business actions.
The Charter activities are supported by the British High Commission, Bloomberg Philanthropies, the Rockefeller Foundation, Shakti Sustainable Energy Foundation, and Tata Cleantech Capital.
The Charter team organized five stakeholder roundtables with the following objectives:
Objective 1: Engage with stakeholders and experts to solicit feedback for the COP26 Charter of Actions.
Objective 2: Solicit inputs from stakeholders and experts on aspects related to implications for the international community, equity, actions by 2030, and actions by 2050.
More details can be found at:
Green Finance || Renewable Energy || Adaptation and Resilience
Nature-based Solutions || Sustainable Mobility
As part of the Charter activities, TERI organized the National Conference on COP26 Charter of Actions on October 13, 2021 to disseminate the messages from the COP26 Charter and to facilitate discussions aimed at raising ambition at the national and global level. More details can be found here.
---
COP26 Charter of Actions: A Knowledge Document by TERI
The COP26 Charter of Actions is TERI's effort to rally for an equitable and ambitious global climate agenda.
The COP26 Charter of Actions prepared by TERI works towards highlighting key themes and sectors at the national and global level to enable the development of climate sensitive policy decisions, meaningful climate action, and charting an equitable and sustainable future. The following are the key messages from the Charter-
India's approach has to be rooted in equity, climate justice and principles of United Nations Convention on Climate Change. It is imperative that the progress made by countries is assessed considering the principles of equity well before the global stocktake that is to take place at COP28 in 2023.
Adaptation has to be integral for a global response to climate change, as recognized in the Article 7.2 of the Paris Climate Agreement. However, long-term strategies (LTS) formulated and communicated under Article 4.19 of the Paris Agreement, at the moment, largely focus on mitigation and do not consider adequately adaptation to climate change. Long-term strategies also need to factor climate finance, technology transfer and in-situ and ex-situ adaptation measures along with sustainable consumption.
Revised NDC pledges and net-zero commitments by few countries give a glimmer of hope to realize the Paris goals. A higher level of ambition is needed from developed countries, who should move towards being net-negative by 2050 and will need to achieve net-zero much earlier.
India has low per capita emissions but will be an important player for mitigation efforts. It should show normative and entrepreneurial leadership when it comes to mobilizing national and international climate actions.
Global negotiations are critical along with climate action at the national and sub-national levels and also in business & industry. It is essential that climate action be understood in sectoral terms as well as cross-sectoral terms including in areas of finance as well as science, technology & innovation.
The executive summary of the COP26 Charter of Actions can be found here.
---
Multimedia