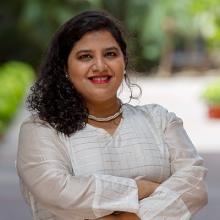 Dr Shailly Kedia
Associate Director, Sustainable Development and Outreach
Dr. Shailly Kedia is a policy researcher working as an Associate Director and Senior Fellow with the Sustainable Development and Outreach Division at The Energy and Resources Institute (TERI), New Delhi. She is leading the efforts on TERI's flagship initiative - the World Sustainable Development Summit. Dr. Kedia has been with TERI since 2009 and is a multidisciplinary research professional with over 17 years of experience in policy research, outreach and capacity building. She has led interdisciplinary initiatives on sustainable development and climate change supported by agencies such as the Asian Development Bank, United Nations Development Programme, United Nations Environment Programme, Global Green Growth Institute, Ministry of External Affairs, Ministry of Environment, Forest and Climate Change, among others.
Her research interests include sustainable development policy, climate policy, energy policy, environmental policy, green growth, international organizations, and the interface between traditional and non-traditional security issues. In the past, Dr. Kedia has worked with the Sustainable Development Network of the World Bank in Washington, DC; and with the Center for Climate Systems Research at Columbia University and NASA Goddard Institute for Space Studies in New York. A Board Member of World Sustainable Development Forum, she has also been Member of the Taskforce on Greening Rural Development of the Ministry of Rural Development; Member of the Indo-German Expert Group on Green and Inclusive Economy; and Co-chair of the Green Growth Knowledge Platform Research Committee on Inclusiveness.
Dr. Kedia is a Bachelor of Engineering (Electrical Engineering) from the National Institute of Technology, Surat, and Master of Business Administration (Finance) from University of Stirling, Scotland. She pursued a Post-baccalaureate Elective in International Development from the School of International and Public Affairs at Columbia University and has a doctoral degree in International Organization from the School of International Studies, Jawaharlal Nehru University, New Delhi.