TERI suggests diversification of revenue sources for coal-bearing states to prepare for just transitions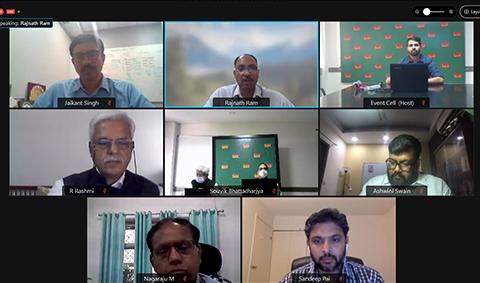 The suggestion comes from two working papers released on Thursday that underline the need for a Just Transition approach while shifting from coal to renewables
New Delhi, June 24: As India plans to transition away from coal for its energy demand, it needs to look for alternative revenue and livelihood sources for those associated with the industry, especially states for whom coal forms a major part of their revenues. The diversification of revenue sources for such states and their workforce can be undertaken by establishing industrial parks, solar parks, and battery energy storage projects.
These are some of the conclusions from The Energy and Research Institute's (TERI) working papers, launched today at a webinar on 'Just Transition – Planning for a Post-Coal Future'.
According to the International Energy Agency (IEA), coal consumption in India is projected to peak from 2030-2035, after which there will be a decline. However, as the papers point out, close to 1.2 million people in India are dependent on the coal sector, of which 3,55,000 are employed in coal mines. While a transition towards sustainable forms of energy is much warranted, there is a growing concern related to labour displacement in the existing coal value chains.
"It's too early to write an obituary for coal. It is not going anywhere in 20-30 years and its net share in India's energy mix is going to remain. It is also the only way as of now to secure energy to vast millions of poor in country," M Nagaraju, Additional Secretary, Ministry of Coal, Govt of India, said in his keynote address.
The first paper, titled 'Assessing Vulnerability from Coal Dependence and Need for a Just Transition', highlights that coal mining, apart from providing employment to many, is also a source of revenue for a number of states in India. The combined transfers, as reported by Coal India Limited, for the year 2019-20 to major coal mining states – including Madhya Pradesh, Chhattisgarh, West Bengal, Jharkhand, Maharashtra, Uttar Pradesh, Odisha, and Assam – was Rs. 430 billion.
Other key findings related to vulnerability of livelihoods and coal-dependent revenue are as follows:
It has been estimated that nearly 60% of the people residing in the state of Chattisgarh lie in the bottom 40% of the income class or the lowest two wealth quintiles. Similarly, the estimates for West Bengal, Odisha, Jharkhand and Madhya Pradesh have been reported at 53%, 63.8%, 68% and 54.7% respectively.
Coal workers may face long spells of unemployment with income reduction by up to 30% over the next 15-20 years
Share of coal workers very less among the 400,000 people skilled annually under govt. programmes
Royalty paid from coal mining in India has increased from INR 99.73 billion in 2014-15 to INR 147.46 billion in 2018/19 with a CAGR of 8.14%
Coal royalty provided 4.2% of tax revenue receipt while 14% of non-tax own revenue receipt for most coal states from 2014-18
Coal companies also contribute 26% of their profits into the District Mineral Fund
Royalties received in Chattisgarh, Odisha, Telangana and Madhya Pradesh from coal mines – 15% of total royalty collected
Echoing the role coal plays in local infrastructure development, Rajnath Ram, Advisor (Energy), NITI Aayog, said, "Transition to a low-carbon economy and towards clean energy is important, but growing concerns related to labour displacement, revenues of states, and of the power sector need to be addressed."
To mitigate the fallout of loss of such a huge source of revenue, the second paper, titled 'Harnessing opportunities for a Just Transition in India' suggests promotion and diversification of the industrial establishment of coal-bearing states away from the traditional reliance on coal revenues. This would help promote enhanced levels of economic activity, large-scale employment integration, and address the missing industrial gap that exists in the economy. This diversification of revenue sources can be undertaken by establishing industrial parks, solar parks, and battery energy storage projects.
For post-coal economic revitalisation, the paper also suggests promotion of rural enterprise, micro-credit financing, increasing energy access through renewable energy development, infrastructure financing through off budget borrowing mechanism, strengthening human capital through a multi-stakeholder partnership, consistent social dialogue building, and suitable policies.
Among these, the paper states that around 20% of the total potential employment in India (around 11 million jobs) comes from just the low-income food markets. It also suggests infrastructure financing through off budget borrowing mechanism, securitisation, and the new Development Fund Institution (DFI) which will look to finance big infrastructure projects by raising $41 billion over the next few years.
Highlighting the need for skilling the workforce to avail diversified livelihood opportunities, Mohit Bhargava, Executive Director, Renewable Energy, NTPC Limited, called for a focus on training in new technologies related to floating solar, EV charging, rooftop solar, biomass etc. However, he added that skilling also needs to focus on developing entrepreneurship, vendors, and promoting manufacturing hubs that can create lots of jobs.
In the ensuing panel discussion, panellists from various sectors said that while it may be too soon to write an obituary to coal, it is important to start thinking about just transition issues now rather than when we are actually facing them. They also cited the importance of understanding political economy lock-ins in coal, exploring the role of labour unions, local population, and the informal economy in coal-bearing areas.
The webinar was held as a pre-event of World Sustainable Development Summit (WSDS) 2022. WSDS is TERI's annual flagship event that has been held for over two decades.
About TERI
The Energy and Resources Institute (TERI) is an independent, multi-dimensional organization, with capabilities in research, policy, consultancy, and implementation. It has pioneered conversations and action in the energy, environment, climate change, and sustainability space for over four decades. The institute's research and research-based solutions have had a transformative impact on industry and communities. Headquartered in New Delhi, it has regional centers and campuses in Gurugram, Bengaluru, Guwahati, Mumbai, Panaji, and Nainital, supported by a multi-disciplinary team of scientists, sociologists, economists and engineers, and state-of-the-art infrastructure.