TERI launches first-of-its-kind digital library dedicated to nutrition security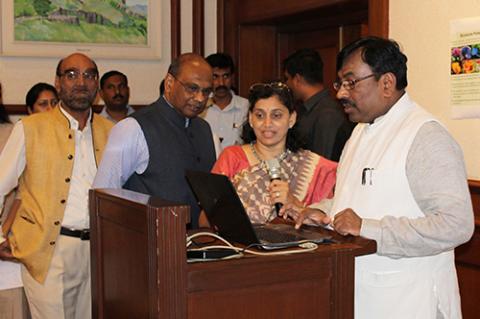 The website hosts critical usable knowledge of 200 plant species rich in nutrition
Mumbai, 25 April, 2018: The Energy and Resources Institute (TERI), a leading think tank dedicated to conducting research for sustainable development, recently launched a first-of-its-kind digital library that details the scientific information of approximately 200 edible plant species from the Western Ghats. Dedicated to nutrition security, the website seeks to positively influence the lives of both the urban and rural communities and address malnutrition by serving as a guide for existing and potential stakeholders of this rich wealth of wild resources.
Shri. Sudhir Mungantiwar, Cabinet Minister of Finance & Planning and Forests departments, Government of Maharashtra launched the website in presence of other dignitaries including Mr. Hemendra Kothari, Chairman, DSP Black rock and Governing Council Member of TERI, Mr. Kiran Kurundkar, Secretary, Animal Husbandry, Dairy and Fisheries, GoM, Dr. Ganesh Kamat, MD, Organica Biotech, Mr. Sandeep Sharma, General Manager, Branding Indian Oil Corporation Ltd, Dr. Ajay Mathur, DG, TERI and Mr. G.S. Gill, Ex Additional Chief Secretary and Distinguished advisor, TERI.
Shri. Mungantiwar said, "This is an excellent effort by TERI which needs to be further replicated across the state. TERI should tie up with Department of Forest, GoM to enhance the adaptation of project methodologies. The department will extend all the possible support to TERI in this regard. The information about nutrition, wild edibles, mushrooms elaborated in the website should be translated in Marathi and video clips, booklets of this information should be distributed in schools across the state."
There were other stakeholders present at the event representing academia, industries, media and most importantly the beneficiaries of the tribal village where the model project has been implemented by TERI. Dr. Anjali Parasnis, Associate Director, Western Regional Center, TERI elaborated on the approach of the projects, its impact and described the structure of the website.
The village beneficiaries present at the event shared their experiences about various activities performed by TERI, such as energy plantation, grey water recycling, urban farming, goat farming training for additional livelihood. They appreciated the work done by TERI in enhancing the health status of the villagers, and also to restore the school infrastructure and providing modern facilities like digital information system for education.
Mr. Sandeep Sharma, talked about the commitment of IOCL to the noble cause of nutrition security and briefly highlighted on its journey with TERI while implementing the project in Palghar district, facing severe levels of malnutrition.
Malnutrition is a persistent problem of India in both rural and urban areas. While nutrition outcomes across India is poor, they are significantly worse in tribal areas, and vary depending on the diversity in their socio-economic, socio-cultural and ecological factors. Hence, nutrition security is a top priority, and has also been given its due importance in the UN Sustainable Development Goals (SDGs) emphasizing on zero hunger, health and well-being of individuals as one of its prime objectives.
Several of the tubers, corms, fruits, mushrooms, seeds and nuts that are indigenous and grow in the wild or are domesticated, are important for food, pigment, medicine and chemical industries. However, a large segment of the population is unaware about their significance. TERI's digital library aims to bridge this knowledge-gap by serving as a guidebook.
Towards this end, TERI has used simple, low cost but sustainable methods to create demonstration projects that have high potential of scaling up and replication which would be important for government, policy makers, scientific community, development agencies, academia as well as society at large. The interventions have been planned in such a way that stakeholders like women, youth, school teachers, parents, primary health care center, 'anganwadi' workers, and villagers would be empowered and encouraged to tackle malnourishment using simple methods and resources easily available in the local areas. The approach has ensured sustainability of the interventions and has also magnified the impact.
Dr. Ajay Mathur, Director General, TERI, said, "TERI's efforts in supporting communities to recognize and treat malnutrition have helped the tribes in Palghar district to tackle malnutrition. In line with the Sustainable Development Goals, TERI will continue to look for innovative, cost-effective and focused methods for promoting national security while protecting the natural resource base."
Today, over 40 households in Palghar have adopted TERI's model and require little or no sustained support or aid. Of the 900 children targeted in TERI's pilot programme, 68% of SAM (Severe Acute Malnutrition) children were restored to normal category within 3 months. 32% children moved up from SAM to MAM (Moderate Acute Malnutrition). The entire village has started cultivating the vegetables in their backyard and integrating healthy food sources in their regular diet.
Visit website and digital library of wild edibles.
About TERI
The Energy and Resources Institute (TERI) is a leading think tank dedicated to conducting research for sustainable development of India and the Global South. Established in 1974, TERI has become the pre-eminent institution for research, discussion and thought leadership on environmental governance and sustainable development.
TERI is ranked globally as one of the five most impactful think tanks by the International Center for Climate Governance. The Institute is committed to the application of thought that drives action in the direction of tackling climate change.
For further information, contact:
TERI - Pallavi Singh: pallavi.singh@teri.res.in
Edelman - Sneha Dev: Sneha.dev@edelman.com