Social Impact Assessment needs to be stringently followed to ensure development is sustainable: TERI
---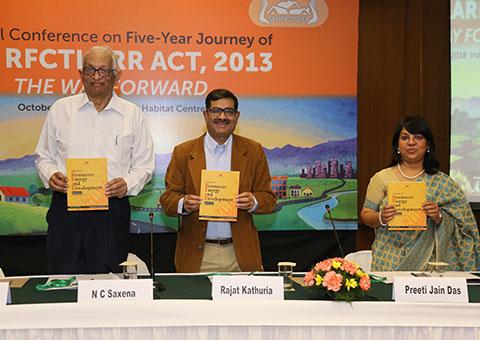 New Delhi, October 26, 2018: With 2.4 per cent of total geographical area of the world, India houses more than 17 per cent of global population, which makes land a scarce resource for the country. The rapid economic growth, increasing urban settlements, industrialization and infrastructure development are likely to create an ever increasing demand for land. The enactment of The Right to Fair Compensation and Transparency in Land Acquisition, Rehabilitation and Resettlement Act (RFCTLARR Act, 2013), has redefined the land market for industrial and infrastructural activities. The Act has also generated differing viewpoints and responses among various stakeholders. The Energy and Resources Institute (TERI) is organising a two-day national conference at India Habitat Centre, New Delhi, on 25th and 26th October 2018, bringing together key stakeholders - ministries, corporates, state revenue departments, Social Impact Assessment Units and agencies, practitioners, academicians, NGOs, and civil society members to examine the extent to which the stated objectives of the Act have been met, identify challenges to its implementation and explore the approaches and strategies for a sustainable land acquisition framework in the country.
Speaking on the occasion, Dr Ajay Mathur, Director General, TERI said, "For about two decades, TERI has been providing and implementing methodologies for recovery of degraded land through environmental management, thereby, improving livelihoods of people. We have also been involved in relief and rehabilitation of affected people displaced due to industrialisation. These experiences have helped us understand land related issues and to propose policies for land management. Taking this forward, this conference will help us collate suggestions to facilitate the framing of rules by central and state governments with respect to the provisions of The RFCTLARR Act, 2013."
Speaking on the need for fair compensation, Dr Rajat Kathuria, Director and Chief Executive, ICRIER, said that if compensation is found to be too high for maintaining industry competiveness, then the State's growth process should have sufficient resources to subsidize and compensate the landowners. He added, "As development processes take off in the country and urbanization becomes more entrenched, we need to be watchful that productive agricultural land does not fall prey to urbanization processes. If this happens in a business as usual scenario, it will be detrimental to the growth of the nation".
However, Dr N.C. Saxena, Former Secretary, Ministry of Rural Development, argued that employment generated per unit of land by industry is 10 times higher than agriculture. Hence India should focus on industrialization, but ensure that the processes under the Land Acquisition Act are simpler and actually designed to benefit landowners. He said, "While the law is good, but it has led to delays and uncertainty and has not benefited the farmer."
During the conference, TERI also launched a compilation of six guest authored articles, covering various aspects of the land acquisition regime in a special issue of its Journal of Resources, Energy, and Development. Read here
TERI's past experience of working on land issues include recovering degraded land through environmental management, thereby, improving livelihoods, and also relief and rehabilitation of people displaced due to industrialization.
The RFCTLARR Act, 2013, has created a distinctive rubric aimed at establishing a fair and transparent land acquisition regime in India. However, seven states - Tamil Nadu, Jharkhand, Gujarat, Telangana, Haryana and Maharashtra have enacted amendments to the central law that have diluted the major provisions of The RFCTLARR Act, 2013 through exemption of social impact assessment study for certain category of projects; exemption from consent requirement for projects in public-private partnership mode and by private companies; payment of lump sum amount instead of rehabilitation and resettlement award for certain specified projects; and direct purchase of land from the owners.
Some states have framed rules which are markedly different from the provisions of The RFCTLARR Act 2013. A case in point is the multiplier factor of compensation for rural land in Haryana, Chhattisgarh, and Tripura, which has been kept at 1.00. This reduces the compensation amount for the land owners, which should otherwise be fixed at four times the market value in rural lands and two times in urban areas under the law. These amendments will significantly impact the objective of establishing a "humane, participative, informed and transparent process for land acquisition", as enshrined in the Preamble to The RFCTLARR Act, 2013.
The deliberation during the four sessions will focus on: the state of the law, land procurement models, policy and practice of Social Impact Assessment (SIA), and experience of livelihood restoration of project-affected families. The conference will identify the trends practices and discourses in land procurement, after 2013, enhance capacities in the area of R&R, make policy suggestions and advance research.
About TERI
The Energy and Resources Institute (TERI) is a leading think tank dedicated to conducting research for sustainable development of India and the Global South. Established in 1974, TERI has become the pre-eminent institution for research, discussion and thought leadership on environmental governance and sustainable development.
TERI is ranked globally as one of the five most impactful think tanks by the International Center for Climate Governance. The Institute is committed to the application of thought that drives action in the direction of tackling climate change.
For further details, please contact:
TERI - Pallavi Singh: 011 2468 2100 | pallavi.singh@teri.res.in
Edelman - Sneha Dev: 9958000706 | Sneha.Dev@edelman.com