Possible to reduce Delhi PM 2.5 winter level by 46%, tackle both peak and non-peak pollution sources: TERI
---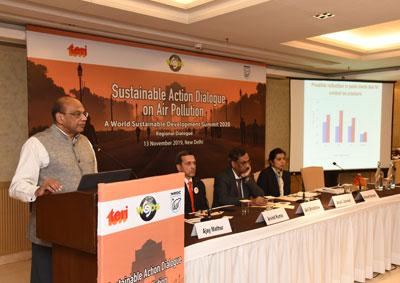 New Delhi: November 13, 2019: The Energy and Resources Institute (TERI) has prepared a strategic plan for solving Delhi's air pollution crisis which worsens during winters every year.
Speaking at the Sustainable Dialogue on Air Pollution, co-organised with Natural Resources Defense Council (NRDC), Dr Ajay Mathur, Director General, TERI said, "Delhi's air pollution is a solvable problem. There are solutions both in terms of technologies and for meeting the necessary costs. TERI is putting forward definitive measures for addressing peak and non-peak pollution sources, both of which are absolutely essential to improve Delhi's air quality. We can immediately start working towards implementation if all stakeholders come together."
Dr Sumit Sharma, Director, Earth Science and Climate Change Division, TERI added, "Some of the peak air pollution episodes during winters can be avoided by controlling agriculture crop burning and firecrackers. But this can only bring down the pollution levels to the 'very poor' category. However, if we address both peak and non-peak sources such as transport, industries, residential and road dust, it is possible to reduce Delhi's PM 2.5 level by 46% during winters, which can restore air quality to 'moderate' category."
Mr C K Mishra, Secretary, Ministry of Environment, Forests and Climate Change (MoEFCC), Government of India in his keynote address at the dialogue said, "In the last two years, efforts by the government in tackling air pollution have been phenomenal but the results achieved are marginal. We need at least a 50% reduction in current air pollution levels. This needs sustained efforts. Emergency and knee-jerk reactions will not help."
He further added that air pollution cannot be the government's business alone. "Everyone has a role to play. Even if there is an adverse cost, it should be paid," he said at the sustainable dialogue, a pre-event to TERI's annual flagship event, the World Sustainable Development Summit (WSDS).
Talking about the global experience in tacking air pollution, Mitchell Bernard, Interim President, and Chief Counsel, NRDC said, "It has helped when air pollution has been linked to the health and economy of a country. It is not a narrow environmental issue. There is a huge public health cost. And there is a strong economic argument to be made for combating air pollution on account of lost productivity, medical costs, and opportunity costs."
Speaking about the looming health crisis, Dr Arvind Kumar, Chairman, Centre for Chest Surgery, Sir Ganga Ram Hospital said, "In 1988, patients of lung cancer were mostly known smokers. In 2018, 50% of cases of lung cancer are non-smokers." He warned that Delhi is likely to see an explosion of lung cancer cases in the coming years.
Measures for addressing peak pollution sources:
TERI's assessment suggests that the impact of stubble burning in adjoining states of Delhi can be brought down by 40% during the days of peak burning activity. Key recommendations to control crop burning include-
Enabling biomass aggregation and collection by mandating state/central organisations and creating a special credit line/scheme for financing farm equipment
Creating a market for biomass briquettes to be used as fuel in thermal power stations, local industries, and hotels or dhabas
Converting biomass crop residue into fuel to run decentralised cold storage facilities for horticulture produce and milk chilling applications
Further, TERI has recommended community burning of firecrackers by allowing only Resident Welfare Associations (RWAs) to purchase a fixed quota allotted to them. TERI has advised to permit the sale of one-fifth the amount of firecrackers sold in 2019.
Measures for addressing non-peak pollution sources:
TERI's plan suggested the following measures to control non-peak pollution sources:
Transport- By incentivizing transition of pre-BS-IV commercial vehicles to BS-VI, accelerating the penetration of electric buses in Delhi NCR under FAME 2 scheme, and strengthening inspection and maintenance (I&M) system, the transport sector has a tangible reduction potential of 19% in PM2.5 concentrations. TERI also suggested accelerating the phase-out of pre-BS-IV private vehicles. Those who discard such vehicles to buy BS-VI vehicles could be incentivized through an excise rebate.
Industries- About 2,226 factories/plants in NCR (about 50%) have not yet shifted to natural gas. Proper infrastructure needs to be built to supply natural gas to these factories. Industries should also be encouraged to transition to electric use, where feasible. Overall, industries in Delhi NCR have the potential to cut down PM 2.5 concentration levels by 11%.
Thermal power plants- All thermal power stations in NCR should comply with already notified emission standards by MoEFCC and use agricultural residue blend, instead of coal. This can bring down PM 2.5 concentration levels by 3%. If these plants do not comply, they should be closed during the five-month winter period.
Residential- 16 lakh households in NCR still use biomass burning for cooking purposes. These households need to switch to LPG. During the winter season, TERI recommended providing two free cylinders, especially to 6 lakh BPL households. This measure can bring down the share of pollutants from the residential sector by 5%.
Road dust- TERI further suggested the effective utilization of existing machines for road sweeping for dust control. It said that smaller mechanized road sweeping machines should also be considered which are preferably electric to avoid further pollution load.
About TERI
The Energy and Resources Institute (TERI) is an independent, multi-dimensional organisation, with capabilities in research, policy, consultancy and implementation. It has pioneered conversations and action in the energy, environment, climate change, and sustainability space for over four decades.
The institute's research and research-based solutions have had a transformative impact on industry and communities. Headquartered in New Delhi, it has regional centres and campuses in Gurugram, Bengaluru, Guwahati, Mumbai, Panaji, and Nainital, supported by a multidisciplinary team of scientists, sociologists, economists and engineers, and state-of-the-art infrastructure.
For further information, contact:
TERI – Dhawal Trivedi: dhawal.trivedi@teri.res.in
Edelman – Rakhi Aurora: rakhi.aurora@edelman.com