PM Modi to inaugurate TERI's World Sustainable Development Summit on Feb 10th
---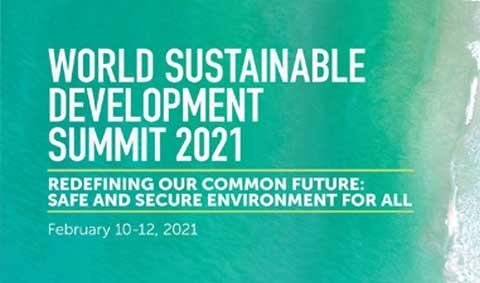 - Convened on the theme 'Redefining Our Common Future: A Safe and Secure Environment For All', the annual meeting will engage with top world leaders on shaping the energy and climate agenda ahead of COP26
- Energy and industry transition, adaptation and resilience, nature-based solutions, climate finance, circular economy, clean oceans, air pollution, among a range of topics to be discussed at the fora
New Delhi, February 08, 2021: The twentieth edition of The Energy and Resources Institute's (TERI) flagship event, the World Sustainable Development Summit (WSDS), will be held virtually from February 10-12, 2021. The summit will bring together a wide number of governments, business leaders, academicians, climate scientists, youth, and the civil society in the fight against climate change. India's Ministry of Environment, Forests and Climate Change (MoEFCC), Ministry of New and Renewable Energy (MNRE), and Ministry of Earth Sciences (MoES), are key partners of the summit.
The summit will be inaugurated by Shri Narendra Modi, Hon'ble Prime Minister of India at 1830 hrs IST on February 10th, 2021. Other dignitaries present at the inauguration include H.E. Dr Mohamed Irfaan Ali, President of the Cooperative Republic of Guyana; Hon. James Marape, Prime Minister of Papua New Guinea, Mr Mohamed Nasheed, Speaker of the People's Majlis, Republic of Maldives, Ms Amina J Mohammed, Deputy Secretary-General, United Nations, and Shri Prakash Javadekar, Hon'ble Union Minister of Environment, Forest, and Climate Change (MoEF&CC).
Inaugurating the annual summit in 2018, Prime Minister Modi had said, "this summit is a reinforcement of India's commitment to a sustainable planet, for us and for future generations." He had emphasized on the need for collaboration between governments, industries, and people. "The developed world can help us achieve this faster. Successful climate action needs access to financial resources and technology. Technology can help countries like India develop sustainably and enable the poor to benefit from it", he had added.
Others prominent speakers during this year's three-day summit include Mr Frans Timmermans, Executive Vice President for the European Green Deal, EU; Mr S Jaishankar, Hon'ble Minister of External Affairs, Government of India; Rt Hon Alok Sharma, President, COP26; Mr Michael R. Bloomberg, Co-Founder, Bloomberg L.P.; Ms Patricia Espinosa, Executive Secretary, UNFCCC; Mr Basile van Havre, Co-Chair, Convention on Biological Diversity, Canada; Ms Inger Andersen, Under-Secretary-General, United Nations & Executive Director, UNEP; Mr Nigel Topping, High-Level Champion for Climate Action, COP26; Mr Vidar Helgesen, Executive Director, The Nobel Foundation; Ms Åslaug Marie Haga, Associate Vice-President- External Relations and Governance Department, International Fund for Agricultural Development, among many others.
As the country partner of the WSDS 2021, the UK government is closely involved in various sessions of the summit, in the run-up to the COP 26, which it is preparing to host in Glasgow in November this year.
Bloomberg Philanthropies, Shakti Sustainable Foundation, Tata Cleantech Capital, European Union, USAID, World Bank, are some of the key institutions partnering with the summit to rally around the themes of clean air, renewable energy, environment, clean oceans, energy transition, resource efficiency, and circular economy, among several others. These will be deliberated across nearly ten plenary and twenty thematic tracks over three days. The detailed agenda of the programme can be accessed here.
To register for the event, please click here
About TERI
The Energy and Resources Institute (TERI) is an independent, multi-dimensional organization, with capabilities in research, policy, consultancy, and implementation. It has pioneered conversations and action in the energy, environment, climate change, and sustainability space for over four decades.
The institute's research and research-based solutions have had a transformative impact on industry and communities. Headquartered in New Delhi, it has regional centres and campuses in Gurugram, Bengaluru, Guwahati, Mumbai, Panaji, and Nainital, supported by a multi-disciplinary team of scientists, sociologists, economists and engineers, and state-of-the-art infrastructure.
For further information, contact:
TERI – Aastha Manocha: aastha.manocha@teri.res.in
Edelman – Rakhi Aurora: rakhi.aurora@edelman.com