It's time for action, say speakers at the inaugural of the 19th World Wind Energy Conference
---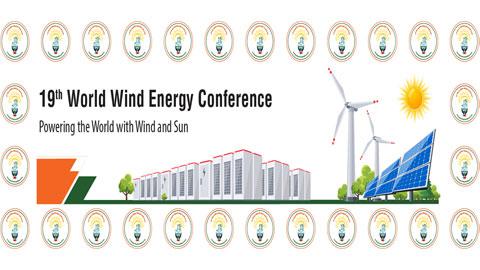 New Delhi, November 24, 2021: In the backdrop of the recently concluded COP 26 at Glasgow where global players renewed promises to cut back carbon emissions, and Prime Minister Narendra Modi said India would meet 50 per cent of its energy requirements from renewable sources by 2030, the 19th World Wind Energy Conference 2021 (WWEC2021) kicked off in New Delhi on Wednesday with its focus firmly on accelerating capacity additions of wind and solar energy into the country's energy systems.
The three-day conference on "Powering the World with Wind and Sun" brings together wind and solar power experts, and other stakeholders from over 30 countries to discuss and share knowledge for clean energy transitions.
Inaugurating the conference, Norwegian Ambassador to India, H.E. Mr. Hans Jacob Frydenlund said COP26 has emphasised the need to move quickly to renewable energy sources to limit global temperature rise to 1.5 degree Celsius. "We should work towards alternatives that do not contribute to temperature rise and wind and solar (energy) are part of the solution," said Frydenlund. Norway, one of the renewable energy champions of the world, derives 87% of its electricity from hydropower. "Our wind power capabilities are growing rapidly; 12% of our electricity comes from wind power," said the Ambassador underlining the need for partnerships between India and Norway in the wind sector.
Speaking at the event, Dr. Vibha Dhawan, Director General, TERI, said, "The conference comes at a crucial point as the country transitions to low-carbon future and strives to reach the very ambitious target of 500 GW by 2030, set by Hon'ble PM at COP26."
Mr. Peter Rae AO, President WWEA, emphasised the need to tap wind energy to meet the global renewable energy goals and make concerted efforts to boost finance for these endeavours. Dr. Ajay Mathur, Director General, International Solar Alliance (ISA), stressed the time for negotiations is over. "It is time for action. The energy systems of tomorrow will be a mix of renewable and nuclear energy sources. Having a healthy combination of wind and solar makes more sense than it ever did," he said.
Tulsi Tanti, Chairman of Suzlon, multinational wind turbine manufacturer, and a sponsor of WWEC2021, said, "New opportunities of wind-solar hybrid, enhancing and accelerating the opportunities in green hydrogen, opening up of the offshore sector and application of renewable energy in the transport sector, would help the industry immensely."
Gauri Singh, Deputy Director General, International Renewable Energy Agency (IRENA), and Sumant Sinha, Chairman and Managing Director, ReNew Power, emphasised the need to be ready to tap the potential of wind and solar energy sectors.
Stakeholders will discuss technology innovations in the wind and solar energy sectors and also provide a platform to exchange learnings from across the globe during the conference.
The WWEC2021 is organized by The Energy and Resources Institute (TERI) and World Wind Energy Association (WWEA), and is supported by ISA and International Solar Energy Society (ISES) with Norway as the country partner.
For more details: https://wwec2021.org/
About WWEA
World Wind Energy Association (WWEA) is an international non-profit association embracing the wind sector worldwide. With more than 600 members in over 100 countries, WWEA works for the promotion and deployment of wind energy technology world over, and for the ultimate goal of a global 100% renewable energy supply.
About TERI
The Energy and Resources Institute (TERI) is an independent, multi-dimensional research organization, with capabilities in policy research, technology development, and implementation. It has pioneered conversations and action in the energy, environment, climate change, and sustainability space for over four decades. Headquartered in New Delhi, TERI has regional centres and campuses in Gurugram, Bengaluru, Guwahati, Mumbai, Panaji, and Nainital, supported by a multi-disciplinary team of scientists, sociologists, economists, engineers, administrative professional and state-of-the-art infrastructure.
For further details, contact:
Sumit Bansal - sumit.bansal@teri.res.in
P Anima – animap@teri.res.in