Hydrogen steelmaking has potential to cut CO2 emissions from primary steelmaking in India: TERI study
---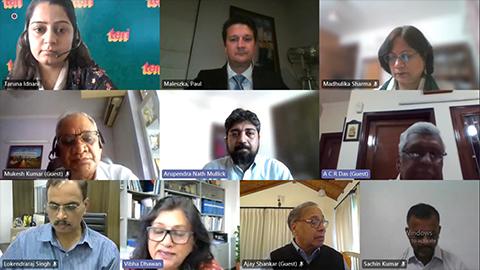 The paper suggests measures in using green hydrogen in steel manufacturing that could make India one of the first major economies to industrialise without the need to 'carbonise'.
New Delhi, August 19: A new study by The Energy and Resources Institute (TERI) suggests measures to decouple the growth of the iron and steel sector from rising carbon emissions by making green hydrogen an important part of steel manufacturing.
In his recent Independence Day address, Shri Narendra Modi, Honourable Prime Minister of India, announced the launch of the National Hydrogen Mission which aims to make India a global hub for the production and export of green hydrogen.
In India, the iron and steel sector is set to be the largest consumers of green hydrogen in any individual sector, making it an important driver of the hydrogen economy set out by PM Modi.
In this backdrop, the study 'Green Steel through Hydrogen Direct Reduction: A study on the role of hydrogen in the Indian Iron and Steel sector' provides a techno-economic analysis of the Hydrogen Direct Reduction process, outlines the potential of green hydrogen technologies, and discusses the suitability of this technology in the Indian context. The study is a joint effort by TERI, Primetals Technologies Austria GmbH, Austria, and Siemens India.
It recommends the potential next steps to advance this technology. Hydrogen steelmaking has the potential to drastically reduce CO2 emissions from primary steelmaking in India, making it one of the first major economies to industrialise without the need to 'carbonise'.
According to the study, one of the leading technology options is using low or zero carbon hydrogen as a reducing agent in a direct reduction (DR) plant and subsequently such low or zero carbon power for the electric arc furnace (EAF), to allow the production of green steel.
Currently steel production via the DR-EAF route based on hydrogen is more expensive than the conventional steelmaking routes. The path to cost-competitiveness for "hydrogen steelmaking" can be accelerated by broader action around the production of hydrogen, as well as supportive climate policy, the study says.
The study recommends proactive collaboration between companies and government for hydrogen steelmaking to reach its potential of drastically reducing CO2 emissions from primary steelmaking in India.
For this to happen, complementary actions are required to ensure that demand for low carbon products is established, as support is given to green steel production.
The environmental burden of steel is growing, and it will take a revolution in steelmaking technology to reduce its carbon intensity. Hydrogen may definitely be an answer provided other issues, such as its efficiency, cost are addressed. Syn gas may be cheaper and for the time being it can be a substitute, but we have to get to the DRI route so that in future, hydrogen can be brought in to move towards zero emission, said Dr Mukesh Kumar, Director, Steel Research & Technology Mission of India, under the Aegis of Ministry of Steel.
Like its global compatriots, the steel industry in India is facing the challenges of reducing carbon emissions and improving energy as well as resource efficiency. Hydrogen steelmaking has the potential to drastically reduce carbon emissions from iron and steel sector, said Dr Vibha Dhawan, Director General, TERI.
Green steel production today still costs a lot. In developing countries like India there is a disadvantage as the carbon price is still not readily available. In India we are not there at this point. However, the technology is available, as described in the study, and that is a starting point, added Gerd Deusser, Executive Vice President, Head-Energy, Siemens Ltd.
The findings of the study were presented in a webinar at TERI on Wednesday, followed by a panel discussion with stakeholders. The panel discussion included speakers such as Mr. ACR Das, Formerly Industrial Advisor, Ministry of Steel; Ms. Madhulika Sharma, Chief Corporate Sustainability Officer, TATA Steel;, Mr. Lokendra Raj Singh, Senior Vice President, Iron, Energy & Environment, JSW Vijayanagar and Chairman, Climate Action Group, JSW Steel; Dr. Rambabu Paravastu, Advisor & Chief Sustainability Officer Greenko Group; and Mr. Paul Maleszka, Senior Supply Chain Manager (Global Steel), Group Supply Chain, Lendlease Group, Member, Steel Zero Initiative, The Climate Group.
They discussed the huge potential that green hydrogen had in bringing sustainability and reducing the carbon footprint of India's iron and steel industry. Reducing variability in renewable energy technologies to increase the operational hours of electrolysis was also discussed amongst industry leaders.
With stakeholder cooperation, governmental push for research and development, along with policy initiatives promoting green steel production, India's efforts to decarbonise this hard-to-abate sector can become a reality, the panelists agreed.
The study also suggests actions for 'supply push' and 'demand pull' to be taken by governments and business. For providing a supply push, it recommends access to natural gas/syngas, demonstration plants, large-scale green finance, emissions penalty on production, and transition support for small-scale plants on the supply side. On the demand side, it suggests green product standards, corporate buyers' clubs, and public procurement.
About TERI
The Energy and Resources Institute (TERI) is an independent, multi-dimensional organisation, with capabilities in research, policy, consultancy and implementation. It has pioneered conversations and action in the energy, environment, climate change, and sustainability space for over four decades.
The institute's research and research-based solutions have had a transformative impact on industry and communities. Headquartered in New Delhi, it has regional centres and campuses in Gurugram, Bengaluru, Guwahati, Mumbai, Panaji, and Nainital, supported by a multi-disciplinary team of scientists, sociologists, economists and engineers, and state-of-the-art infrastructure.